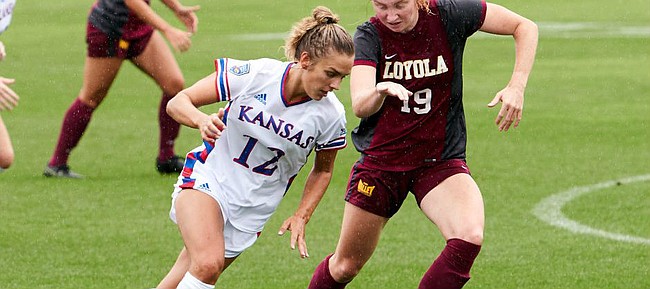 It's not a particularly pleasant memory for Kansas soccer, but the 4-1 loss to North Carolina in the second round of the 2018 NCAA Tournament provided much-needed guidance.
"We just learned that we've got to play our soccer," senior defender Addisyn Merrick said. "Once you get pressured into playing someone else's style of soccer — just like not being the first to ball or something — it's just energy levels."
Adversity, such as the North Carolina game last season, has almost become synonymous with KU.
But there's another side to that coin, as these seniors have also accomplished plenty amid struggles.
Merrick was recently named Big 12 Defensive Player of the Year, and senior forward Katie McClure continues to climb the all-time lists in KU soccer history. The Jayhawks also won the program's first Big 12 Championship title, clinching the third NCAA Tournament appearance in four years.
"Coming in to this, I was (going to be) just grateful for anything and I was excited to be a part of something, be a part of the change," Merrick said.
The senior class in 2016 took Merrick and McClure under their wing, but it was then-junior defender Kayla Morrison who instantly stood out as a mentor for Merrick.
"She kind of taught me to calm down, make the simple pass, do whatever you need to do to keep the team level," Merrick said.
And while McClure also looked up to Morrison, it was former KU forward Grace Hagan who helped her develop the most.
"She taught me a lot as a leader and just in soccer as well," McClure said. "She knew a lot more than I did, and she learned from me and I learned from her."
Once the 2019 season came around, Merrick emphasized a culture change, which involved building team chemistry back up.
"You wouldn't be able to tell class from class if you were hanging out with us," Merrick said. "It's a really good family environment."
Merrick said giving underclassmen a voice on the team has been vital.
"I feel like that's (a) big reason why we can pull people off the bench into the game," Merrick said. "Everybody's needed on the team."
There weren't any distinct goals set for 2019, but it still felt like an unspoken agreement to compete for a Big 12 title and get back to the NCAA Tournament.
"So it wasn't anything new for us or new for our team," McClure said.
But the 2019 season has been defined by bumps in the road, such as the 5-2 loss to Oklahoma State in the third match of conference play.
"It was kind of like a wake up call for us," McClure said. "We knew that we needed to do something different and it was a small change."
Resilience is the Kansas standard.
"Whoever steps on the field — whether you're a starter or a bench player — I think people know that whatever you have, bring it to the table, and you'll get subbed again or whatever," McClure said.
In the nine matches since, that "small change" in mentality and defense has completely shifted the play of KU, particularly in the Big 12 Tournament.
"Going into the tournament, we talked about how the weakest link on our team, if they break, then the rest of the chain's not going to work," Merrick said. "So if the weakest person breaks on our team, then everything's going to (fail)."
And with the Big 12 Championship final as evidence, winning has become habitual.
"Losing just isn't a thing for us anymore," Merrick said.
Merrick and McClure both are proud of how they've played pivotal roles in the past, present and future of KU soccer. Losses have turned into lessons, even the one year these seniors didn't make the NCAA Tournament in 2017.
"Just from here on out, I think Kansas soccer is only going to get better," McClure said. "I think (this year) has been a culmination of all (our hard work)."