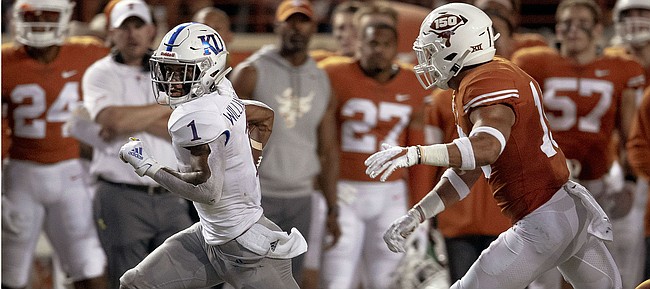 Bye weeks usually involve plenty of reflection for most football teams, so the Kansas Jayhawks' most recent stretch of down time wasn't unique in that regard.
But the KU offense had so underperformed its expectations in its most recent loss that a hard, long look in the mirror basically became a priority.
New offensive coordinator Brent Dearmon had plenty to tell the Jayhawks this past week, coming off a home loss to Kansas State that could have been detrimental to their confidence. One thing that stood out to quarterback Carter Stanley from Dearmon's messages, though, was that the players had to look at themselves internally and make sure they were taking all the necessary steps they needed to in order to truly improve.
Of course, much more went into bouncing back than motivational words. Stanley said Dearmon and other staff members and analysts made sure the self-assessment portion of the extra week in between games involved a thorough review of the KU offense.
"Statistically and analytically, looking at what we do well and applying that maybe more to our game plan," Stanley shared.
Dearmon explained to his players that the research would help coaches make sure the plays he's calling this week and beyond are maximizing the Jayhawks' potential.
"Personnel groupings, percentage of explosive plays, or, shoot, just completion percentage, stuff like that," Stanley said, without giving away any intel, of how Dearmon and the staff determined what types of play calls have proven to be most effective.
As the players reviewed and learned — and some rested more than usual, another bye week staple — running back Pooka Williams said Dearmon threw in some new plays, too. However, their extra preparation time generally had one focus.
"Mastering the plays we have," Williams said.
KU's offense fell off a cliff versus K-State after showing much promise the previous two games, against Texas and Texas Tech. Stanley was sacked a season-high four times by the Wildcats, and with those negative plays counting toward KU's rushing totals, the Jayhawks only averaged 2.4 yards per rush. Plus, Stanley (13-for-23 passing, 115 yards, two interceptions) only averaged 5 yards per pass attempt, after he averaged 8.6 yards per throw combined versus UT and Tech.
According to what Dearmon told the Jayhawks, junior receiver Andrew Parchment related, the players lacked in their 38-10 loss to K-State the tempo they showed in their first two games under the O.C. Parchment said that could even be seen in between snaps in how players got where they needed to go or ran on and off the field.
"So Coach Dearmon was expressing that," Parchment said, "and making sure we have high energy at all times and making sure that we're playing with a lot of tempo."
Parchment said the Jayhawks don't know why they didn't show that commitment to move quickly and aggressively against K-State.
As they reviewed the game footage it was clear the issue reared its head as early as KU's first drive.
"Just one or two blocks that we just missed," Parchment shared. "Pooka could have went the distance, and I believe (receiver Stephon Robinson Jr.) could've caught the ball and split the safeties. Little things like that. We've just got to make sure all 11 players are doing the same thing."
Williams said Dearmon beseeched players during bye week practices to focus, communicate, buy in and play with toughness.
"Being tough, that's just something you've got to be playing football," Williams added. "You can't work on being tough. You either have it or you don't."
At its simplest, finding KU's offensive ceiling will come down to three things, according to Parchment: tempo, playing in space and getting the ball in the hands of KU's playmakers.
"I feel like if we can do that we'll have great success and a great opportunity to come away with a 'W' on Saturday," Parchment said.
The Jayhawks (3-6 overall, 1-5 Big 12) play at No. 25 Oklahoma State (6-3, 3-3) at 11 a.m. on Saturday (FOX Sports 1).