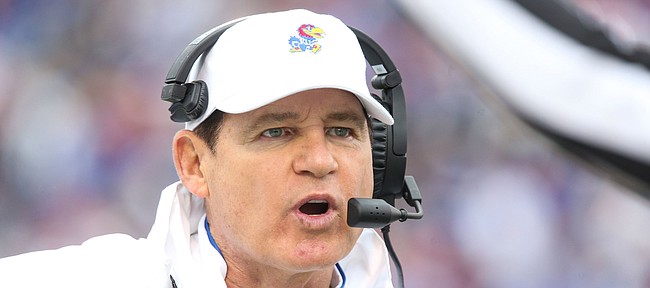 It was 15 years ago Wednesday that Les Miles last was inside Boone Pickens Stadium, in Stillwater, Okla., for a college football game.
On that mid-November Saturday back in 2004, Miles led the Oklahoma State football team, ranked No. 25 in the country, onto the field.
He'll return, of course, this coming Saturday, in charge of the Kansas Jayhawks this time, and looking to knock off the No. 25-ranked Cowboys.
"I think I will enjoy walking into the stadium more than anybody else," Miles predicted earlier this week.
What he won't be overly concerned about in his return to his old stomping grounds will be how he is received.
"I would suspect that there would be people there who would recall me and the teams that we had," said Miles, OSU's coach from 2001-04, when the program went 28-21. "I would not necessarily require, certainly, a welcoming."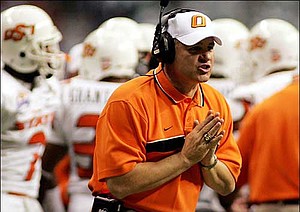 Miles visited the venue where his coaching career took off, just a few years back, he clarified, when he took his sons, Manny and Ben, both of whom now play at KU, to a Mike Gundy football camp.
It was Gundy who took over at OSU when Miles left for the LSU job. Now in his 15th season leading the Cowboys, Gundy is 127-62 and the Cowboys have posted 14 winning seasons in a row.
Before that transition, Gundy served as Miles' offensive coordinator. Gundy recalled during his press conference this week some of his fonder memories of working for Miles.
"The first year was tough," Gundy began, speaking of the 2001 season, when OSU went 4-7, "until we went to Norman and we found a way to win that game, which was awesome. And from that point on we started to get a little better every year."
The 2001 campaign, Miles' first as a college football head coach, concluded with a signature win at No. 4 Oklahoma, as Gundy pointed out. Another OSU victory in the "bedlam" rivalry series came in 2002, as well.
During his appearance on the Big 12 coaches teleconference this week, Miles was asked whether those two wins in particular were critically important to the facilities upgrades that came to the program in the years that followed.
"I'm certain that there's a lot of things that go into that," Miles replied, downplaying his role in OSU ultimately remodeling the stadium and adding amenities. "Mike Gundy was a part of the staff that handled that.
"I think 16-13 will always be great numbers for me for a lifetime," Miles added, referencing the final score of OSU's 2001 victory over OU.
The Cowboys went to bowl games in each of Miles' final three seasons in charge. And since he left, Gundy's OSU squads have played in 13 more.
Although there were several years when Miles didn't have time on Saturdays to follow the progress of Gundy and the program that gave him his big break, he said he watched as many games as he could.
"Yeah, Mike has done a great job with the program just taking it to heights that you'd want your program at," said Miles, who also referred to Gundy as "a friend."
Although Gundy long ago modernized the OSU offense with shotgun formations, multiple receivers and no huddle approaches, he said there was at least one principle he learned from Miles that can still be seen in the Cowboys' offense today.
"To run the football," Gundy said. "We used some of the concepts in the spread. Over the last 10 years here we ran the spread but we still rushed the football."
OSU currently ranks No. 9 in the country in rushing offense (267.7 yards per game) and No. 7 in yards per rush (5.7).
From a personal perspective, Miles said he misses OSU, calling it a "great" place with "great" people. He added he felt "fortunate" to be able to visit with major OSU donor Boone Pickens, "a remarkable person," before Pickens died earlier this year.
"I so enjoyed my time there," Miles said of OSU. "My young family growing there and went to school there. And we had great opportunities based on the great school."
KU (3-6 overall, 1-5 Big 12) plays at No. 25 OSU (6-3, 3-3) at 11 a.m. on Saturday (FOX Sports 1).