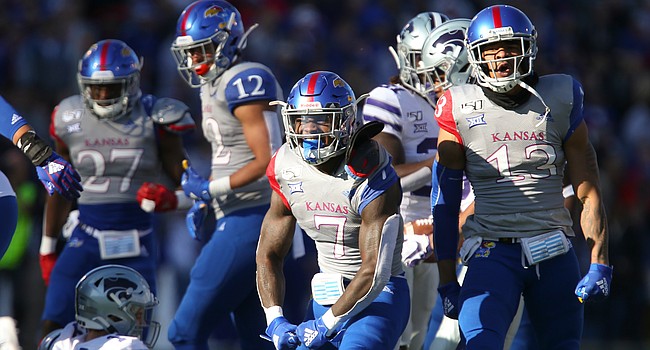 The days remaining in the 2019 Kansas football season are disappearing quickly. And as the Jayhawks' game week preparations for Oklahoma State started rolling on Monday, the need for urgency wasn't lost on anyone.
Before a weight-lifting session inside Anderson Family Football Complex, an impromptu group talk among players epitomized the current vibe in the building.
"We know that our back is against the wall," junior cornerback Kyle Mayberry shared of the essence of the conversation. "Our goal was to go to a bowl game and we have three opportunities left — and we only have three opportunities left — to get that bowl game. We've got to put our whole heart into this game coming up."
The Jayhawks (3-6 overall, 1-5 Big 12) already have had a little more than a week to flush their loss to Kansas State out of their systems as they head into a challenging three-game stretch that will determine their postseason fate.
To achieve automatic bowl eligibility and pull off a six-victory season, the Jayhawks need to win Saturday at No. 25 Oklahoma State (6-3, 3-3), Nov. 23 at Iowa State (5-4, 3-3) and then finish it off by upsetting No. 12 Baylor (9-0, 6-0) on Nov. 30 in Lawrence.
"We've got a lot of seniors," Mayberry said of a major motivating force. "I mean, y'all have seen the ESPN+ series," he added, referencing a fiery speech by senior receiver Daylon Charlot. "We want to go out with wins and go out with going to a bowl game for the seniors. When we all get together, we know what needs to get accomplished. We don't want to harp on it too much, making it about these three games. We want to focus on this one right here."
Whether the words leave the mouth of a receiver, a defensive back, lineman or anyone else, Mayberry said the Jayhawks are all speaking the "same language."
"It's time to lock in and get focused," Mayberry said.
Senior safety Mike Lee, who attended the same lift session, said KU football director of strength and conditioning Zac Woodfin kept the conversation going as the Jayhawks worked out.
"Whatever it takes, we have to win these three games," Lee said of Woodfin's reminders.
"That's always been the plan. Win six games. Go to a bowl game," Lee shared. "We just have to go out and just work and get these three wins."
Senior quarterback Carter Stanley agreed that the sense of urgency is noticeable in the Jayhawks' work.
"We know what we have to do," Stanley said. "But it truly comes down to one game at a time. We've got Oklahoma State this weekend. They're a great football team. Our guys are up to a task, and we're going to have a great week."
The Jayhawks say they know they will have to exit their second bye week of the year playing with an edge, as they continue their pursuit of a postseason berth that has easily eluded the program for most of the past decade.
"You either focus up right now," Lee said, "or it's going to be over as soon as you don't."
Stanley expects the entire team to be "fired up" for Saturday's game at OSU (11 a.m., FOX Sports 1), and called the previous bye week a good one for the program.
"I don't think there will be any shortage of excitement to play this game," Stanley said, "especially after having a week off."