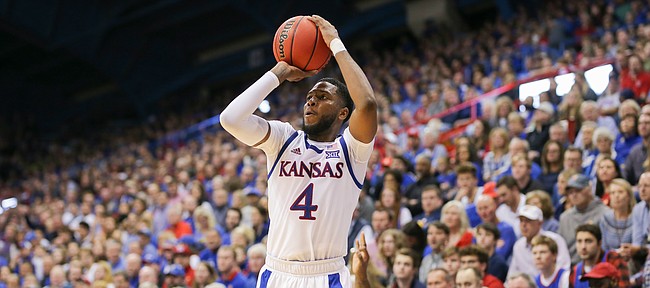 Talk about jumping into the deep end.
After playing just five minutes in one exhibition game and not at all in two other KU contests this season, Kansas senior Isaiah Moss played a whopping 25 minutes during the Jayhawks' 74-62, home-opening win over UNC Greensboro on Friday night at Allen Fieldhouse.
Still not fully recovered from a right hamstring injury that has hobbled him since practices first began, Moss played seven first-half minutes and found himself getting more into the flow with every pass, dribble and shot.
"He did a lot more than I expected," KU coach Bill Self said after the game. "Of course, I didn't know what to expect. I didn't know if he would be close to full speed."
Photo Gallery
Kansas basketball v UNC Greensboro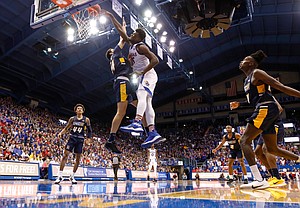 View a gallery of images from Friday night's game between the Jayhawks and Spartans at Allen Fieldhouse.
Close might be the correct way to put it, but Self said on multiple occasions Friday night that Moss was still not 100% and could see it in the way he played.
That fact did nothing to diminish Moss' performance or importance to KU's efforts on Friday night and hopes going forward.
"He still looks a little slow to me compared to what he did before he got hurt," said Self, who then was asked to clarify whether that shows up most on offense or defense. "I don't think he can explode or push off. I think he's hesitant to do that, but primarily defensively. … I think he has a gear that he can get to that will allow him to be quite a bit faster and quicker. But for the most part I thought he did great."
While Moss' 25 minutes on the court produced 8 points on 3-of-7 shooting (2-of-6 from 3-point range), it was as much the Iowa grad transfer's presence on the floor as much as his production that contributed to the Jayhawks' victory.
He started the second half in place of David McCormack, as part of KU's four-guard lineup, and the offense responded by hitting 50% of its shots in the second half versus 41% in the first half. That improvement came as much because of KU's ability to run, spread the floor and find open shots as Moss' 3-of-5 second-half shooting.
"It was huge," KU point guard Devon Dotson said of Moss' presence. "Knocking down shots, stretching the floor, you know, that's great for the offense and it was great having him out there."
Dotson made sure to point out, however, that Moss is "more than just a shooter." But he did not back down from the idea that Moss' greatest skill is his ability to knock in shots from the outside.
"Every time he's open, I tell him to shoot it," Dotson said. "Even if it's just a little bit of space, pass it, shoot it. Definitely."
Both Dotson and Self were willing to give Moss a pass for the slow start and strong finish.
"It was the first time he's played," Self said. "I didn't think he looked hesitant to shoot in the first half. He's not going to turn down many. … Probably just a little more comfortable (in the second half)."
Dotson agreed.
"I mean, that was his first official game," Dotson said. "So he had to get his feet under him and just get in the flow. Once he did that, he got more comfortable and he's only going to get better from there."
Self said throughout the preseason that he envisioned Moss being the type of player who could play "starter's minutes" for these Jayhawks, and that was the case on Friday night. Even though he did not start the game, Moss was out there for nearly all of the second half, playing key minutes during the stretch when Kansas (1-1) took control.
With KU's two-big lineup looking a bit clunky so far and freshman Jalen Wilson out for a few months with a broken ankle, Moss' role — and health — quickly became even more important than it already was.
"He'll make us play much better offensively," Self said of Moss. "And I thought he played with some good pace and demonstrated some poise. I didn't think he looked rushed at all when he had the ball.
"He has had such a good attitude. All of the guys have had great attitudes. I am happy with them. After a disappointment (against Duke) on Tuesday, they certainly came out with great energy. Starting the game, I think that was as turned up as I remember a team being in quite a while."