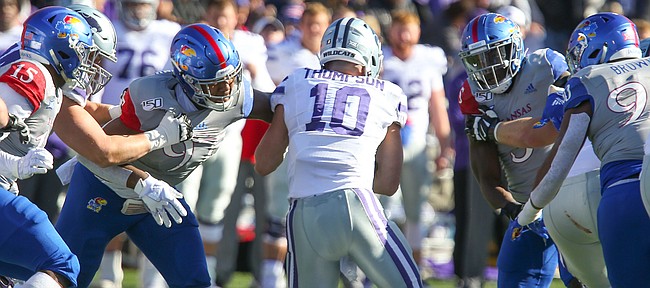 Following a letdown of a performance by the entire Kansas football team in front of a sold out stadium a week ago, the Jayhawks' defense headed into a bye week with no shortage of concerns.
With only three games remaining on their November calendar, it didn't take any deliberating by safety Mike Lee to identify the most worrisome development in KU's 28-point loss to Kansas State.
"Third downs," Lee said, after the Wildcats picked up first down on 11 of their 17 third down plays against Kansas.
"We have to get off the field on third downs," Lee said, when asked what the Jayhawks must fix during their break in the schedule. "I feel like third downs are money downs. And we want to go three-and-out every drive, and we can."
K-State wasn't the first team to burn KU (3-6 overall, 1-5 Big 12) on third downs. Not even close. The "money down," as Lee and other Jayhawks have called it in recent years, has not been lucrative for the KU defense since it played FBS newbie Coastal Carolina in Week 2. That week, the Jayhawks' offense was the culprit in a 12-7 home loss.
Since then, six of KU's seven opponents have converted at least half of their third downs.
So it should come as no surprise that the Jayhawks entered their second bye week ranked 129th out of 130 FBS teams in third down defense, with opponents converting and extending drives 53% of the time (71-for-134).
The only defense with a worse mark headed into the college football weekend was UTEP's, which was failing to stop opponents on third down on 54.5% of its opportunities.
Asked following the loss to K-State whether he saw KU's third down defense problems becoming thematic for the season, KU head coach Les Miles said he hoped not.
"I kind of look at it that way, that in this bye week, we'll do, again, a self-scout and kind of figure out kind of some of the things that we did and didn't do in the last couple weeks well," Miles went on. "I mean, if you look at how we played in the last couple weeks, you'd never figure that that would start that way and finish that way," the coach said of a game K-State controlled from start to finish. "At least I didn't."
In KU's three victories to date, the defense has been more successful, with opponents' third down conversion rate landing at 43.8%. In the Jayhawks' six defeats, though, foes have moved the chains on 59.8% of their third down plays.
Looking at conference games only entering this weekend, Big 12 opponents have converted on third downs against Kansas 58.8% of the time — worst in the league by 11.6 percentage points.
Against K-State at least, KU's issues on third downs, according to Lee, had plenty to do with quarterback Skylar Thompson scrambling and Jayhawks having their "eyes in the wrong place" when he did.
Even so, other players and scenarios routinely have found ways to beat the KU defense on third down. And with only three games left to play and the Jayhawks' chances of securing bowl eligibility dependent on them winning out, the recurring issue seems to be one that would receive even more attention than usual during KU's second bye week.
"If the offense keeps converting their third downs," Lee said, "it's bad on us, because they're moving the ball down the field and down the field, and that's how they score their touchdowns. We have to get off the field on third downs for us to stay in a game."
KU returns to action on Nov. 16 at Oklahoma State (6-3, 3-3), with the Cowboys also coming off a bye week.
KU opponent third downs this season
• Indiana State: 5-for-14 — 24-17 KU W
• Coastal Carolina: 1-for-9 — 12-7 KU L
• at Boston College: 10-for-19 — 48-24 KU W
• West Virginia: 9-for-18 — 29-24 KU L
• at TCU: 14-for-19 — 51-14 KU L
• Oklahoma: 6-for-9 — 45-20 KU L
• at Texas: 9-for-14 — 50-48 KU L
• Texas Tech: 6-for-15 — 37-34 KU W
• Kansas State: 11-for-17 — 38-10 KU L