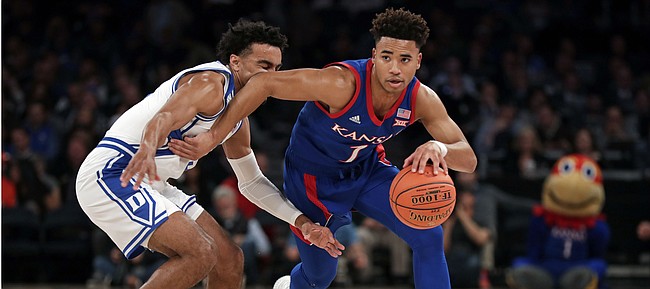 No. 3 Kansas Jayhawks (0-1) vs. UNC Greensboro Spartans (1-0)
Time: 8 p.m. | Location: Allen Fieldhouse, Lawrence, Kansas
TV: ESPNU | Radio: IMG Jayhawk Radio Network
Not going to be home for the game? Sign up for ESPN+ and watch your Hawks on the go.
Log on to KUsports.com for our live game blog coverage and follow the KUsports.com staff on Twitter: @KUSports @mctait @bentonasmith @SjacksonLJW & @BradenShaw4Real
Keys for Kansas
1. Turnovers, turnovers, turnovers
It goes without saying that a major emphasis for KU's second game of the season is to limit turnovers.
But it's not simply because that 28 in the stat column stood out like a sore thumb. Taking care of the ball leads to better possessions on offense and limits what kind of free and easy points your opponent can get off of your mistakes.
"There's no defense in America that can force 28 turnovers," KU coach Bill Self said on Thursday. "You've got to help them do that. … If you go back and watch the tape, Duke's best offense was our offense."
After watching film of the Duke game — and all of those mistakes — the Jayhawks discovered that a good chunk of them were self-inflicted.
The more the Jayhawks pressed, the more they became careless with the ball. And the more careless they were with the ball, the more they pressed to try to make up for the mistake and get it back.
While eliminating both sides of that coin definitely will be on their minds in this one, the Jayhawks also are trying not to overthink it going into the game.
"I would think of it as just playing with poise," sophomore guard Ochai Agbaji said. "A lot more poise than we had and not letting them speed us up."
2. 3-point focus
After taking just nine 3-pointers in the season opener — and making four of them — the Jayhawks know that they have to be better from the outside in this one than they were against Duke.
"Definitely more shots from outside," Agbaji said on Thursday. "Once we have Isaiah (Moss) back will help with that."
Self said Thursday that Moss' status for this one was still up in the air but that not much had changed since Tuesday. Because Moss has not been able to practice full speed, the chances of him playing are low.
"You know, we've got a week off before the next one so I'd hate to put him out there and have him hurt it and then it's a month off or whatever," Self said. "But if he can play then he'll definitely play."
While 44% isn't a bad number, it's the low number of attempts that was problematic. Not only did those nine tries severely limit KU's ability to score from the outside, but they also made big man Udoka Azubuike much easier to guard, with Duke's defense able to sag off the perimeter and clog the lane, giving Azubuike and forward David McCormack little room to work.
"We've seen in the past couple of games that when we throw the ball inside they're really collapsing," freshman forward Tristan Enaruna said Thursday. "So we know that it's very important to be able to knock down those outside shots and we've been working on it more and more and I think we're getting better at it, too."
Three Jayhawks made 3-pointers against Duke, but just four attempted a shot from the outside. And the only one that sophomore guard Devon Dotson made was a bank shot as the buzzer sounded with the game out of reach.
It's possible, perhaps even likely, that UNC Greensboro's defense will not be quite as stout as Duke's. But if Kansas doesn't take care of the ball better and share the ball with a purpose, it won't matter.
"(There were) some plays we had throughout the (Duke) game where we had the chance to make the extra pass and stuff like that," Agbaji said. "Giving the ball up earlier, looking for the open man when he's open, obviously, and just playing together and unselfishly and sharing the ball (is what we need to do)."
3. Dotson bounce back
One assist and six turnovers from your starting point guard who is an All-American candidate and preseason all-conference pick was not the start Devon Dotson or the Kansas Jayhawks were hoping to see.
But after one day of film and one day of practice, Dotson quickly gets an opportunity to make up for his rough start against Duke on Tuesday night in New York City.
Asked what he wants to see from his point guard in this one that he didn't see against the Blue Devils, Self needed just three words to answer.
"Run a team," he said. "This is not a knock on Devon because I think he's terrific, but that was a game that Frank (Mason) and Devonte' (Graham) loved to be a part of. You know, it's a one-possession game, last two minutes, we're just going to get a stop. And we'll grow into that. But it's still a little new to him, having that responsibility. But in order for us to be a really good team, he's got to be that because he's the one guy that can do that. And I believe he will."
Several of Dotson's turnovers on Tuesday night were born from maximum effort and him thinking about making the right play. He's always been better just playing and reacting and you can expect to see that, along with far fewer turnovers and an emphasis on getting his teammates going, against the Spartans tonight.
Marquee Matchup
KU's front court vs. UNC Greensboro's front court
Undersized but far from overmatched, the Spartans are poised to give the KU forwards every bit of the challenge that Duke's big men did on Tuesday in New York.
They may not have a player with quite the raw size of Duke's Vernon Carey Jr. And because of that, Kansas is again in position to play to an advantage with its bulk and muscle.
But what UNCG lacks in physical size, they certainly make up for in athleticism.
"They're really athletic and they match up with us, athletically, pretty well," Self said. "They're not as big as we are inside, but they've got a legitimate shot blocker (6-10, senior forward James Dickey) that could be considered to be the best athlete on the court."
Both Dickey and Kyrin Galloway recorded three blocks apiece in UNC Greensboro's season-opening win over North Carolina A&T.; And both are long and active all over the court on the defensive end.
Add to that the fact that there are a couple of quality reserves behind them and there's little doubt that KU bigs Azubuike, David McCormack and Silvio De Sousa will have their hands full blocking out and moving laterally to try to contain the UNCG forwards throughout the game.
Because of that, an opportunity could arise for freshmen Tristan Enaruna, Jalen Wilson or Christian Braun to use their size and length to match up with the Spartans' front court.
Jayhawk Pulse
The Jayhawks enter Game 2 of their season with an 0-1 record for just the second time in the past 17 seasons under Self.
The last time it happened came in 2016, when KU responded to a season-opening loss to Indiana in Honolulu with a thrilling win over Duke in the Champions Classic in New York City.
The task of getting back in the win column figures to be much less daunting this time around, with the Jayhawks favored by 15.5 points, but that doesn't mean it'll be easy.
"They're good," Self said of his Game 2 opponent, which returns four starters from last year's near-miss NCAA Tournament team, including preseason Southern Conference player of the year Isaiah Miller. "Watching tape, I'm very impressed. They switch defenses, they're going to press the whole game to slow people down and then also look to steal, as well."
That message has been shared with the Kansas team throughout the week and that fact, along with the sour taste of losing the season opener to another blue blood program on a monster stage, should be enough to have KU's attention at its peak entering the home opener.
"I don't think it does," said Enaruna when asked if UNCG's anonymity made it harder to prepare for than a powerhouse like Duke. "Personally, I think you should always prepare for every game as you would if you played Duke or any other Top 5 or Top 10 team. I don't think it should be a factor. I don't think we have the mindset that it's going to be easier."
Added Agbaji: "Coach has definitely emphasized how big of a challenge this game is and how good they are. A team like that coming in after a loss, you know we have to bounce back after that."
Probable Starters
No. 3 Kansas
G – Devon Dotson, 6-2, 185, Soph.
G – Ochai Agbaji, 6-5, 210, Soph.
G – Marcus Garrett, 6-5, 195, Jr.
F – David McCormack, 6-10, 245, Soph.
C – Udoka Azubuike, 7-0, 265, Sr.
UNC Greensboro
G – Kaleb Hunter, 6-4, 190, Soph.
G – Malik Massey, 6-3, 195, Sr.
G – Isaiah Miller, 6-0, 180, Jr.
F – James Dickey, 6-10, 210, Sr.
F – Kyrin Galloway, 6-8, 215, Sr.