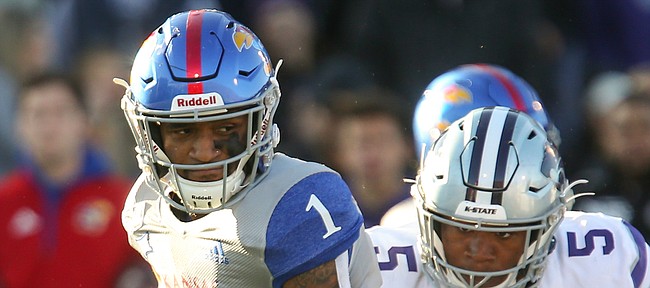 It had only been two games, but the Kansas football offense performed so well under new coordinator Brent Dearmon that the Jayhawks began looking at themselves differently.
This was the type of team, they were convinced, that should regularly put up 500-plus yards of offense and 30-plus points.
"It's very disappointing," KU running back Pooka Williams said of the team's inadequate 241 yards in a 38-10 home loss to Kansas State, calling the showing "out of character."
Six of KU's 11 drives traveled fewer than 10 yards, and while the Wildcats' ability to pressure Kansas quarterback Carter Stanley influenced a poor passing day for the Jayhawks, K-State also effectively surrounded Williams whenever he attempted to deliver one of his typical game-breaking runs.
Averaging 95.6 yards per game and 5.1 yards a carry on the season, eight of Williams' 14 rushes versus K-State ended with Wildcats bringing him down within three yards of the line of scrimmage. The sophomore back from Louisiana only totaled 61 yards on the ground.
"It was very frustrating," Williams said of K-State not only controlling the line of scrimmage, but also playing defense with its offense by dominating in time of possession (38:03 to 21:57).
"Their role was to keep our offense off the field and they did an excellent job," Williams said. "When we were on the field we didn't capitalize."
KU (3-6 overall, 1-5 Big 12) only finished four possessions in K-State territory and scored its lone touchdown in the final minute of a game the Wildcats dominated.
Williams chalked at least part of KU's offensive issues up to miscommunication.
"We didn't play like we normally play," Williams said.
K-State's physicality got to Stanley, too. The senior QB, coming off two of the most memorable outings of his college career against Texas and Texas Tech, went 13-for-23 with two interceptions and only 115 passing yards.
"I think their offensive line and defensive line did a good job for sure," Stanley said. "They were good in the trenches. But it's all about us doing our one-eleventh on offense and defense — everybody's got to do their job. We've clearly got to be better than what we were today."
Head coach Les Miles said after his team's most recent loss that much of what he saw from the offense was fixable.
"We could play the game over and be a lot more successful with the way we threw the football," Miles said. "It was more what we didn't do than what KSU did."
What his Jayhawks must do, Miles emphasized, is get off to better starts. They fell behind in the first half by at least two touchdowns for the fifth consecutive game.
Stanley said they know building momentum earlier in the game is a must.
"For me personally, just thinking about it, I've got to be better. If I think about the last couple games, I haven't been too accurate in those first couple drives," Stanley admitted. "I think a lot of it starts with me. I can be better for our guys, for our coaches."
They all will work on repairing the offense during a bye week, with hopes of putting up big numbers once again.
"I'd much prefer an open week with victory," Miles said. "We'll settle in and get us a good week of work."
Williams said that will involve more than reps.
"The focus is really locking in and tuning in," he said, "getting the communication completely down."
KU returns to action Nov. 16 at Oklahoma State (6-3, 3-3).