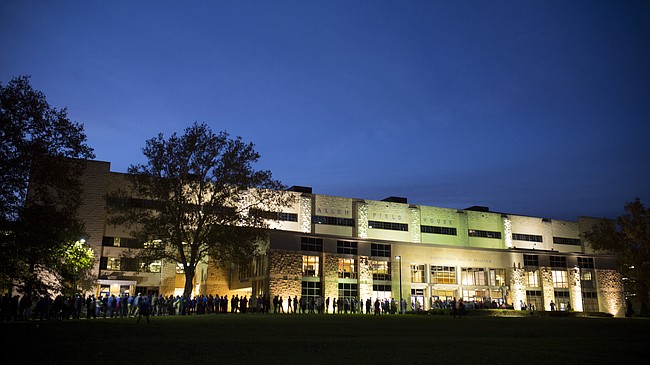 The University of Kansas will soon offer group tours of certain athletic facilities on non-game days with the help of a group with which the university has signed a four-year agreement.
Complex Sports, which will be known publicly as the "Jayhawk Experience" group, will manage group tours on non-game days, Chris Freet, KU's deputy athletics director, announced at the Kansas Athletics board meeting on Wednesday.
"We have hundreds if not thousands of requests for tours, access to our venues, access to our spaces ... that we quite honestly have had to decline for years and years because of our competitive schedule and events associated with that," he said.
Freet said that historically, about 25,000 people come through the Booth Family Hall of Athletics each year. He estimates they can get 100,000 people through with the help of this new program. Two types of group tours will be offered: tours of Allen Fieldhouse, and tours of Allen Fieldhouse and close proximity pavilions, such as the facilities for the volleyball, baseball and indoor track teams.
"It is in everybody's best interests for as many people to be able to experience Allen Fieldhouse as possible," Freet said.
Public access to the Booth Family Hall of Athletics on non-game days will still be complementary, Freet noted, but he said that this program will offer an "elevated experience" that will be good for KU's brand.
In other news at the meeting:
• Board members were briefed on a decision the Compensation Committee made earlier in the day to approve 2.5% raise for the majority of employees of Kansas Athletics Inc.
KU Chancellor Douglas Girod, who phoned into the meeting, said the motion for the raise was approved unanimously and that the raise is "pretty much consistent with what happened across the board at the university."
• Athletic Director Jeff Long reported that KU received support from the Big 12 Conference on its proposal to raise the yearly football scholarship hard cap from 25 to 30. Long said he believes it has a reasonable chance of passing at the January NCAA convention, and if it does, it would likely go into effect for the fall of 2020.
"So, we're encouraged by that," he said. "That would certainly help our football program as we rebuild our roster and work to get closer to that 85 cap number for overall scholarships in our football program."
• KU has verbally agreed to extend its contract with Aspire, the group that handles KU's ticket sales. KU pays the group around $850,000 annually, Freet said, and it is charged with generating around $10 million in revenue.
• Pat Kaufman, chief financial adviser for KU Athletics, gave a financial update, stating that projected revenue from ticket sales are already 94% complete and that there are "no red flags" with current expense projections.
• Diane Goddard, KU's chief financial officer, gave a report on the audit, stating that there were "no audit adjustments" and "no internal control deficiencies."
More like this story on KUsports.com