Saturday, November 2, 2019
The head coaches for both teams were new. The crowd was a sellout at David Booth Kansas Memorial Stadium for the first time since 2009. But the result was much of the same.
Kansas State dominated in every aspect of the game on its way to a 38-10 victory over Kansas Saturday afternoon. The Wildcats have now won 11 consecutive games in the Sunflower Showdown, which matches their longest win streak in the history of this in-state rivalry.
Even with first-year head coach Chris Klieman at the helm, Kansas State's path to another lopsided victory looked reminiscent of the days when Bill Snyder was manning the ship. K-State ran all over KU's defense for much of the afternoon. The Wildcats also baffled the Jayhawks' offense, which had averaged 42 points per game over the last two weeks.
Kansas State scored first on a 1-yard touchdown run by Skylar Thompson, setting the tone for a ground game that overwhelmed Kansas all day. Harry Trotter scored on a 9-yard touchdown on the first play of the second period. The Jayhawks trailed by doubled-digits for the remainder of the contest.
Thompson added two more touchdown runs in the second half to put the game away.
Kansas is now 3-6 on the year, including 1-5 in Big 12 play under head coach Les Miles. No. 22 Kansas State is now 6-2 under Klieman with a 3-2 clip against league foes.
Photo Gallery
Kansas football v. Kansas State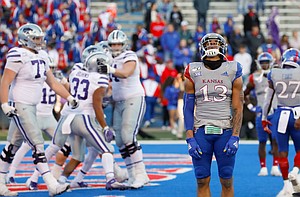 View a gallery of images from Saturday's game between the Jayhawks and Wildcats at Memorial Stadium.
Here's a quick look back at some of the action:
• The game turned when: KU threw a back-breaking interception late in the first half.
All things considered, a 17-3 deficit wasn't as bad as it could have been for the Jayhawks. But Kansas missed an opportunity to head into the intermission with some momentum after a stagnant start to the game.
Trailing 14-3, the Jayhawks got the ball on their own 38-yard line with 1:25 remaining in the first half. It appeared to be a good chance for KU to trim the deficit to one possession. Instead, Stanley threw an interception on the very first play.
Kansas State proceeded to hit a field goal seven players later, taking a 17-3 lead at halftime. The Wildcats then scored on the first drive of the second half to remove any doubt about the outcome.
•Up next: Kansas will have its second bye week of the 2019 season.
SCORING SUMMARY
FIRST QUARTER
7:21 — Skylar Thompson 1 run. Blake Lynch kick. Ten-play drive for 88 yards, in 5:54. (KSU 7, KU 0.)
4:50 — Liam Jones 34 field goal. Eight-play drive for 45 yards, in 2:23. (KSU 7, KU 3.)
SECOND QUARTER
14:54 — Harry Trotter 9 run. Lynch kick. Ten-play drive for 78 yards, in 4:51. (KSU 14, KU 3.)
0:00 — Lynch 39 field goal. Seven-play drive for 25 yards, in 1:20. (KSU 17, KU 3.)
THIRD QUARTER
10:52 — Thompson 12 run. Lynch kick. Nine-play drive for 75 yards, in 4:08. (KSU 24, KU 3.)
FOURTH QUARTER
12:18 — Thompson 4 run. Lynch kick. Six-play drive for 26 yards, in 2:36. (KSU 31, KU 3.)
9:30 — Tyler Burns 14 run. Lynch kick. Two-play drive for 32 yards, in 0:48. (KSU 38, KU 3.)
0:35 — Manny Miles 1 run. Jones kick. Five-play drive for 66 yards, in 0:55. (KSU 38, KU 10)
https://www.youtube.com/watch?v=YDDaIWnTUA0&feature=youtu.be