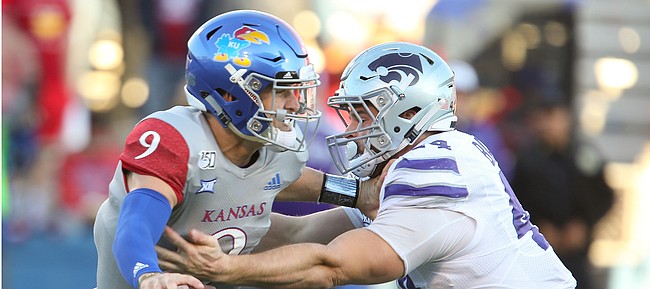 An already miserable Saturday for Kansas quarterback Carter Stanley at least didn't conclude with a serious injury.
Stanley spent much of a 38-10 Sunflower Showdown loss suffering hits. And eventually one forced him off the field in the fourth quarter, when Khalid Duke sacked KU's senior QB and he hobbled to the sideline.
Stanley told reporters after the loss that he had X-rays taken of his right knee following the game, and although his knee remained swollen he felt positive about his status.
"I'm all good," Stanley said. "My knee just kind of randomly took a few shots throughout the game, and then the last one hurt pretty good."
KU head coach Les Miles said the coaches opted to keep Stanley in the game late — KU trailed 38-3 when the QB limped off the field — because they hoped to give him some positive momentum to get back on track headed into the bye week.
"I think he's nicked, but I don't think there's anything serious. I immediately talked to the trainer. The trainer said, we just need to take him out. So then we took him out," Miles said. "He's our quarterback, and we want him to know that, and we'll make our quarterback and our offense better."
Photo Gallery
Kansas football v. Kansas State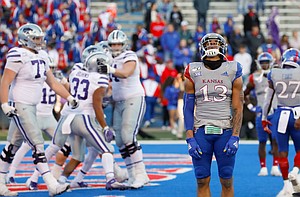 View a gallery of images from Saturday's game between the Jayhawks and Wildcats at Memorial Stadium.
Manny Miles replaced Stanley at QB for the remainder of the game. Manny Miles finished 2-for-3 passing for 65 yards and rushed for KU's lone touchdown of the drubbing, with 35 seconds remaining.
Sellout crowd
KU announced 47,233 fans attended Saturday's Sunflower Showdown, making it a sellout.
The new capacity for the venue, according to KU officials, is 47,000. It used to be 50,071, but with the installation of the "Field Goal Club" in the north end zone many seats were lost.
"I never so enjoyed an environment, atmosphere," Miles said after the loss. "I can only tell you that our guys truly appreciate those people that were in the stands and rooting for the Jayhawks. I did not notice a lot of purple. It looked like to me that this was bought by guys from Kansas and guys and gals that wanted the Jayhawks to win. It was a loud stadium, and it was a Jayhawk loud."
It appeared roughly a third of the crowd dressed in purple and came to support K-State.
Harris hurt early
KU sophomore cornerback Corione Harris became a nonfactor in the rivalry game after suffering an injury on punt coverage minutes into the first quarter.
Harris slammed his helmet to the turf in frustration, while walking off the field in pain.
A regular contributor and starter in five games this season, Harris watched the remainder of the game on the sideline without his helmet.
ILB switch
After starting inside linebacker Kyron Johnson failed to come through on a couple of third down plays in the first half, KU switched to Jay Dineen at the spot for much of the second half.
"I know they were running the ball," Dineen said of what led to increased snaps for him. "Just giving them a different look. I think Kyron being the faster back is really good for the Big 12. But just like how they were a power run team — A-gap, B-gap — just to get a bigger body in to fill holes."
Dineen finished with three total tackles and said he was OK after hurting his knee. Oddly enough, it was his younger brother, Jax Dineen, who hit him on the play that forced him to the sideline for a bit.
"You kind of get scared when you see that coming at you," Jay said of Jax, who is a reserve fullback. "When he hits you, he makes you feel it."
Jay said he didn't learn until after the game that it was Jay who hit him low.
"You can't even blame him," Jay said. "Nothing he did wrong. Just playing football."
Gary Woodland in attendance
Former KU golfer Gary Woodland, the reigning U.S. Open champion, was back in Lawrence for the Sunflower Showdown.
Woodland even brought his major championship hardware with him onto the field during a break in the action, when KU introduced the Topeka native and the state's most famous golfer to the crowd.
New KU uniforms
The Jayhawks donned a new uniform for Saturday's rivalry game. Labeled KU's #OneTeam jerseys, they were designed by KU's Student-Athlete Advisory Committee and featured gray as the primary color, with crimson on the right sleeve and blue on the left, along with blue pants and blue helmets.
According to former SAAC president Casey Douglas, who helped start KU's #OneTeam initiative, the idea behind it is: "While there are many student-athletes from different backgrounds, countries and different sports that at the end of the day, we are all one team at the University of Kansas."