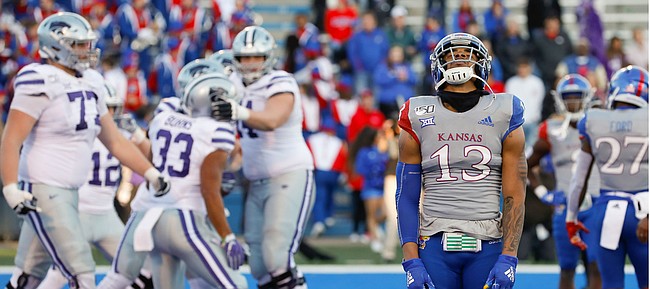 The Kansas State Wildcats didn't only harass, hurry and sack Carter Stanley throughout Saturday's Sunflower Showdown. They blindsided his outlook for one of the most anticipated KU home games in a decade.
"I never in a million years saw that result coming," said Stanley, a joyless and beaten quarterback, after the Wildcats rolled, 38-10, in front of a sellout crowd of 47,233.
The Jayhawks' offense played so well in the two games leading up to their matchup with the No. 22 Wildcats (6-2 overall, 3-2 Big 12), that Stanley and his teammates entered the rivalry game convinced they would find ways to overcome whatever K-State threw at them.
But even new offensive coordinator Brent Dearmon couldn't solve KU's issues. The Jayhawks (3-6, 1-5) averaged 4.7 yards per play and totaled only 241 yards of offense, their second-lowest output of the season. The only Saturday that went worse for them this fall came at TCU, where they finished with 159 yards, in a 51-14 mauling.
Ultimately, this game against K-State felt similar.
"They just came out and beat our ---," junior receiver Andrew Parchment said. "There ain't nothing else to say."
Photo Gallery
Kansas football v. Kansas State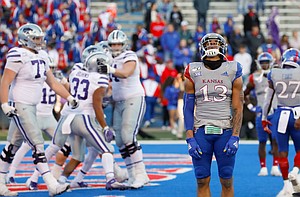 View a gallery of images from Saturday's game between the Jayhawks and Wildcats at Memorial Stadium.
Kansas didn't even get into the end zone until the final minutes of K-State's dominating performance.
"We couldn't run the ball. Couldn't protect the quarterback," a frustrated Parchment said. "We couldn't stop them defensively. We couldn't get open on routes."
After K-State extended its Sunflower Showdown winning streak to 11 games, Stanley said he wanted to take the blame for KU's offensive misery. Stanley, who was sacked four times and threw two interceptions, finished the defeat 13-for-23 passing, with 115 yards.
"I've got to be better in a lot of different aspects," Stanley said. "I let my guys down today."
Feeling a bit desperate, down 24-3 after three quarters, the Jayhawks opened the fourth by going for it on fourth-and-4 at their own 26-yard line.
The gamble didn't do their chances any good. Stanley, in the midst of his worst day since the Jayhawks floundered at TCU in Week 5, couldn't connect with Kwamie Lassiter II on a fourth down pass.
"Had we punted it, who knows," said Stanley, who agreed with the move, given how K-State (38:03 time of possession) controlled the ball. "They played it really well and we couldn't execute."
Six snaps later, the Wildcats extended their already cozy cushion to four touchdowns, when junior quarterback Skylar Thompson rushed for his third TD of the one-sided rivalry game.
After KU's offense proved in the previous two weeks it could climb out of two touchdown holes, the Jayhawks found themselves in an even deeper deficit by the time they took their first snap of the second half.
After Thompson spent much of the first half giving KU fits with his feet, he came out of the locker room ready to show off his arm.
A 46-yard shot down the field for senior receiver Dalton Schoen keyed a nine-play TD drive that Thompson (9-for-16 passing, 129 yards; 127 rushing yards, three touchdowns) finished off with a 12-yard run into the end zone.
KU senior safety Mike Lee said the defense had difficulty keeping Thompson contained when defenders were sticking with their assignments.
"He saw that and he took his chances with scrambling," Lee said. "That's what he does. He's a scrambling quarterback."
Given the KU offense's recent success since Dearmon took over as the unit's coordinator during the team's midseason bye week, it seemed like the Jayhawks had a legitimate chance to close the first half on a high note.
With 1:25 left and one timeout at their disposal, the Jayhawks opened their last drive before halftime at their own 38-yard line. However, KU experienced its second one-play series of a discouraging first half, as Stanley opened a possession with a first down interception for the second time.
Said KU head coach Les Miles: "Carter's interception was one that was just a poor throw. When you don't start fast, you've made some bad decisions, OK, and you've got to come off fast. If we do that, we'll score and have success because we'll get in the groove in the back end because that just seems to be what we do.
Holding and false start penalties against the Wildcats assured KU's defense of its first three-and-out, and the Jayhawks got a sixth first-half possession as a result. But K-State would get a freebie series before halftime after Da'Quan Patton's interception put K-State at KU's 46-yard line.
Codey Cole III forced Thompson to fumble on the fourth play of the series, and the Wildcats ultimately settled for a 39-yard Blake Lynch field goal, which sent the visitors to their locker room at intermission with a 17-3 advantage on the scoreboard.
K-State outgained the Jayhawks, 244-74, in total yardage in the first half, as the Wildcats were on brand with their 5.7 yards per rush and a 19:34 to 10:26 time of possession advantage.
The Wildcats bowled over their rivals early on, knocking the Jayhawks into a 14-3 hole on the first play of the second quarter. That's when KU's issues stopping K-State's option plays reared its ugly head again, and Thompson pitched to Harry Trotter for an easy 9-yard rushing TD.
Stanley opened KU's third series with an errant throw that Jahron McPherson intercepted when he was the only player near the pass as it headed toward the right sideline.
"I think we had a good week at practice," Stanley said of the unexpectedly poor showing. "It wasn't stellar by any means, but it was a good week of practice. We got a lot of our guys healthy. I just never saw that outcome coming."
K-State averaged 7.3 yards per play on its opening series, as Thompson made the KU defense look bad on a couple of plays in particular. Thompson's option run on third-and-2 at KU's 37-yard line turned into a 34-yard carry when a fake pitch opened up a broad rushing lane for the quarterback.
Two plays later, a little fake handoff from Thompson on second-and-goal allowed him to roll back right and saunter into the end zone for the game's first score, roughly halfway through the first quarter.
Following a game in which KU's offense regressed, Miles said he found the slow start most concerning.
"I mean, it's something that we're going to work on," Miles said. "We're going to change the practice schedule. We're going to — we're going to reevaluate all the things, because I really thought we were doing really well, and I think that we have everything in place that we need. It's just we need to make first steps differently."
KU will have an extra week to get over the defeat, with its second bye week of the season coming up. The Jayhawks play at Oklahoma State on Nov. 16.