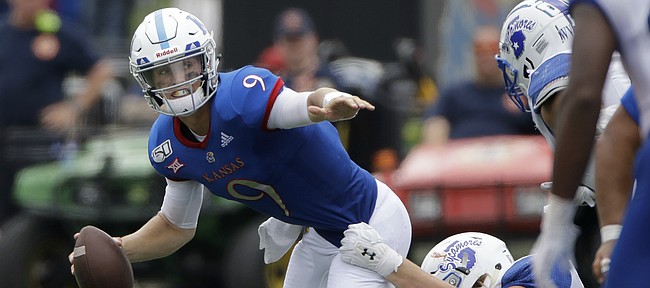 For a decade now, winning one Big 12 game has been not even a norm, only a ceiling, for the Kansas football program.
Even Mark Mangino, who finished 50-48 as the Jayhawks' head coach, only led KU to a single conference victory in 2009, his eighth and final season in charge.
In the nine years that followed, the league's worst program won one Big 12 game in five seasons and zero in the other four.
Now, in 2019, after living through some of the program's lowest moments, KU seniors such as Hakeem Adeniji and Carter Stanley have a chance to take KU (3-5 overall, 1-4 Big 12) to multiple league victories for the first time since 2008.
"You come here to win," said Adeniji, a senior left tackle who has started every game of his KU career. "You dream of coming in here and turning around the program. To do it your senior year after falling short so many times earlier …. to finally be able to do it our senior year and make an impact and set these guys up for the future — I mean, I couldn't describe into words what it would mean to me."
The Jayhawks' first shot at clearing an admittedly low bar comes against rival Kansas State, ranked No. 22 in the country. If the Jayhawks were to pull off the upset a week after knocking off Texas Tech, of course, it also would mark KU's first consecutive Big 12 wins since 2008.
"That'd be big," Stanley said of assuring KU of at least two league victories for a change.
"We've got four regular season games left. It's the same thing we've been doing all year. It's one at a time. We've got one game this week and 100 percent of our focus is on K-State," Stanley said. "So we've got to get this one. Win or lose, Sunday rolls around and we're on to the next one."
And as "great" as it would feel, Stanley said, to basically deliver the program's best season since Mangino's tenure in Year One of the Les Miles era, KU's senior QB couldn't discuss the topic without shooting for something bigger.
"In our minds we think we can get five Big 12 wins," Stanley said of the Jayhawks. "It really is just one at a time, and I have the utmost confidence in these coaches and these players."
KU last won five Big 12 games in a row in 2007, when the Jayhawks finished 12-1 overall and won the Orange Bowl.
Kansas has a bye week following the Sunflower Showdown (2:30 p.m., FOX Sports 1). Then the Jayhawks play on the road for two weeks, at Oklahoma State and Iowa State. KU closes its schedule at home on Nov. 30, versus Baylor.
KU football Big 12 records in past decade
(head coach)
2009 - 1-7 (Mark Mangino)
2010 - 1-7 (Turner Gill)
2011 - 0-9 (Gill)
2012 - 0-9 (Charlie Weis)
2013 - 1-8 (Weis)
2014 - 1-8 (Weis for one loss; interim Clint Bowen for remainder of season)
2015 - 0-9 (David Beaty)
2016 - 1-8 (Beaty)
2017 - 0-9 (Beaty)
2018 - 1-8 (Beaty)