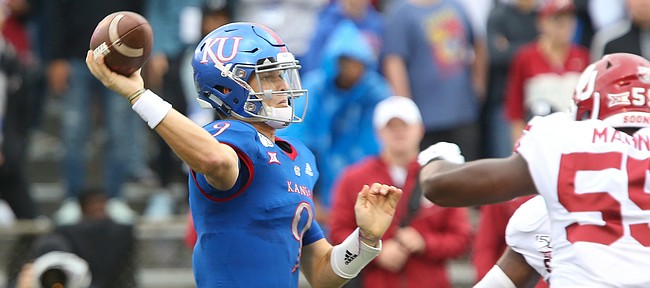 — Kansas (3-5 overall, 1-4 Big 12) vs. No. 22 Kansas State (5-2, 2-2) • 2:30 p.m. kickoff, David Booth Kansas Memorial Stadium • Game-time forecast: 51 degrees, mostly sunny, 0% chance of rain • TV: FOX Sports 1 • Radio: KLWN, FM 101.7 / AM 1320
— Log on to KUsports.com for our live coverage and follow our team on Twitter: @KUSports, @BentonASmith, @mctait and @SJacksonLJW
Keys for Kansas
1. Start faster
New offensive coordinator Brent Dearmon, according to the players learning from him, is an endless fountain of energy. The Jayhawks will need to tap into some of Dearmon's get-up-and-go early this week to set themselves up for a successful rivalry game.
Each of the past two weeks, while KU's offense has ultimately performed at a high level, the Jayhawks have fallen behind by at least two touchdowns before taking off.
Senior quarterback Carter Stanley said the early-game funks have been a topic of discussion around the KU facilities.
"Being down 14-0 and 17-0, it's something we can't do," Stanley said, referencing deficits against Texas and Texas Tech. "It's something we've overcome both games, to come back and take the lead. Obviously only one of those we won. We've got to help ourselves out by getting off to a better start — offense, defense and special teams. It would be nice to go up 14-0 to start the game for once. Definitely something we need to work on, and hopefully we can do that this week."
Earlier in the season, KU also fell behind 10-0 at Boston College and 38-0 at TCU. Stanley said it was difficult to pinpoint any one factor that has led to the Jayhawks' slow starts.
"I know personally I can execute better," Stanley said, "and making routine plays on those first couple of drives will make us move the ball."
One of the best FBS teams around at controlling the game's flow through time of possession, K-State is ranked fifth in the category, averaging 34:45 on the season. If KU falls behind against the Wildcats, the upset-minded home team might find it difficult to get the ball back.
KU head coach Les Miles downplayed the idea of his team laboring early against Texas Tech, which led 17-0 in the second quarter, and said he had no idea what led to that.
"It got colder as the day went on, and we got better and more proficient. So that's how I prefer it," Miles said. "If I had to be stuck with a slow something, I'd rather have it be the slow start and then have the opportunity to continue to play at a high level, which we did."
Sophomore KU running back Pooka Williams Jr. said it's up to the players to avoid such holes, and that the Jayhawks seem to perform well when there's some urgency to their offensive tasks.
"I feel like if we start faster and finish the whole game then we can beat anybody," Williams said. "We're just going to have to motivate each other to get started earlier than later."
2. Keep relying on Pooka
KU's preseason All-Big 12 running back, Williams is coming off his second-lowest rushing total of the season (69 yards against Texas Tech) and third-lowest rushing average of his 18-game college career (3.3 yards per carry).
But that doesn't mean the Jayhawks will give up on their 5-foot-10 playmaker from Louisiana, against a K-State defense that Williams didn't mind buttering up. He called it the best the Jayhawks have faced so far this season.
"Just on the strength of their linebackers," Williams said of why he thought K-State's defense stood out. "You know, they clearly play their role correctly. And the linebackers really make the defense."
According to Williams, the men who will be focused on bottling him up during the rivalry game play sound, assignment-based defense.
"They fill in the holes they need to fill at the right time," Williams said.
So how can he find ways to make big plays?
"You capitalize off their mistakes. I don't know how I'm going to capitalize just yet," a smiling Williams said. "But someway, somehow that'll happen."
K-State's rushing defense (181.9 yards allowed per game) ranks 89th in FBS. The Wildcats are giving up 5.6 yards per carry (125th out of 130 teams) through eight games.
3. Clean up your kicking issues
By no fault of Liam Jones, KU's junior specialist has seen four of his kicks get blocked in the past two weeks.
The blocking problems for the Jayhawks' field goal unit first popped up at Texas, when Jones had both a field goal and an extra point blocked in a 50-48 loss.
Although the coaching staff had a week to address those pitfalls and come up with a solution, Texas Tech, too, found success against Jones and company, repeating the Longhorns' feat with both a blocked extra point and a thwarted field goal.
So what does Miles have in mind for an answer to these special teams woes?
"I think we'll move personnel around," Miles said of the players who will be blocking up front when Jones is kicking. "We're going to give some other bigger, longer guys some opportunities."
The Jayhawks were fortunate against Texas Tech that their blocked field goal led to a freebie of a retry once the Red Raiders botched a return and turned the ball right back over to KU with a failed lateral.
KU can't afford to count on luck bailing them out this week or any other.
Jones enters the Sunflower Showdown 7-for-12 on field goals, with a long of 46. He's 22-for-26 on extra points.
Jones said his mental approach involves thinking of every kick as his first of the game, regardless of whether the previous one went through, missed or got blocked.
Mega Matchup
KU defense vs. K-State rushing attack
With plenty of Wildcats willing and able to run the ball, the outcome of Saturday's rivalry game could very well come down to how successful the Jayhawks are at stopping them.
A week ago, in K-State's eye-opening 48-41 victory over Big 12 powerhouse Oklahoma, graduate transfer James Gilbert ran for 105 yards and a touchdown, marking his third 100-yard outing since joining the Wildcats. But Gilbert was just one of three players with double-digit carries, joined by grad transfer running back Jordan Brown and junior quarterback Skylar Thompson.
K-State averaged 4.7 yards per carry, rushed for 213 yards and dominated time of possession, spending 38:08 with the ball.
"Running the football, obviously, is the big key, and us not having negative plays," first-year K-State coach Chris Klieman said at his weekly press conference. "We did not have as many minus-2, minus-3 plays where you get into a second-and-extra-long, or you have a good, then on second down you have a poor play and you're back to third-and-long. We were pretty good on third-and-medium-to-long last week. That's a testament to Skylar seeing the field so well," the coach added of his QB, who ran for four TDs, tying him for the second-most in a game by a K-State rusher in program history.
K-State starts five seniors on its offensive line. The group has 129 career starts all together, with most of them coming from left tackle, Lawrence native and Free State High graduate native Scott Frantz (45), right guard Tyler Mitchell (37) and center Adam Holtorf (32).
The Wildcats average 199.4 rushing yards per game (35th) and 4.64 yards per carry (59th).
This all appears troubling for a KU defense that often has faltered against opponents' running attacks. The Jayhawks have allowed 222 rushing yards per game (123rd) and 4.88 yards per carry (104th).
KU senior cornerback Hasan Defense said KU's run defense can take a step forward by following through on assignments.
"For example, we've got to know to stay in our gaps, we've got to know when we're blitzing, when we're showing pressure and when we're not," Defense said.
Referencing a couple of injuries (inside linebacker Dru Prox and safety Jeremiah McCullough) that impacted KU's run defense, Defense said younger players on the unit have to "step up to the plate and make those plays, and we've got to continue to focus up and take coaching from (defensive coordinator D.J.) Eliot."
Jayhawk Pulse
KU's late-season rebirth began with a near victory at Texas and continued with a last-second home win over Texas Tech. Now the Jayhawks will attempt to turn those signs of improvement into something sustainable.
"I think the team is playing with confidence," Miles said. "I think beyond a snafu on an extra-point, field goal, I think this football team is really ready to play the best and better football of their year at the back end here."
With four games left on the schedule, the Jayhawks haven't given up on the idea of salvaging their season and achieving bowl eligibility. And, of course, winning a rivalry game against a ranked foe would only further fortify their belief.
"Victory. That's all Coach Miles talks about at the end of the day," Defense said. "Good, ugly, pretty, however you want to put it, we want a victory."
And the importance of the Sunflower Showdown hasn't been ignored.
"We just want to see what that feeling is like, winning this type of rivalry," Defense said. "We want to do it for people like Bryce (Torneden), Jay Dineen and Coach (Clint) Bowen. They've been around forever (as three Lawrence natives). They want to win situations like this. We want to win it for them."
Tale of the Tape
KU ….. KSU
KU run D vs. KSU run game √
√ KU pass D vs. KSU pass game
√ KU run game vs. KSU run D
KU pass game vs. KSU pass D √
Special teams √
Prediction
K-State 35, KU 27
More like this story on KUsports.com