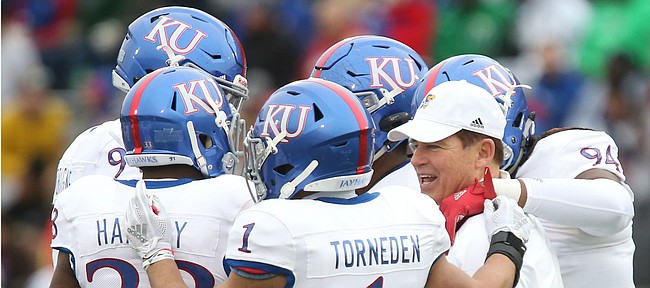 Once the first weekend of the college football season arrives, eager University of Kansas football fans won't have to sit around all Saturday waiting for the debut game of the Les Miles era.
The Jayhawks' season opener against Indiana State will kickoff at 11 a.m. on Aug. 31, the Big 12 announced on Thursday.
Those who can't make it to David Booth Kansas Memorial Stadium will be able to watch Miles' long-awaited return to the sidelines on FOX Sports Net.
Week 2 for the Jayhawks, though, will come under the lights, with their Sept. 7 home matchup against Coastal Carolina set for a 6 p.m. kickoff on ESPN+.
As announced earlier this month, KU's lone nonconference road game, a Friday, Sept. 13 trip to Boston College, will start at 6:30 p.m Central time and air on the new ACC Network.
Per the ACC, all ACC Network games also are available on the ESPN app to authenticated cable subscribers. According to the ACC Network, carriage agreements for the new channel already are in place with the following video providers, among others: Altice, DirecTV, Google Fiber, Hulu Live TV, Optimum, PlayStation Vue, Suddenlink, TVision and Verizon Fios. A search on GetACCN.com for current ACC Network providers in the Lawrence area listed: DirecTV, Hulu and PS Vue.
Kickoff times and broadcast assignments for KU's nine Big 12 games have yet to be announced.
Two of KU's three nonconference opponents finished with winning records in 2018.
Indiana State, coached by Curt Mallory, went 7-4 this past season, finishing the season on a five-game winning streak.
In head coach Steve Addazio's sixth year at Boston College, the Eagles finished 7-5 in 2018 and spent four weeks ranked in the AP Top 25. BC went 5-2 at Alumni Stadium, in Chestnut Hill, Mass., with its home defeats coming versus eventual national champion Clemson and a nationally ranked Syracuse team.
Coastal Carolina, under former head coach Joe Moglia, went 5-7 this past season, losing its final four games on the schedule. The Chanticleers now are coached by Jamey Chadwell, formerly the program's associate head coach and offensive coordinator.
2019 KU Football Schedule
Aug. 31 — Indiana State (11 a.m., FSN)
Sept. 7 — Coastal Carolina (6 p.m., ESPN+)
Sept. 13 — at Boston College (6:30 p.m., ACC Network)
Sept. 21 — West Virginia
Sept. 28 — at TCU
Oct. 5 — Oklahoma
Oct. 12 — bye
Oct. 19 — at Texas
Oct. 26 — Texas Tech
Nov. 2 — Kansas State
Nov. 9 — bye
Nov. 16 — at Oklahoma State
Nov. 23 — at Iowa State
Nov. 30 — Baylor