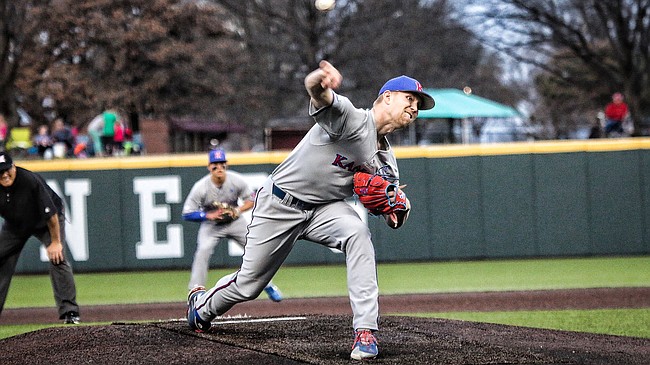 After opening the season with 24 consecutive road games and a 2-7 record in Big 12 play, the Kansas baseball team finished the regular season with a winning record and enters this week's Big 12 tournament as one of the hottest teams in college baseball.
Winners of nine of their last 12 games, including series sweeps over Texas and Kansas State, the fifth-seeded Jayhawks (31-24 overall, 12-12 Big 12) open Big 12 tournament action at 9 a.m. today against No. 4 seed West Virginia (34-18, 13-11) in Oklahoma City, with one goal in mind. The Jayhawks want to make enough of a run this week to ensure their season continues at an NCAA Tournament regional next week.
The fact that they're in position to do just that did not come so much as a surprise as it came out of nowhere.
"Our starting pitching was good enough for us to finish in the first five," KU coach Ritch Price said Tuesday morning before boarding a bus to Oklahoma City. "I knew that when the year started."
Added junior infielder Benjamin Sems: "It always starts with our pitching. … When those guys step on the mound, they give us a chance every time."
What Price did not know at the start of the season was the way things would play out and how long it would take the team to come together behind starters Ryan Zeferjahn, a projected second-round pick in the June Major League Baseball draft, and redshirt junior Ryan Cyr, who have provided KU with solid and steady options on Friday and Saturday night to open
"As we got a chance to practice outside and prepare properly, we started to make progress," Price explained. "It's been a fun group to coach because we're not the most talented team I've ever had, but they compete and they grind and they overachieve. And that's what you have to do if you're Kansas football and Kansas baseball."
Neither Cyr nor Zeferjahn will be on the mound for the Jayhawks against 18th-ranked West Virginia (per this week's NCBWA rankings) and Price said he planned to utilize the Tampa Bay Rays' model of starting the Big 12 opener with the bullpen and asking for short outings from multiple pitchers that both keep KU's arms fresh and the opposing hitters off balance.
The Jayhawks lost two of three to the Mountaineers in Morgantown, W.Va., back in mid-April, and all three games were decided by one run — losses of 1-0 and 4-3 in 11 innings and a 6-5 win in the series finale.
More than 30% of KU's games this season were decided by one run and the Jayhawks were 6-11 in those close-call contests that become even more common during the postseason.
The hope for this bunch now is that the lessons they learned in those losses and the confidence they've gained from their recent run of success will position them better to come out on the winning side of those games from here on out.
Whether they win or lose the Big 12 tournament, the Jayhawks are hoping they'll play well enough to hear their names called when regional assignments are announced next week.
Sixty-four teams make the NCAA Touranment and the Jayhawks sit at No. 60 in the latest RPI rankings.
"The Big 12 tournament's always a fun place to go," said Zeferjahn, who is slated to start Game 2 of the double-elimination tournament on Thursday against either top seed Texas Tech or No. 8 seed K-State. "The last couple years, at the end of the season, just trying to make it, that's kind of been the highlight of our season. But this season's been really good and being able to get the 5 seed in the tournament is really big for us and being able to play our way into a regional this year is kind of cool. Everyone kind of dreams of that, making a regional and making a run. So we know this year's really big because there's a regional at stake."
The mere fact that Zeferjahn and his teammates can even talk like that runs in contrast to the preseason predictions that saw Kansas picked to finish eighth in the nine-team conference.
"That fueled us," said junior catcher Jaxx Groshans, who leads the team with 12 home runs, 42 RBI and a .333 average. "We looked at the standings before the year started. We're the team that everybody expects to be last. And for us to make a regional this year (would be) good for us, just because everybody's been working for it and striving for it since Day 1.
"Our pitching is going to get us to the point where we want to be. And the hitting, it's come along."
Added Sems: "For a lot of guys on the team, this is their last chance at playing for KU and I think that's really just given the whole team that mindset that this is it, it's time to go."
All-Big 12 honors
After his second consecutive 100-strikeout season, Zeferjahn became the third pitcher in KU history to earn first team, all-Big 12 honors, the conference announced Tuesday.
Zeferjahn, who enters the postseason with 101 strikeouts — second in the conference — and a 5-2 record, held opposing batters to a .182 average in 14 appearances this season.
Joining Zeferjahn on the all-Big 12 lists this week were Sems, who earned a second-team nod and Cyr, Groshans and senior centerfielder Rudy Karre, who each earned honorable mention honors.