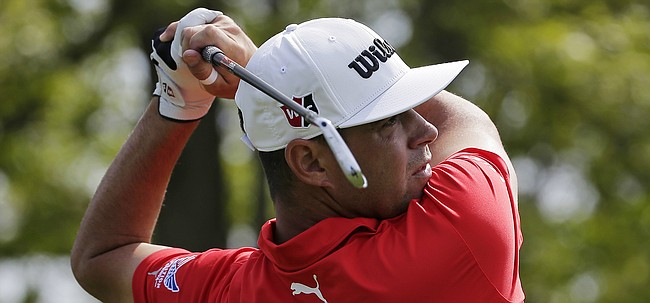 With one round left to play at this year's PGA Championship golf tournament at Bethpage Black in Farmingdale, N.Y., a pair of former KU greats are among those golfers vying for a strong Sunday finish.
Although neither has much of a shot of catching run-away leader Brooks Koepka, who sits at 12 under par and carries a seven-stroke lead into the final round, both Gary Woodland and Ryan Vermeer are poised to improve their paydays by moving up the leader board.
Woodland, who ranks No. 9 overall in the current FedEx Cup standings and has six Top 10 finishes in 15 starts this season, sits in a tie for 39th place after following up a pair of even-par 70s with a 73 on Saturday.
His positioning and chance of cracking the Top 25 at yet another major hardly qualifies as a surprise.
Vermeer's opportunity, however, is the result of slightly different circumstances.
The 41-year-old PGA Director of Instruction at Happy Hollow Club in Omaha, Neb., was one of three club professionals to make the cut at this year's event.
Vermeer opens Sunday in a tie for 58th after firing a 72 and moving up 10 spots on the leaderboard on Saturday. He currently sits at +6 while Woodland is at +3.
Vermeer's ability to stick around for Rounds 3 and 4 marked the first made cut at the PGA Championship in three tries for the former Jayhawk who becomes the first Nebraska PGA Section Member to make a PGA cut.
"I've got 60 texts and counting," Vermeer told PGA.com on Friday. "It was a big relief to learn about making the cut on the number. I didn't expect it to be as stressful. This week, I take a lot of pride in the support I have received."
Tyler Hall, who played at KU during the early 2000s, also was in this week's PGA Championship field but missed the cut by one stroke after shooting five over par — the same score as Tiger Woods — during Rounds 1 and 2.