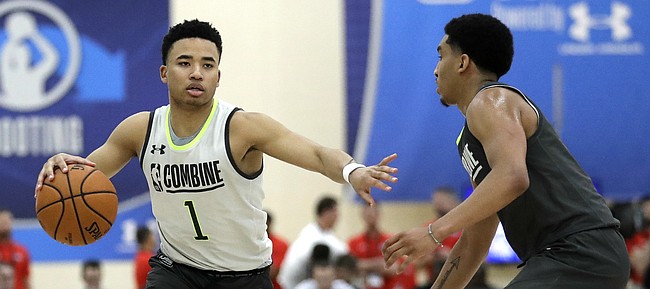 Devon Dotson still has 12 days to decide whether he will return for his sophomore season at the University of Kansas or keep his name in the 2019 NBA Draft.
On Friday at the league's draft combine in Chicago, Dotson may have done enough to at least slightly improve his stock.
During his team's five-on-five scrimmage the 6-foot-2 point guard produced 10 points, 9 assists and 6 rebounds in 22 minutes.
Dotson grinned shortly afterward when asked by Mark Carman of FanSided in a video interview whether he was leaning one way or another in terms of his draft decision.
"I'm not leaning any which way," Dotson replied. "I'm just taking it day by day and seeing how everything is."
Although Dotson went 0-for-3 on 3-pointers in the scrimmage, he shot 5-for-11 from the field overall, scoring all five of his baskets inside.
"I feel like it's going pretty well," Dotson added of his combine experience. "I've got more workouts after this and some different stuff, like a pro day."
A day earlier at the combine, Dotson delivered one of the more impressive scrimmage highlights, coming away with a steal and proceeding to take off the other direction and finish through contact in transition with an up-and-under layup.
During that Thursday action, Dotson scored 8 points, finished with 1 assist and shot 3-for-8 from the field and 0-for-2 from beyond the 3-point arc.
Even though he has had positive moments at the combine, it remains to be seen whether what Dotson accomplished will impress NBA executives and coaches enough to make him even an early second-round pick — most projections so far don't list Dotson as one of the 60 draft picks come June.
ESPN analyst Jay Bilas said during the network's live coverage of the combine he wondered whether Dotson will stay in the draft or go back to Kansas.
"He's a small guard. But he's got good quickness, very good speed and he's a tough-minded player," Bilas said.
"One of the things I loved about Dotson was when he got fouled he stepped to the line after getting knocked into the stanchion, put into the wood, he stepped to the free throw line and knocked in big free throws," Bilas added.
Dotson told reporters at the combine he has kept in contact with KU coaches this week. Assistant coach Jerrance Howard watched Friday's action in person from the bleachers.
"They're calling, texting," Dotson said of his communication with KU's coaches. "But they're supportive. They want to see me do well and they're OK with any decision I make."
While Bilas named Dotson as one of the players who impressed during the early scrimmage on Friday, the analyst didn't think that meant Dotson had played himself into a draftable position necessarily.
"It looks to me like he should go back to school," Bilas offered, "but it's an individual's decision."
Players have until May 29 to decide whether they will stay in the draft or withdraw.
Off day for Grimes
With his Gray team down 85-82 coming out of a timeout with 3.2 seconds to play, Quentin Grimes found himself setting up for an inbounds play with KU teammate Dotson defending him.
Grimes made a quick cut to run Dotson off a screen and got off a shot from the right wing that would have tied it up, but it misfired off the rim.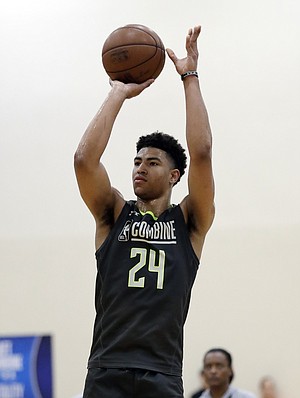 Just ahead of that, with a little more than 10 seconds to go in a one-point game, Grimes dribbled his way from a loose ball into a jumper from just inside the left elbow and missed badly to the right, with his team trailing.
After Grimes finished the outing with 1-for-9 shooting, Bilas said the draft hopeful "really struggled" and wasn't able to properly follow up "a pretty good showing" the previous day.
Grimes played 32 minutes Friday, going 1-for-6 on 3-pointers. He finished with 9 points, 4 rebounds, 4 assists, 1 steal, 1 block and 2 turnovers.
ESPN front office insider Bobby Marks noted during the broadcast that back before the 2018-19 season began Grimes was considered a top-20 pick.
"Now we don't even have him ranked," Marks continued. "This gave him an opportunity to kind of showcase in front of NBA teams some things that he didn't do at the University of Kansas."
Although Marks praised Grimes for doing "a little bit of everything" in Thursday's scrimmage, when Grimes scored 9 points and rounded out his stat line with 4 boards, 3 assists and 3 steals, he maintained Grimes is not a one-and-done type of talent.
"I don't care what kind of feedback you get in the next 24 hours," Marks said, adding Grimes needs to become a more consistent player.
Double figures for Lawson
No one on Dedric Lawson's team played more than 21 minutes in the final scrimmage of the combine Friday, and Lawson was one of five players to log exactly that amount of time on the court as his team won, 91-74.
Lawson put up 10 points on 4-for-8 shooting and went 2-for-4 from downtown. The junior forward from KU, who projects as a second-round pick, also pulled in 5 rebounds.