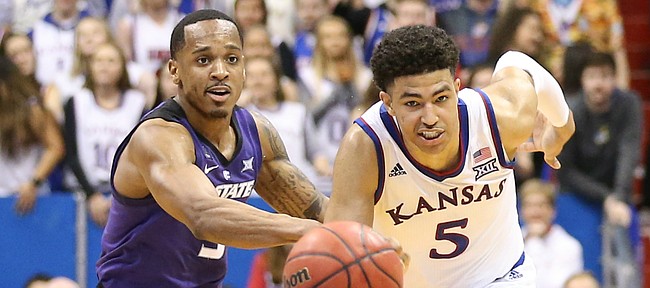 If you ever deliberated about exactly how tall Devon Dotson is or how long Dedric Lawson's arms are, well, wonder no more.
The NBA published on Thursday body measurements for every prospect at the NBA Draft Combine who elected to go through the process — surefire lottery picks Zion Williamson, Ja Morant, RJ Barrett and Darius Garland, for example, declined to be appraised as such.
Each of the three Jayhawks in Chicago for the combine, though, was surveyed so his specific height, weight and other measurements could be made available to NBA executives and fans alike.
Among the draft hopefuls, Lawson had some of the longest hands, measuring at 9.75 inches in length. Only 7-foot-7 (in shoes) Tacko Fall from Central Florida had longer hands at 10.5 inches.
An All-Big 12 forward, Lawson measured 6-foot-8.5 with shoes and 6-7 without them, and weighed in at 233 pounds. Lawson has a 7-2.25 wingspan, 8-11.5 standing reach, 9.75-inch wide hands and 8.9% body fat.
Dotson, the fourth-lightest player to be weighed, at 178.6 pounds, stood 6-2 in shoes and an even 6 feet without them.
The freshman point guard has a 6-3.25 wingspan, 7-11.5 standing reach and 5.9% body fat. Dotson's hands measured 9.5 inches wide and 8.25 inches long.
Quentin Grimes tied Yale's Miye Oni for the distinction of widest hands belonging to a guard (10 inches).
Officially a 6-5.25 shooting guard in shoes, and 6-4 without, Grimes hit the weight scale at 209.6 pounds. Grimes' wingspan measured at 6-7.75 and he had an 8-4.5 standing reach. Grimes' hands are 8.25 inches long and he has 8.4% body fat.
While Lawson is expected to stay in the draft, Jeff Goodman of Stadium reported Grimes is "still keeping his options open" and has not yet decided whether he will return to KU or keep his name in the draft.
Dotson had stated previously he wants to experience the pre-draft process to gather information about his prospects for the future, leading most to expect him to return to KU unless he improves his standing immensely for this year's draft.
Per Charlotte Observer reporter Rick Bonnell, Dotson said on Thursday in Chicago he's still undecided which route he will take and his decision might not come until the May 29 deadline.
Bilas on Grimes
Shortly after ESPN's live coverage of the combine tipped off on Thursday afternoon, analyst Jay Bilas offered his thoughts on Grimes, who was about to start for Team 2 in the first scrimmage of the day.
Bilas said the possible one-and-done prospect "didn't have the kind of success you'd expect out of a guy to leave early."
Grimes averaged 8.4 points in 36 games as a freshman and shot 34% from 3-point range and 38.4% from the field overall.
"He struggled shooting the ball. He's a good shooter at times, but struggled shooting the ball throughout the season," Bilas continued.
"Quentin Grimes when he came out of high school was considered a one-and-done prospect, but after the way he played his freshman year, with a lot of ups and downs, I think a lot of people, myself included, thought maybe he's not ready; maybe it would help him to go back," Bilas said of Grimes, whom he has ranked 63rd on his list of best available prospects. "But he's strong, he's a good athlete. I think he needs to vary his game by improving his skill level, putting the ball on the floor, but he certainly does have ability and he's a really good kid."
In the first five-on-five scrimmage of the combine, Grimes played 20 minutes and scored 9 points on 4-for-8 shooting. He went 1-for-3 from 3-point range and contributed 3 assists and 4 rebounds as his team won, 92-73.