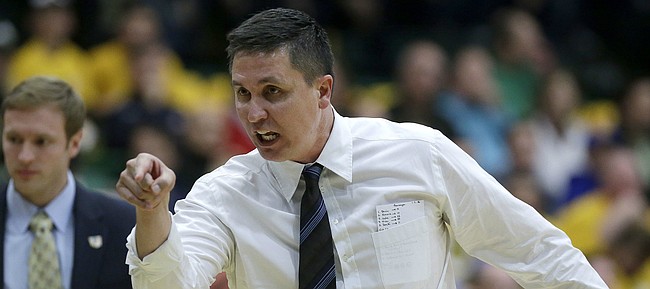 A pair of former Kansas basketball leading scorers who missed each other by a few seasons during their playing days in Lawrence are now teaming up as coaches at Wake Forest.
Demon Deacons head coach and Jayhawks legend Danny Manning hired this week former KU guard Rex Walters, naming Walters an associate head coach for the ACC program.
Manning, of course, led Kansas to the 1988 national championship and won the Wooden Award during his standout senior season.
Three years later, Walters joined the Jayhawks as a transfer from Northwestern, making his KU debut in the 1991-92 season. Walters led the team in scoring during each of his two years at Kansas. The Jayhawks reached the Final Four in Walters' senior season.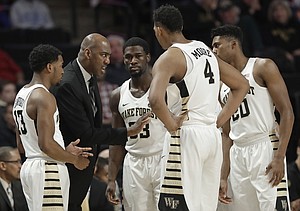 "I am excited to have Rex join our coaching staff," Manning stated in a Wake Forest release. "He has tremendous experience as a collegiate head coach and as an assistant coach in the NBA. Rex is widely respected as a great X-and-Os coach and the impact he made at Nevada last season, especially on the defensive side of the ball, was phenomenal. I know our players are going to enjoy learning from his years of experience, both as a player and as a coach."
This past season, Walters worked at Nevada as a special assistant to head coach Eric Musselman.
Prior to that, Walters spent the 2017-18 season in the NBA with the Detroit Pistons, as an assistant on head coach Stan Van Gundy's staff.
Walters' most recent head coaching job came in 2016-17, with the Grand Rapids Drive of the G-League.
As a head coach at the college level (two seasons at Florida Atlantic and eight at San Francisco), Walters amassed a 158-160 record.
"First and foremost, I am excited about working for Danny Manning," Walters said. "Coach Manning is someone that I have the utmost amount of respect for. Any recruit who has aspirations of being a great man, a great student and a great basketball player will not find a better example of these three qualities than Danny Manning. I am looking forward to recruiting and coaching the young men in this program."
Wake Forest finished 11-20 in 2018-19, Manning's fifth season in charge of the ACC program. Manning holds a 65-93 record with the Demon Deacons and is 103-122 overall as a head coach, having spent two years at Tulsa, where he was 38-29.
Walters isn't the only Jayhawk on Manning's staff — far from it, in fact. Walters joins his one-time KU teammate, Steve Woodberry, as a Wake Forest assistant coach.
Once Walters left KU, becoming the 16th overall pick in the 1993 NBA Draft, Woodberry emerged as KU's leading scorer as a senior in 1993-94. The two were teammates for two seasons at Kansas.
The Wake Forest staff also includes Evan Manning, Danny's son, who was a walk-on at KU from 2013-16 after graduating from Free State High in Lawrence. Evan serves as the Demon Deacons' director of player development.
What's more, Justin Bauman, a 2004 graduate of KU, is Wake Forest's director of basketball operations. Bauman was first a student manager and later a student assistant at KU, working for Roy Williams from 2000-03. He remained at KU as head manager for Bill Self through 2006. Bauman also worked for Walters at San Francisco and FAU.
More like this story on KUsports.com