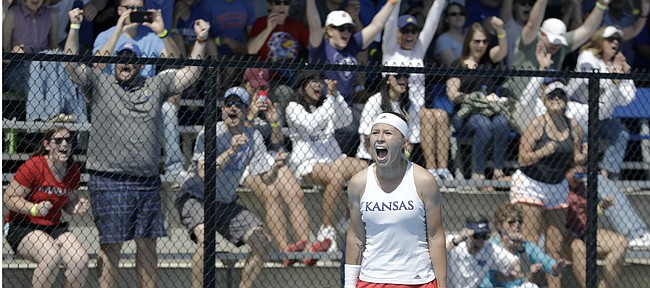 Moments after Kansas senior Janet Koch lost her singles match and shook hands with her opponent, she turned to watch the fourth court at the Jayhawk Tennis Center.
Within seconds, freshman Sonia Smagina let out a deafening scream as the return by Marlee Zein soared out of bounds. Koch was the first to hug Smagina, who capped off KU's 4-2 win over Florida in the second round of the NCAA Tournament Saturday afternoon.
The win sent the Jayhawks to the Sweet 16 for the first time since 1998.
"It is something we have been fighting for and working for," KU coach Todd Chapman said. "To be able to come through against a battle-tested team, and a very well-coached team, was big for our program."
Early in the match, though, it was evident that the players understood the significance of what they were trying to accomplish. They were battling nerves and letting their emotions impact their play.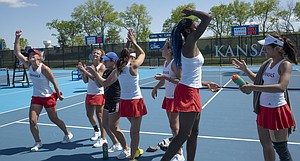 During the start of singles play, Koch shanked a forehand attempt. She also double faulted. It wasn't until Koch took a moment to glance at all six scoreboards that she started to settle into her own game.
"Once I felt the energy on all six courts, I knew we had the energy to outcompete them," Koch said. "Nobody worked harder than we did the last few weeks. I knew it was going to pay off in the big moments today."
Smagina faced a 5-1 hole in the first set of her match with Zein at No. 4 singles before surging back to claim a 7-5 win. Smagina then closed things out with a 6-4 win in the second set.
"She calmed down and played tennis," Chapman said. "There for awhile, we were battling emotions but that happens with freshmen. It is a big match and a big situation. She wanted to win so badly that I think sometimes it keeps you from doing the things that you want to."
But that's what made KU's performance most impressive. It was the underclassmen who stepped up to help the program do something that it hasn't done in 21 years.
Sophomore Plobrung Plipuech took down sophomore Victoria Emma (6-2, 6-3) at No. 3 singles. Freshman Malkia Ngounoue teamed up with junior Maria Toran Ribes to record a 6-3 win over Zein and Sydney Berlin at No. 3 doubles. Toran Ribes also notched a win over Berlin (6-2, 6-3) at No. 6 singles.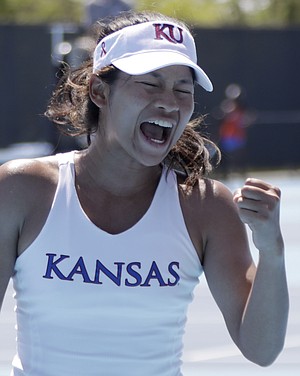 Koch and senior Nina Khmelnitckaia clinched doubles point for the Jayhawks, recording a 6-3 victory over McCartney Kessler and Emma at No. 1 doubles. Kansas has now claimed doubles point in 24 of its 25 dual matches this season.
"We believe we match up with any team in the country," Chapman said. "We did what we did today against a great team with not everyone playing to their best. That's exciting when you can win tough matches and not have peaked yet. I still don't believe this team has peaked."
It is why the Jayhawks don't believe they are done yet, even though they have already made history in 2019.
Kansas will travel for the Sweet 16, as long as Stanford also advances. If Stanford loses to Syracuse on Sunday, however, KU would host another round of the tournament. Regardless, the Jayhawks believe they are capable of making an even deeper run.
"We are not done yet," Koch said. "The work doesn't stop. We are going to enjoy the moment, but we are not settling."