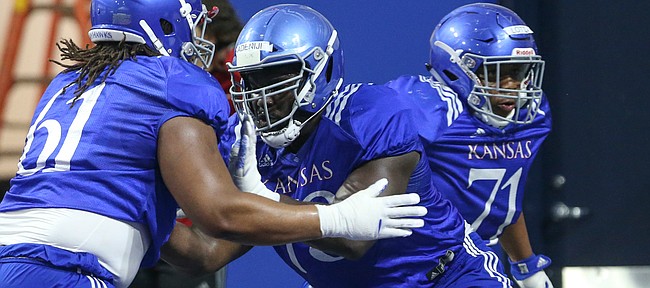 A regime change can challenge even the most experienced veteran. Just ask University of Kansas offensive lineman Hakeem Adeniji.
A starter in every game the Jayhawks played during each of his first three seasons at the collegiate level, the senior left tackle had been asked to do plenty for the program since moving to Lawrence from Garland, Texas. But this was a new one — even for Adeniji.
How would the longtime tackle look, his new coaches wondered, in the middle of the O-line, playing center?
Ever the dutiful lineman, Adeniji accommodated his new coaches' curiosity earlier this spring as they gave the left tackle a trial run as a snapper.
"I've got a good football IQ. You never know," Adeniji said of what ended up being more of an experiment. "If something happens or were to occur to where I would have to play that then that's where I would be."
According to Adeniji he never took any meaningful reps in front of a KU quarterback during practices. Nor did he feel at any point as if he'd missed his life calling. So it's safe to say the 6-foot-5, 310-pound lineman is more comfortable at tackle.
"Yeah," a smiling Adeniji concurred. "Probably."
That potential shakeup was hardly the only change Adeniji and his fellow offensive linemen encountered this spring. He said "a lot" felt different up front, now that Les Miles is KU's head coach and Luke Meadows in the team's O-line coach.
"We've got a different coach, so a whole different philosophy, technique and then scheme obviously," Adeniji said. "So there's a lot of different things that we have to learn."
Much of that education has come from Miles himself. An offensive lineman back in his playing days at Michigan in the 1970s, Miles also broke into the profession as an O-line coach at Colorado and took on the same responsibilities at Michigan before landing at Oklahoma State as an offensive coordinator in 1995.
Miles' background became evident quickly for the Jayhawks on the O-line.
"That's the thing I love about Coach Miles," Adeniji said. "He loves getting in there and talking to us big guys. He knows the technique. He's been there, he's done that. And he knows what he's talking about."
A 36-game starter at KU, Adeniji said any time the Jayhawks were in team situations this spring, Miles could routinely be spotted pulling O-linemen aside during stops in the action in order to break down a play that had just occurred or offer advice.
Adeniji knew before Miles got to Lawrence that the former LSU and Oklahoma State head coach had some personal interest in the O-line.
"He has the pedigree and I think we were all excited," Adeniji said of the Jayhawks' expectations before being coached by Miles. "Now that he's here, it's more than just hype. I see he's the real deal."
You won't find Adeniji playing center for KU during Miles' first season unless it's an emergency situation for the O-line. That responsibility will remain in the hands of projected starter Api Mane and reserve centers Andru Tovi and Joey Gilbertson.
By the end of spring, Adeniji and Mane were joined on KU's first string up front by left guard Malik Clark, right guard Chris Hughes and right tackle Clyde McCauley III.
But Adeniji thinks whichever combination KU ends up using on the offensive line will have the chemistry needed to be effective.
"We've got a lot of guys. I think we've got a lot of depth," Adeniji said of KU's O-line. "And guys are going out there and improving — I feel like everybody's improving — every day."