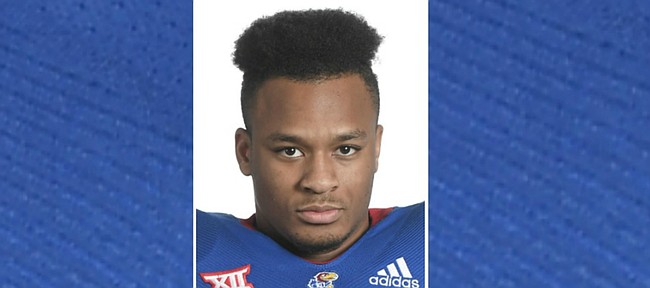 It's true that offensive coordinator Les Koenning and his Kansas football boss, head coach Les Miles, won't know exactly what type of player they have in Class of 2019 signee Jordan Medley until the young quarterback arrives on campus this summer.
Both veteran coaches, though, can't wait to see what the 6-foot-2, 200-pound prospect from Kannapolis, N.C., has in his arsenal.
During Miles' National Signing Day press conference earlier this year, he spoke about each member of his first batch of KU recruits, and played some clips from each player's most recent season. A brief highlight video showed Medley, a prep QB at A.L. Brown High, breaking through a defensive front for a successful run out of the backfield. The play wasn't over yet. Medley shifted into an even higher gear to sprint away for a lengthy touchdown.
The clip drew more oohs and ahhs than any other that played that day.
"He's got some speed," said Koenning, the man who will soon be coaching the dual-threat QB. "He really does. Just on film and the stuff that I've seen."
High school highlight videos, of course, aren't accurate predictors of college football success. Koenning said as a quarterbacks coach and O.C. watching such footage he often finds himself looking forward to getting the chance to work with an incoming QB for the first time, at preseason camp.
Medley passed for 2,203 yards and 17 touchdowns during his senior season. He reportedly also had scholarship offers from Charlotte, Army, Eastern Kentucky and UMass. Rivals rated him as a two-star athlete — translation: this prospect could end up playing another position at the college level.
So will Medley definitely play QB for Kansas?
"Yeah, Jordan's a quarterback," Koenning affirmed. "Of course, I'm excited about him. You know this. You've got to have a quarterback. And how the game goes, if that guy plays well, we usually play well. We went out and saw him and liked him and liked his intangibles, so we took him. And we're excited about him. We really are."
During spring football at KU, Koenning coached six different QBs: junior Thomas MacVittie, senior Carter Stanley, redshirt sophomore Miles Kendrick, true freshman Torry Locklin and walk-ons Miles Fallin and Billy Maples.
With so many QBs on the roster and another to add to the mix once Medley arrives, Miles said around signing day KU's coaches could end up moving one of Medley and Locklin to another position.
While the Jayhawks likely won't know until August at the earliest about Medley as a permanent QB at KU, Miles said "there's nothing not to like" about the incoming freshman from North Carolina.
"I saw speed, ability to throw it, toughness. I mean, I like him. I like him a lot," Miles said. "It'll be interesting to see how and where he fits."
Koenning said he could tell from watching Medley's high school footage that the mobile passer is capable of becoming a college QB.
"So it's one of those deals where we're excited about what we see. Just like opening that present, we really don't know until he gets here," Koenning stressed, "but we're really, really excited about what he brings."
One skill set of Medley's that intrigued Koenning most is the QB's speed, athleticism and ability to extend plays by scrambling.
As the KU assistant descried Medley's mobility and elusiveness he brought up Kansas City Chiefs quarterback Patrick Mahomes — "Golly, they can't tackle him."
Koenning also made it clear he wasn't comparing Medley to the reigning NFL MVP.
"I'm just saying, what I'm telling you is those guys are getting more prevalent," KU's offensive coordinator said, "because they can prolong the play."
A player once coached as a freshman and sophomore at Mississippi State by Koenning, now Dallas Cowboys QB Dak Prescott, possesses that ability, too.
"He's faster than Dak," Koenning said of KU's Medley. "But again, can he do what Dak did? I don't know."