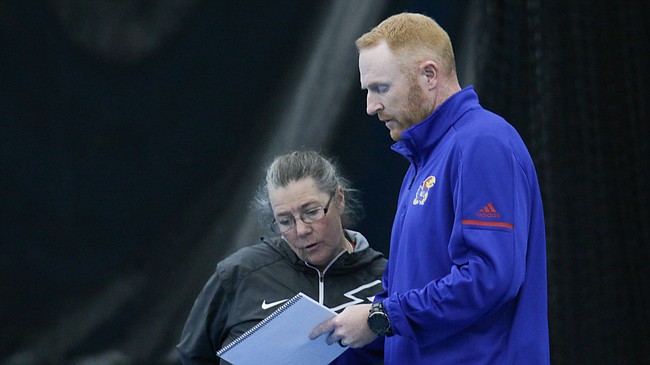 The best women's tennis coach in the Big 12 Conference resides in Lawrence Kansas.
KU coach Todd Chapman on Wednesday was named the Big 12's coach of the year after leading the Jayhawks to a 19-4 record entering NCAA Tournament play this weekend.
The Jayhawks, seeded No. 14 overall and hosting for the first time since 1997, will face Denver University at 1 p.m. Friday at the Jayhawk Tennis Center in the opening round.
And that's exactly where Chapman's focus will remain, even with the shiny new award making its way to Lawrence.
"I look at this as a team award," Chapman said Wednesday. "No coach is honored with this award without their team having a great year and without being assisted by a great coach. We believe we have the best assistant coach in the country and without the unbelievable job Caroline (Lilley) has done with our team, an award like this would not be possible."
Now in his sixth season at KU, Chapman owns an overall record of 86-58 and boasts four consecutive trips to the NCAA Tournament, including last season's Round 1 win over Denver in California.
In addition to Chapman's honor, six of the eight Jayhawks on this year's roster earned all-Big 12 recognition, as well.
Singles player Anastasia Rychagova, who currently is ranked No. 17 in the nation, was a first-team selection and received all-Big 12 honors for the fourth consecutive season.
She enters postseason play with a 19-2 overall record and a 7-2 mark against nationally ranked opponents.
Three other Jayhawks — senior Nina Khmelnitckaia, freshman Sonia Smagina and junior Maria Toran Ribes — earned second-team honors in singles play.
Smagina, who owns an overall record of 16-3 while filling four different roles, also was named to the Big 12's all-freshman squad.
In doubles action, KU's three doubles teams achieved a program first by earning all-Big 12 nods.
Khmelnitckaia and senior Janet Koch, currently ranked No. 3 in the nation, have won all but one doubles point this season and take a 16-1 record into Friday.
Rychagova and Smagina, the No. 85-ranked doubles team in the nation, also earned first-team honors after registering a 15-3 record this spring.
And Toran Ribes and her doubles partner, freshman Malkia Ngounoue, were named second-team all-Big 12 after recording a 14-3 record in the No. 3 doubles slot.
"It is fantastic to have six players make the all-Big 12 teams," Chapman said Wednesday. "I think being this well represented is a testament to the season we had and the respect our players have garnered from the other coaches in our conference."