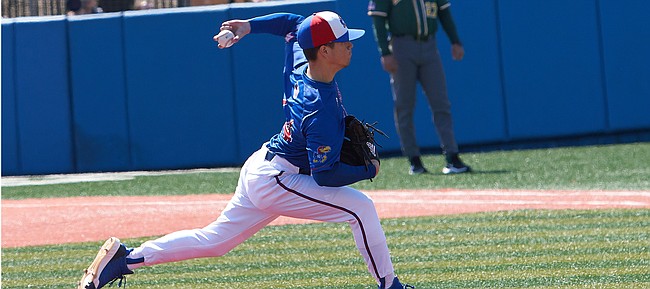 Six hundred seventy-seven.
That's the number of days between Eli Davis' Tommy John surgery and his first collegiate home start. It proved to be well worth the wait, though, as the left-handed starter posted a terrific outing on the mound to lead Kansas past No. 25 Baylor, 12-7, during the series finale Sunday afternoon at Hoglund Ballpark.
With the win, the Jayhawks avoided a series sweep and notched their first Big 12 victory of the 2019 campaign.
"It felt pretty great, it's been a long time coming," Davis said. "It's just great to get back on the home field and have a little bit of an advantage going our way."
Davis, a redshirt freshman, allowed three runs off seven hits over 6 1/3 innings in his debut in Lawrence. His day ended after giving up a two-run homer to Nick Loftin in the seventh, though the game was well out of reach by then.
It was an impressive performance for Davis, who surrendered 11 earned runs off 19 total hits over his last two starts. Brett Vosik, James Cosentino, Jaxx Groshans, Rudy Karre, Tom Lichty and Skyler Messinger all recorded multiple hits for Kansas (15-12, 1-5 Big 12) to provide plenty of run support for the rookie lefty.
"The last couple starts I haven't been myself," Davis said. "It was nice to finally get out there and be me."
Davis (3-3) finished with five strikeouts and one walk to stifle a Baylor team that scored 16 runs and recorded 24 hits through the first two games of the three-game set against Kansas. Entering Sunday, the Bears (20-7, 5-1) had scored a total of 60 runs during a seven-game win streak.
"It was special," head coach Ritch Price said. "That was by far his best performance of the year and obviously the biggest game of the year for us."
But Sunday's showing by Davis was many months in the making, and one Price envisioned when the talented hurler committed to Kansas in 2015.
Davis fueled his high school team, Shawnee, to a pair of state titles in Oklahoma with his pitching prowess during the 2015 and 2016 season. In his senior season, however, Davis sustained a 70 percent tear in his ulnar collateral ligament in his elbow that would require Tommy John surgery.
Price left the decision up to Davis, who elected to postpone the surgery until the end of his senior season. He served as the centerfielder to help his team finish off a 40-0 season with another state title before he ultimately went through with the surgery on May 23, 2017.
That toughness is evident when Davis is on the mound, as he had to dance around some danger throughout his first Big 12 win. Davis gave up a leadoff double in the first and a one-out double in the second before leaving both runners stranded. He also worked around a pair of runners in the third.
"That's one of the things I love most about him, he's got that fire and energy," Groshans said. "When he strikes out the side in a big situation, he's going to come off the mound and scream. I like to see that fire, especially since it pumps the team up, and pumps the crowd up."
Groshans gifted Kansas a lead it wouldn't relinquish with a solo shot to start the bottom of the third. It marked his 10th homer of the season, which leads the Big 12 and ranks second among catchers in the NCAA. KU scored two more runs in the bottom of the third, including one off a double by Messinger.
The Jayhawks then broke the game open in the bottom of the sixth with a five-run outburst. Messinger came through with a two-run double, while Lichty delivered a two-run single. Karre added an RBI single to give KU a 9-1 lead.
Davis eventually handed a comfortable lead over to the bullpen, closing the book on his best start of his collegiate career.
"He's a redshirt freshman, but I think he's wise beyond his years," Groshans said. "I think he's got a lot more in the tank, especially since this is his first season (after) the injury. By the time he's a junior, he's going to be a legitimate draft prospect."
Kansas plays host to Wichita State at 6 p.m. Tuesday.