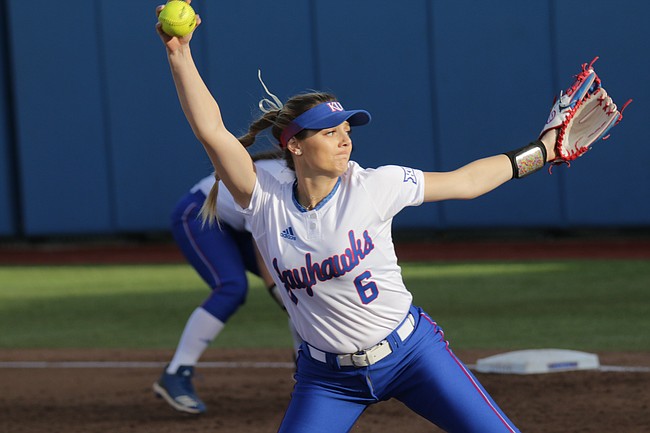 After a 6-19 start to the season under first-year head coach Jennifer McFalls, the Kansas softball team has now won five out of its last six games.
Against Green Bay this past weekend, the Jayhawks earned their first sweep to improve to 11-20 overall as they enter their Big 12 slate.
"Winning creates happiness in the locker room and hopefully a good, positive feel as we're heading into Big 12," McFalls said.
Wynne paces team in power after homestretch
Freshman Morgyn Wynne, who is tabbed as a power hitter in her online bio, hit four home runs in the second half of the Jayhawks homestretch and now leads the team with five blasts on the year.
Wynne hit a solo shot in the Jayhawks' 8-0 no-hitter against Nebraska-Omaha. She also hit a grand slam in KU's 11-10 loss to Wichita State, and then delivered two solo shots in a 5-4 win over Green Bay in game two of the series.
Listed as an infielder, Wynne started the last three games at catcher. She previously came in as a pinch hitter or played as the designated player.
"We're really focussing on four quality at bats and Morgan especially – that kid has so much power and potential," McFalls said. "She's been put in some tough situations but she's getting the job done and she's embracing the pressure and I'm really really proud of her."
Freshman pitcher rising above her own expectations
In its March 18 game against Nebraska-Omaha (2-24), Kansas freshman Lexy Mills threw a no hitter for the Jayhawks. It was their first since Andie Formby, who was then a junior, against St. Louis, on March 20, 2016.
Mills (4-4), an Agoura Hills, Calif. native, fanned 10 with four walks in the six inning outing. She became the first freshman for the Jayhawks to throw a no-hitter since Kelsey Kesler in 2013 against Texas Tech.
"She's got a great temperament in the circle, and gets after it," said assistant coach Jeremy Manley, who works with pitchers. "I think she's found her feet, she came with a lot of good tools and I think she's just finding a good calm about herself now."
In high school, Mills was the back-to-back leader in strikeouts in southern California's Marmonte League. She set her high school's strikeout record with 916 over her career.
"You could see pretty quickly that she likes to throw strikes, and like to throw strikes often," Manley said. "We like that."
She went on to start in the second game against Green Bay and added seven more strikeouts to tally 28 over her previous three starts.
"I've always been a strikeout pitcher, and I always hoped to bring that over to college, and I think I am," Mills said.
Kansas plays host to Baylor at 5 p.m. Friday to open its conference slate.