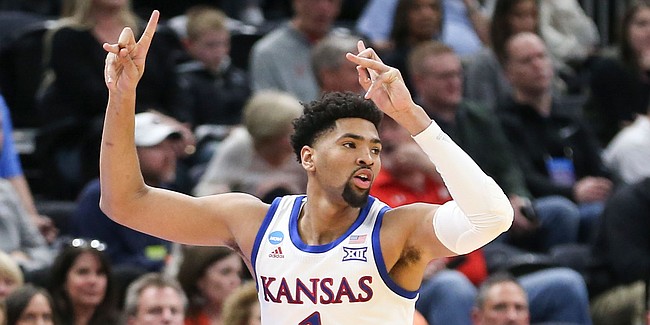 After spending nearly all of his first season with the Jayhawks smiling, laughing and staying upbeat at every turn, Kansas junior Dedric Lawson finally let it go.
Sitting in the losing locker room inside Vivint Smart Lake Arena in Salt Lake City after his team's 89-75, season-ending loss to Auburn, Lawson buried his head in his shirt and sobbed for a couple of minutes.
The outpouring of emotion came after the first wave of questions about the loss, which featured Lawson putting up 25 points and 10 rebounds, and seemed to be a bit of a delayed reaction to the finality of the moment.
Perhaps it was the disappointment of the loss that came crashing down on him. Maybe it was more. Either way, after carrying the weight of a team, a season and an entire fan base on his shoulders, Lawson reached the point where he no longer had anything to carry. Maybe that in and of itself was what brought on the tears.
Say what you will about Lawson's season — how it looked, its fire, its consistency and its superstar allure. But if you're dogging Dedric for any of those things, be careful not to do it in an argument with someone who chooses statistics as his or her weapon of choice.
Because Dedric Lawson's 2018-19 season, on paper, was without question one of the most productive in the history of the KU program.
"He's had as good a year as we could ever have hoped for," KU coach Bill Self said in the aftermath of that loss to Auburn. "I don't know what we've ever ridden a guy (as much as Lawson). Maybe (former KU forward and NBA lottery pick) Thomas Robinson, but he'd be the only guy we would have ridden as hard as Dedric."
In 36 games, all starts, Lawson produced 22 double-doubles, placing him among the nation's leaders in that category and bringing his career total to 58 in 101 games.
Think about those numbers for a second. It basically means that, if a college basketball team with Lawson on its roster played two games in a week, the odds were better than 50-50 that Lawson would have a double-double in at least one of them. Week after week, season after season.
And, by double-double, we're not talking about 12 or 13 points and the bare minimum of 10 rebounds. Lawson had some monster nights in those 22 double-doubles this season.
Here's a quick look back at his best: 20 points and 14 rebounds in his KU debut against Michigan State; 30 points and 14 rebounds in a loss at Arizona State; 31 and 14 in a home win over TCU; 29 points and 15 rebounds in a home win over Iowa State and 20 and 15 in a loss at Kentucky.
We all know that Lawson finished the season averaging a double-double, at 19.4 points and 10.3 rebounds per game. But that includes all games.
In just the 22 outings when Lawson reached double digits in both points and rebounds, his average double-double, when rounded up, looked like this: 22 points and 13 rebounds per game.
His 22 monster nights, which featured nine nights where he topped both 20 points and 13 rebounds, included two four-game double-double streaks and three stretches when he posted three consecutive double-doubles.
And his 58 career double-doubles — a total that includes the 36 he brought with him from Memphis — is the highest active total in all of college basketball among non-seniors.
It also may be where his college total stays. Although he could return for his senior season, it's currently unknown whether he will.
Lawson, at age 21, (he'll be 22 when the 2019-20 season begins) has long eyed a career in the NBA and could be ready to make that jump after delivering a monster season at Kansas. What that means, if he does in fact turn pro, remains to be seen. The most recent 2019 mock draft published by ESPN.com's Jonathan Givony has Lawson projected as the 40th overall pick in the draft. That's 10 picks into the second round and that would give Lawson a shot at making a team.
"He has got to make some decisions," Self said last Saturday.
And while those decisions will come fast and often are made best with a clear head, Lawson said he was not thinking about his future in the locker room following KU's season-ending loss to Auburn.
"No, we just lost by 20," he said. "For me, I'd say (the season) was a letdown because we didn't accomplish what we wanted to accomplish."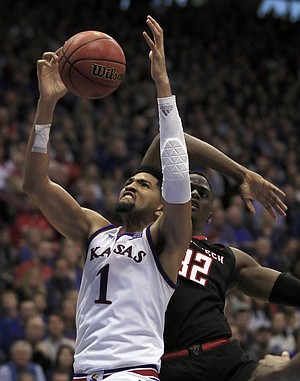 Regardless of what becomes of Lawson from this point on, his 2018-19 season will forever be remembered as one of the best by a big man in KU history.
He finished with 700 points and 371 rebounds and recorded the third best single season points-per-game average in Self's 16 seasons at Kansas, just behind Frank Mason III's 20.9 average in 2016-17 and Wayne Simien's mark of 20.3 in 2004-05.
Beyond that, his totals rivaled those of Robinson, who was a first-team All-American in 2011-12 after scoring 692 points (17.7 ppg) and grabbing 463 rebounds in three more games than Lawson.
He became just the ninth Jayhawk in the history of the program to score 700 points in a single season and the fifth player in program history to record 700 points and 370 rebounds in the same season.
The others?
Clyde Lovellette (886 points and 410 rebounds in 1951-52), Wilt Chamberlain (800 and 510 in 1956-57), Drew Gooden (734 and 423 in 2001-02) and Nick Collison (702 and 380 in 2002-03).
For more perspective, Danny Manning never achieved that feat, though he was close in both the 1986-87 (860 and 342) and 1987-88 (942 and 342) seasons.

"I thought he improved," Self said of Lawson. "He scored the ball. He put up numbers almost every night. And even (against Auburn), he struggled so much like he did early and still came away with 25 and 10. That speaks volumes."