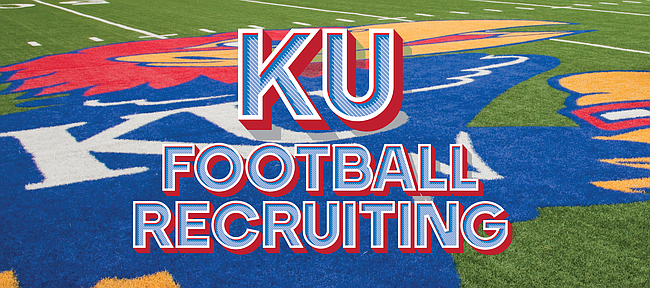 As head coach Les Miles and his Kansas football staff continue building for the program's future, the Jayhawks' 2020 recruiting class picked up another offensive addition on Monday.
Da'Vonshai Harden Jr., a standout dual-threat quarterback at Topeka High, announced on Twitter his intentions to join KU, with a message thanking coaches and those close to him, accompanied by a photo of the native Kansan decked out in a white No. 2 Jayhawks jersey, which he tried on for size while visiting the program in late February.
Harden became the fourth high school junior to commit to Kansas, and all four players are offensive prospects.
Rated a two-star athlete by Rivals and currently ranked by the recruiting site as the No. 10 prospect in the Sunflower State's Class of 2020, Harden totaled 1,602 yards of total offense and 22 touchdowns during his junior season at Topeka High this past fall.
While Harden also has picked up scholarship offers from Kansas State, Illinois State, Northern Iowa and William & Mary, he told Jon Kirby of Jayhawk Slant that KU was the first to offer. The fact that Miles and lead recruiter Clint Bowen made that happen, Harden said, was "really special," because David Booth Kansas Memorial Stadium is "only 20 minutes" from his home.
"All my family can come to watch me. That means a lot to me because it shows Kansas has their eye on me and they know what I can do," Harden told Jayhawk Slant.
A 6-foot-4, 200-pound junior, Harden committed to Kansas two days after Miles and his staff picked up their first 2020 in-state commitment from Shawnee Mission South tight end Will Huggins.
The in-state recruits are currently joined in KU's 2020 class by three-star Alabama receiver Keenan Hambrick and three-star Lee's Summit, Mo., tight end Trevor Kardell.
Verbal commitments are nonbinding. The soonest any of the players aligned with the program can sign with Kansas is December.