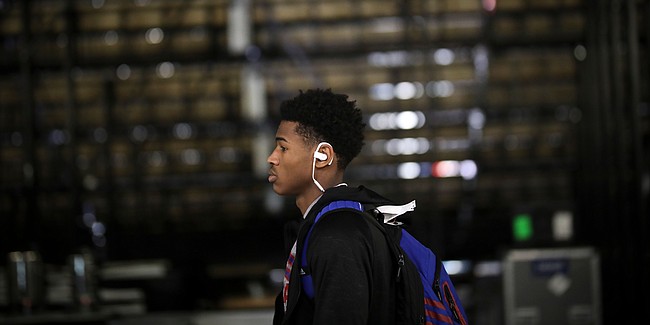 Salt Lake City – By the time the 4th-seeded Kansas men's basketball team had moved on to preparing for No. 5 seed Auburn in the second round of the NCAA Tournament, the hard work was already done.
Saturday's matchup — 8:40 p.m. on TBS — did not become official until sometime around 6 p.m. on Thursday night, but the KU coaching staff had done enough work in the days between Selection Sunday and Thursday's opener on all of KU's potential first- and second-round opponents to have a full barrage of film clips loaded onto each KU player's individual iPad by the time the Jayhawks left the arena.
"We got the film immediately afterwards," junior forward Mitch Lighfoot recalled of KU's post-Northeastern routine. "It's a quick turnaround and we use as much time as we can to prepare for this next game. Time is definitely of the essence."
While that was nothing new for Lightfoot, it was a first for the KU freshmen and three other first-year Jayhawks who are playing in their first NCAA Tournament.
It's one thing to have a Saturday-Monday turnaround during the regular season. But doing it at the NCAA Tournament, with the stakes as high as they can be and the attention on every detail magnified to the Nth degree, is a totally new experience.
"These guys were really excited about winning," video coordinator and former Jayhawk Jeremy Case said Friday. "We were supposed to win that game. But coach was great about it. He let them know, 'Good job, but...'"
From there, things began to happen fast.
Freshman guard Ochai Agbaji on Friday recalled what went through his mind while walking the walk of a first-time winner in the NCAA Tournament.
"Right to Auburn," Agbaji said. "I mean, yeah, we ate, relaxed a little bit, but then it was right to focusing on Auburn. We know it's a quick turnaround and you have to focus on what's ahead and not look back."
To that end, many Jayhawks were already watching film on the Tigers on the short bus ride back to the hotel. While that is just the beginning of diving into the game plan, the KU freshmen said it helped calm their racing minds to get an early look at their next opponent.
"Just every Auburn guy and what their strengths are," Agbaji said when asked what was on the iPads. "They're already on it and that's pretty impressive because right after the game, as soon as you get back to the hotel it's there and you can get to work."
After a team meal and that brief moment to relax, the Jayhawks had the first of a half dozen or so team meetings that would be crammed into the next 48 hours, this one accompanied by a 10-12 minute scouting video of what Auburn runs, how they play and where they like to operate.
The video played start to finish, pretty much without stopping, and is designed to make the first glimpse something familiar in the minds of the Jayhawks.
"He'll pause it sometimes, if there's anything we really need to focus on," Agbaji said.
Added Lightfoot: "They talk throughout it. They show what the players are doing, talk about them, then they'll show plays and talk about the plays, and whatever else we need."
From there it's off to bed and up early for a team breakfast, more film and another meeting.
Rinse, repeat, rinse, repeat, rinse repeat.
The whole process happens fast and can create a bit of a time vortex, with only the 40 minutes of game time feeling familiar.
"Time can get away," freshman point guard Devon Dotson said. "You look up and it's already like 6 o'clock and you feel like you've just woken up."
"It was all very quick," Dotson added. "(Thursday) night we started to focus on Auburn and we watched some film on them and really just talked about what we can do. We didn't really have too much time to celebrate the win. It moves at a fast pace. That's what this tournament is. You have one day off to prepare for the next team and you have to be ready."
It's always been that way, although the methods, like the game, are changing every year.
Case, who played at Kansas from 2003-08, recalled the NCAA Tournament preparation from his playing days, which included handwritten scouting reports on actual paper and was devoid of anything close to resembling cut-up film on individual iPads.
"We learned a different way. Same idea, but it wasn't like it is now," Case said. "It was a different time. It feels weird even saying that, but it was a different time. And we kind of have to adapt to how we show them things. And they ask for things. 'Can I get the game on my phone?' Or, 'Can I get this cut up?' And we can just shoot it to them."
Case said he did not think guys could watch too much film of an unfamiliar opponent in the hours leading up to game time. And Lightfoot agreed, saying the more you watch, the more you learn.
But while the 48 hours between final horn and pregame routine — yes, some things do stay the same — is all about absorbing as much information as possible, Case said the end result never changes, no matter how much time a team has to prepare for its next opponent.
"I don't ever think you can look at it too much," Case said. "But, at the same time, I don't think you can put a whole lot of stock into it. At the end of the day, guys have to come on the court and perform. That's what it comes down to."