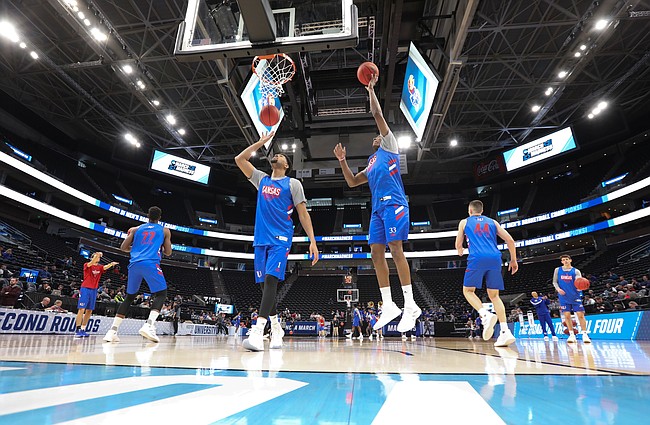 No. 4 seed Kansas Jayhawks (25-9) vs. No. 13 seed Northeastern Huskies (23-10)
Time: 3 p.m. | Location: Vivint Smart Home Arena, Salt Lake City
TV: TNT | Radio: IMG Jayhawk Radio Network
Not going to be home for the game? Sign up for ESPN+ and watch your Hawks on the go.
Log on to KUsports.com for our live game blog coverage and follow the KUsports.com staff on Twitter: @KUSports @mctait @bentonasmith & @SJacksonLJW
Keys for Kansas
1. Defend the catch
There's little debate that the biggest key in this game is Northeastern's 38.8 percent 3-point shooting and whether or not the Huskies will be able to hit that clip against Kansas.
But beyond just hoping for misses and contesting shots, the Jayhawks have an opportunity to make things hard on the Huskies long before the shots even go up.
How? By playing the shooters before they're in position to shoot the ball.
KU freshman David McCormack demonstrated a clear understanding of that fact during Wednesday's media sessions at Vivint Smart Home Arena. And the fact that one of their freshman big men has it down seems to be a good indication that the guys actually guarding on the perimeter have probably heard a thing or two about that this week, as well.
"We will have to make sure we take away all first-thought shots and make sure that we are communicating and switching when we need to," McCormack said.
Added fellow freshman Ochai Agbaji, a 6-foot-5 guard, who said Northeastern reminded him of Iowa State and Texas Tech, two teams that, at times, gave KU fits from 3-point range: "We can't give them those open looks. We have to come out way more aggressive than we did in those games."
Northeastern ranks in the Top 50 nationally (38.5 percent, 37th) in points via the 3-point shot and in the Bottom 50 nationally (43.2, 330th) in points via 2-point field goals. The recipe is simple. Kansas just has to execute by making Northeastern work overtime to get clean looks.

"I don't know if anybody has mentioned (it), but (their) releases are quick," KU coach Bill Self said Wednesday. "That's the thing that's unbelievable. Not very often (do) you see in college basketball where kids don't have to dip to shoot, and they've got guys that don't dip to shoot, so it makes it harder to close out because when you think you're there, you may not be there in time."
2. Go big or go home
While so much of the focus this week has been on Northeastern's four-guard lineups that can shoot lights out from behind the 3-point line, there are plenty of reasons for Kansas to believe that its big men can create just as many problems for the Huskies.
The issue there is that 3 is worth more than 2 and in order for Dedric Lawson, McCormack and Mitch Lightfoot to create an offensive advantage for Kansas on points in the paint, the Jayhawks' defenders are going to have to keep NU at bay from behind the arc.
Still, there are more reasons than just scoring for KU to like its bigger lineup in this one.
One of them is on the glass, where Northeastern gets just 22.7 percent of its offensive rebounding opportunities, which ranks the Huskies 328th in the nation.
If KU can force misses — from 3-point range and elsewhere — the likelihood of the Jayhawks being hurt by second-chance points in any way is extremely low because the KU big men, along with versatile wing Marcus Garrett (remember his 15 boards against Iowa State) should be able to clean up the glass and keep the possessions in Kansas' favor.
3. Gotta score to win
KU's defense against Iowa State in the Big 12 title game was pretty solid. The Jayhawks competed, forced the Cyclones to go deep in the shot clock and were victimized by some good bounces and hot shooting by ISU in the second half of the loss.
But none of that hurt Kansas as much as its own inability to put the ball in the basket. Lawson was 8-of-21 from the floor, including a 2-for-11 first half. The KU guards finished 3-of-18 from 3-point range and never looked comfortable with their shots.
Sometimes things just go that way. But if they go that way in this one, Kansas will go home.
So it'll be crucial for the Jayhawks to find a way to knock down some shots — ideally early — to get their confidence up and their offense going.
Sophomore guard Garrett said Wednesday that transition buckets would be a good place to gain some of that and the Jayhawks talked about playing — and shooting with a free mind — as a way to help offset some of what Northeastern can get from its offensive punch.
"Once we get out in transition, I think it'll help," Garrett said of the KU offense that enters the tournament ranked 34th nationally in adjusted offensive efficiency. "We've shown in the past that when we get out in transition and get easy buckets, our shots start falling."
While that idea certainly pertains to all nine players the Jayhawks figure to use, Self said the simplest path to success would be for Lawson to get going early and not look back.
"I expect him to be our best player," Self said of Lawson. "I think something that wins tournaments (is when) your best players play the best. We expect him to be good (vs. Northeastern) and expect him to be good as long as we're fortunate enough to stay around. If he is not, we have to have others step up."
Marquee Matchup
KU's energy level vs. Thursday's atmosphere
There's little doubt that the Jayhawks will be fired up to open NCAA Tournament play, especially the seven players on the roster who have never played in a game on this stage, four of whom are freshmen.
But when you combine first-game jitters with the idea of being the higher seed and the favorite and toss in the idea that this game does not figure to provide Kansas with its usual dose of fans in the stands, it's legitimate to wonder whether the Jayhawks will be able to bring the energy needed to play a game with such high stakes.
On Wednesday, the Kansas players were saying all the right things. But saying it and doing it are two different things, and creating energy away from Allen Fieldhouse has been a seasonlong struggle for this bunch.
"They're excited," said Garrett of his first-time teammates. "They're ready to go, very energetic and they just can't wait to get out there."
Wednesday's open practice was a far cry from the 14,000 fans who packed the arena last year in Wichita to watch the Jayhawks practice. There might not have even been 400 KU fans in the stands this time around.
The flip side of that is the fact that Northeastern didn't have many fans in attendance either and also doesn't figure to bring a huge contingent to the game.
That said, if this one's close, the tournament has shown year after year that fans of all teams love an underdog when it's not playing their squad. So Kansas would be wise to grab a lead and keep it, helping the Jayhawks avoid the fate of hearing fans of Auburn, Syracuse, Gonzaga and the other teams in the region throw their support behind the Huskies.
Jayhawk Pulse
There's no place like the NCAA Tournament to meet a team for the first time in program history, and that's what the Jayhawks and Huskies are facing today.
It's a matchup of offense versus defense, experience versus youth and a Hall of Fame coach named Bill and a lesser-known Bill on the other bench.
With all of those factors, and so many more, making this one of the most interesting first-round matchups the Jayhawks have had in the NCAA Tournament, the folks in Las Vegas are certainly of the belief that this will be a close game.
Kansas, which opened the week as an 8.5-point favorite, is now favored by just 6 points. The styles and the specific matchup are a big reason for that, but the Jayhawks also are in unfamiliar territory, playing as a 4 seed — the program's lowest in 13 years — and 1,100 miles from home.
Despite all of that, Self said his team was approaching this game with full-bore excitement and embracing the idea that there are dozens of teams out there who would kill to be in KU's position.
"I think it's pretty easy to be excited, to be enthusiastic, to have your mind in the right spot," Self said. "But then, when you get down to playing, (you try) not to feel that extra pressure and tense up. We are doing all we can to make sure our guys are as loose as they can be, and it should be a reward to play in the tournament and (we want them) to go out and have fun."
Probable Starters
No. 4 seed Kansas
G – Devon Dotson, 6-2, 185, Fr.
G – Quentin Grimes, 6-5, 210, Fr.
G – Ochai Agbaji, 6-5, 210, Fr.
F – Dedric Lawson, 6-9, 235, Jr.
F – David McCormack, 6-10, 265, Fr.
No. 13 seed Northeastern
G – Donnell Greshman Jr., 6-1, 200, Jr.
G – Jordan Roland, 6-1, 175, Jr.
G – Vasa Pusica, 6-5, 200, Sr.
G – Bolden Brace, 6-7, 225, Jr.
F – Anthony Green, 6-10, 265, Sr.