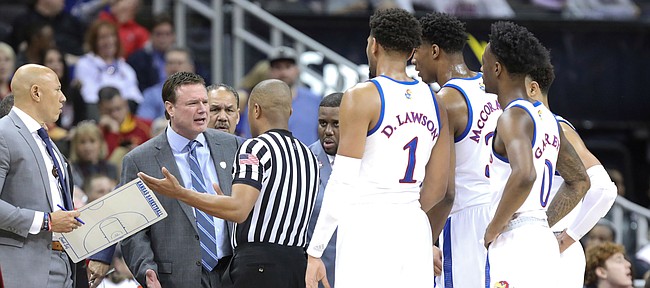 For the first time in awhile, there was plenty of uncertainty regarding the Kansas men's basketball team on Selection Sunday.
Kansas (25-9) was given the fourth seed in the Midwest region for the 2019 NCAA tournament, which was announced during Sunday's selection show. It marked the first time since 2009 that the Jayhawks have not been a 1 or 2 seed. Prior to this season, they were a 1 seed for three consecutive years.
In the opening round of the tourney, KU will face No. 13 seed Northeastern in Salt Lake City, Utah on Thursday. With a win, Kansas would face the winner of No. 5 seed Auburn and No. 12 seed New Mexico State in the second round on Saturday.
North Carolina is the No. 1 seed in KU's region, while Kentucky is the No. 2 seed. The Sweet 16 and Elite Eight are slated to take place in the Sprint Center in Kansas City, Mo.
Per Action Network, Kansas is an 11-point favorite over Northeastern with an 86.3 percent chance of winning the opening round.
This is the first time Kansas has been a No. 4 seed since 2006 when the team suffered an upset to Bradley in the first round of the NCAA tournament.
Entering the NCAA tournament, the Jayhawks won three of their last four games, including a pair of contests in the Big 12 tournament. Kansas ultimately fell to Iowa State by a 78-66 margin in the Big 12 championship game.