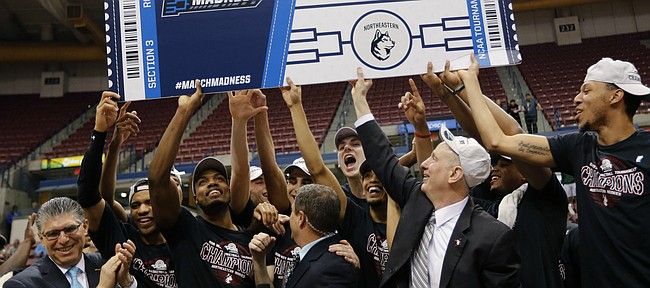 The Colonial Athletic Association's postseason champions, the Northeastern Huskies, didn't have to sweat out Selection Sunday wondering whether their team's name would appear before the broadcast concluded.
Their automatic bid at least rid head coach Bill Coen of that drama as the NCAA Tournament field was unveiled.
But the program's 13-year coach admitted the element of the unknown associated with the whole process came into play as the Huskies (23-10) learned their draw.
"For us everybody here is just so excited to see your name pop up on Selection Sunday that I think the first emotion is just pure elation," Coen said in a phone interview with the Journal-World Sunday night. "And then the second emotion is, 'Oh, no. We've got to play Kansas.'"
The Midwest's No. 13 seed, Northeastern enters the Big Dance on a seven-game winning streak, but the Huskies haven't played against a team from a marquee league since November, when they beat Alabama and lost to Virginia Tech.
Ranked No. 78 in the NET rankings, Northeastern went 0-4 versus quadrant 1 opponents.
Therein lay some of the coach's concerns when Coen found out his Huskies will take on KU (25-9) in Salt Lake City, Utah, on Thursday (3 p.m., TNT).
He called the Jayhawks an "unbelievable quality opponent with a great coach who has tournament experience." As the underdogs, Coen wants his group in the proper state of mind as much as he wants them prepared for the X's and O's required to pull off an upset against one of college basketball's storied programs.
"Really, from our perspective, make sure that we don't come into the tournament without a positive attitude and make sure we believe in what we do and how we got here," Coen said of the team's approach. "And we just have to be at our best when our best is required here. I think the teams that go into the tournament with that attitude somehow find a way to catch the magic."
Many times, nothing does the trick during March Madness like draining 3-pointers. And that skill set falls directly into Northeastern's wheelhouse.
The Huskies play a four-guard lineup and all four members of their starting backcourt enter the NCAA Tournament having already hit at least 50 3-pointers this season:
• Jordan Roland: 97 for 238 (.408)
• Vasa Pusica: 57 for 142 (.401)
• Bolden Brace: 56 for 135 (.415)
• Donnell Gresham Jr.: 55 for 140 (.393)
"We're like most mid-majors, it's hard to get quality bigs," Coen said of Northeastern's style. "We play a little bit of a ball-screen motion offense. We share the ball, and obviously the 3-point shot is a big part of what we do."
As the coach began preparing for KU, though, his mind took him to a potential advantage the Jayhawks might have.
"We're hoping that we'll have just enough size not to get dominated up front," Coen shared.
The Huskies hope they have the 3-point firepower to offset KU's frontcourt.
"You know, that's what worked for us at our level," Coen said. "We'll see what happens at the next level."