Halfway through the Kansas basketball team's regular season finale, the Jayhawks only held a one-possession lead against Baylor, and it didn't take a deep dive into the first-half footage or box score to figure out why.
The player Bill Self considers the best in the Big 12 this season hadn't lived up to that billing — not even close.
"You've got to be better than this," Self would tell Dedric Lawson in KU's locker room at halftime. "You're better than this."
Not only was that a message Lawson welcomed. It was one that just as easily could have come from the inner monologue running through his brain.
Lawson expected Baylor to bring a tough-minded approach into the paint at Allen Fieldhouse on Saturday afternoon, but it took a little intermission inspiration and, soon after, a literal slap to the face to jumpstart the redshirt junior forward into action.
Upon grabbing an offensive rebound with a little more than 15 minutes to go in the second half, the open left hand of Bears big Flo Thamba came down across Lawson's face, stunning KU's go-to forward and ultimately drawing a flagrant foul.
"He actually hit me in my nose pretty hard," Lawson said after captaining KU to a 78-70 victory, able to laugh it off. "I was bleeding a little bit, but it's nothing personal. He was just swinging."
The blow seemed to fire Lawson up, too. Shortly after knocking down his free throws, Lawson took the ball directly at Thamba off a steal, drawing another foul and another trip to the line. Lawson began vigorously boxing out anyone who dared challenge him on the glass and attacking every potential defensive rebound in his radius.
Before finishing with 23 points and 14 boards, his 20th double-double of the season, he would block a pair of Thamba shot attempts for good measure.
Photo Gallery
Kansas basketball v. Baylor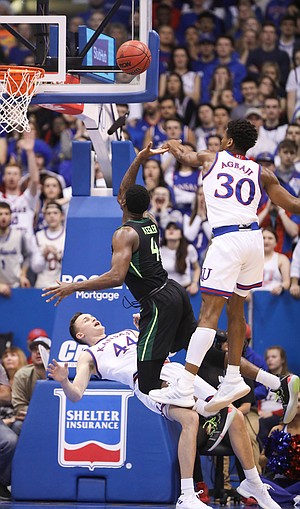 View a gallery of images from Saturday's game between the Jayhawks and Bears at Allen Fieldhouse.
All Lawson could do was laugh during his postgame interview, while discussing the smack to the nose that ignited his strong finish.
"You know, I think people fight back hard once they get punched and things like that," he said.
Similarly, Lawson showed some backbone by coming through with the proper response to Self's halftime words. The multiskilled, 6-foot-9 forward had gone 2 for 9 from the field in the first half with only three rebounds.
"He just told me to get going, play more aggressive," Lawson shared of Self's comments. "He said I had a bad first half. Missed a couple easy shots that should've went in. It's all about being aggressive. Once I was just being more aggressive, getting easy baskets, putbacks and things like that, got going a little bit."
Most of Lawson's first-half misfires seemed strange, because they were such good looks at the basket, a direct result of he and David McCormack destroying the interior of the Bears' zone defense. Nevertheless, Lawson missed four different shots in the 4- to 14-feet range, plus another point-blank attempt in the paint and two more layups.
Said Self: "He got seven good looks in the first half that he didn't make. We'd sell out for that every day. I actually thought our offense against their zone was the best it's maybe ever been, but we missed a lot of easy shots."
It wasn't as if Lawson was caught off guard by the BU zone. He spent most of his Friday night getting up short to midrange jumpers around the basket, because he knew those would be the open spots in the Bears' defense, and he wouldn't be playing out on the perimeter quite as much as a result.
Lawson thought he did a better job of operating out of that high post in the second half.
"Sometimes at the beginning of the game I try to see how the defense plays and things like that. So sometimes I was catching it and they were sinking in, I was throwing it out. This time I was just catching it and going and ripping through," Lawson said of his second half adjustment, "and just causing the big men to foul and just putting pressure on them to come up, or I'd dump off to Dave and make easy baskets."
Self was not at all pleased with Baylor's 18 offensive boards and 22 second-chance points, but he thought Lawson responded favorably after a poor first half. In 18 second-half minutes, KU's best player delivered 17 points and 11 rebounds, shot 4 for 5 from the floor and went 9 for 10 at the free-throw line.
"Dedric gets numbers," Self said. "He had 23 and 14 tonight, and I told him after the game that should've been 32 and 18."
Both the coach and the player hold the hard-nosed transfer from Memphis to lofty standards. And now that the stakes are even higher, with KU (23-8 overall, 12-6 Big 12) officially entering the postseason the moment the second half clock hit zeroes on Saturday.
With a 6-for-14 afternoon against Baylor (19-12, 10-8), Lawson had his eighth sub-50-percent performance of the past 12 games. Too often, both he and Self speak after a game of a slow start and shots not falling for Lawson.
As the coach told his sure-to-be first-team All-Big 12 forward on Saturday, he's got to be better.
Just as Self alluded to, if Lawson is finishing his high-percentage shots in the paint with consistency then the Jayhawks are playing at a higher level. If he's not, just about any team KU encounters from this point on is capable of knocking out the Jayahwks.
Lawson's first postseason game in a Kansas uniform, Thursday at the Big 12 tournament, will come against the same Texas team that held him to 4-for-15 shooting in Austin, Texas, site of a 10-point KU loss.
While Self won't ask Lawson to go for 30 points and 15 rebounds the rest of the way, he agreed Lawson does need to be "The Guy" for KU.
"Well, you know, he can be 'The Guy' and not score as much. He can be a guy that can be our best facilitator if they trap him all the time. There's a lot of things he can do. But I do think he needs to be our best player moving forward," Self began.
"There's a lot of really good players out there that don't get numbers and he naturally gets numbers. In an NCAA Tournament game, you get 23 and 14, there's a good chance your team will probably have an opportunity to advance," Self added, "and we're gonna need that from him."
https://www.youtube.com/watch?v=sT991CZTo-Y
https://www.youtube.com/watch?v=X7QN2aD4Nuw
https://www.youtube.com/watch?v=ibmZV76yWxQ
https://www.youtube.com/watch?v=CrFvGyBufd8