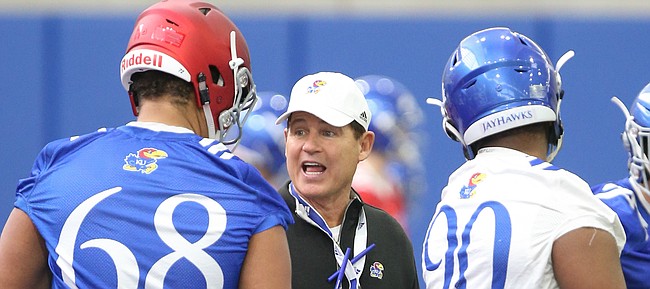 It was just some special teams review. A chance for offensive linemen to go over a formation and walk through their assignments. A minor yet necessary part of the first day of spring football practice.
And there was Les Miles, former head coach at powerhouse LSU, right in the thick of it, jumping in to go over footwork and technique in one of the early periods of his Kansas football team's introductory practice under his guidance.
"Oh, I enjoyed it," Miles beamed, after coaching the Jayhawks hands on.
Wednesday marked the coach's first time doing what he loves most at KU since his former employer in Baton Rouge, La., parted ways with him four games into the 2016 season.
Photo Gallery
Kansas football practice with new coach Les Miles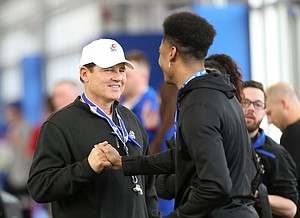 The Jayhawks practiced on Wednesday inside the new indoor practice facility with head coach Les Miles.
It didn't take Miles long to feel at home, as the Jayhawks made use of the program's new indoor practice facility. And the repetitions and drills he observed only seemed to invigorate him for what's to come in the weeks ahead, over the course of a 15-practice spring schedule.
"Our first practice was kind of exactly what a coach would want to get accomplished," Miles said afterward. "We took on the necessity of no shoulder pads, which is a miserable thing for a coach, because that's not how you practice football. But we got a lot done. We took on formations, we took on motions."
What they didn't dive too deeply into, however, were the playbooks of offensive coordinator Les Koenning and defensive coordinator D.J. Eliot. The first practice of the Miles era focused mostly on individual position work, with some seven-on-seven and team periods rounding it out.
"Oh my gosh. For the first practice we just scratched the surface," Miles said. "The things that we did do were important, and things that we'll be doing on Saturdays, but it's down the road. We're looking for the playmakers that make those plays work, and we're still evaluating."
While Miles didn't refer to any of KU's quarterbacks by name during a 14-minute session with media members following practice, he referenced that position group first during his opening statement.
"We had a number of quarterbacks that played on this day and made some nice throws, and some receivers that made some nice catches, so the opportunity to throw and catch on a day where you can't be physical was entertaining and fun and enjoyable," Miles said.
Those throws were being made by junior transfer Thomas MacVittie, redshirt senior Carter Stanley, redshirt sophomore Miles Kendrick and freshman Torry Locklin, to name the most prominent QBs of the bunch.
KU's passers played a part in pulling off what Miles described as the most intense part of the practice, a one-on-one drill for receivers and defensive backs.
"I thought that was a really nice attempt at a learning drill," the first-year KU coach said. "We had a couple guys get tangled up, but not much. So it allowed the drill to continue."
There's much left for KU's players and coaches to accomplish between now and spring football's conclusion, on April 15. But Miles left Day 1 encouraged, in part by the way the practice concluded.
Miles said the coaches ran the players to close it out, and what he witnessed gave him the impression that the Jayhawks are "looking forward" to more hard work.
"They understood why and it was to make them stronger and put them in position to take on adversity and they did great," Miles shared.