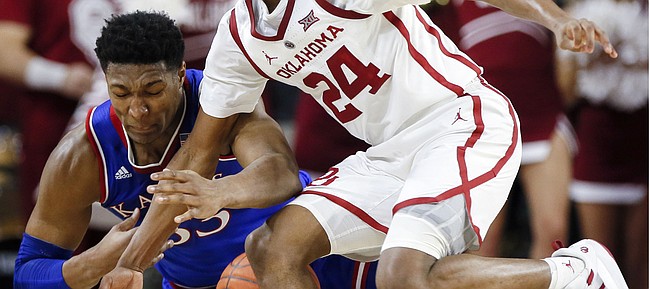 Norman, Okla. — It's over.
The long-shot — probably a not-so-realistic chance if we're being honest — hopes of the Kansas men's basketball program extending its absurd run of Big 12 dominance died Tuesday night at Lloyd Noble Center.
Seventh-place Oklahoma put an end to KU's 14-year reign as Big 12 champions, defeating the conference's perennial trophy-winners, 81-68, and mathematically eliminating them in the process.
Here lies KU's Big 12 title streak — 2005-18.
It had to end sometime, and this particular group of Jayhawks' relative inexperience made it possible.
The longest run of consecutive league titles in NCAA Division I history, all with Bill Self at the helm, was something to behold as the Jayhawks extended it year after year, eventually tying UCLA's historic 13-year stretch (1967-79) of PAC-10 supremacy under legendary head coach John Wooden in 2017 and then surpassing it in 2018.
The victories necessary to cut down nets, wear championship T-shirts and hats and live up to the program's yearly standard haven't been nearly as easy to come by in 2019, though.
Without a Frank Mason III, Devonte' Graham or Perry Ellis-type veteran to get the Jayhawks through the difficult obstacles that inevitably accompany conference play, stretching the run for another season proved to be a formidable task for a roster that also lacked the type of surefire NBA lottery talent that could help offset the inexperience.
This year's Jayhawks won't get to hoist the Big 12 regular-season trophy like their long line of predecessors. That honor and the pleasure of being responsible for dethroning KU will go to either rival Kansas State or Texas Tech — or both — with the title to be decided, fittingly, on the final day of the regular season.
KU wasn't supposed to have four freshmen in the starting lineup this season, but even after Tuesday's loss at OU, that starting combination of Devon Dotson, Quentin Grimes, Ochai Agbaji, David McCormack and redshirt junior Dedric Lawson owns a 5-2 record.
The end of the streak is not on the freshmen. Instability kept this team from defending the throne.
That is one of seven starting lineup combinations for KU this season. Without injured Udoka Azubuike, ineligible Silvio De Sousa and absent Lagerald Vick, Self's current rotation includes just two players who own a Big 12 championship ring, and both of them are role-playing reserves, junior Mitch Lightfoot and sophomore Marcus Garrett.
There was no experienced veteran with Big 12 battle scars to show this young team along or put it on his back.
And it was fitting the defeat that ruined the Jayhawks' reign atop the league came away from Allen Fieldhouse, because road trips so often proved to be too much for them to handle. A 3-6 Big 12 road record wasn't going to cut it this season, with defensive-driven K-State and Tech possessing the tools to win more often as visitors than the Jayhawks.
As much as Brady Manek and Kristian Doolittle's scoring show helped bury the Jayhawks in a must-win game for the visitors, it's difficult to look back on this season without recalling the initial scoops of dirt shoveled onto the league's marquee program in Morgantown, W.Va., where a down on their luck bunch of Mountaineers — still in last place six weeks later — foreshadowed what was to come by knocking off KU for their first league win of the year.
The Jayhawks' youth continually showed up in their road losses.
"Yeah, I agree with that," freshman Ochai Agbaji said. "We've got to come out hard when we're on the road and all of that. I just think that's something we've really got to focus on."
Typically, the Jayhawks have go-to players with Big 12 experience leading them into their road challenges. Did the lack of those types of veterans catch up with them this season?
"I don't really think that was an issue," Lawson countered, after the loss at OU (19-11 overall, 7-10 Big 12). "It was about us personally going into opponents' arenas with the mindset of being tougher than those guys."
Too often, Lawson wenton, the visiting Jayhawks gave home teams momentum with their ineffectiveness.
"It's not nothing about not playing in the Big 12 (before)," Lawson insisted. "At the end of the day it's just basketball."
Winning away from Lawrence was a rarity, when so often it's been a given for Self-coached KU teams.
This version of the Jayhawks (22-8 overall, 11-6 Big 12), though perfect so far at Allen Fieldhouse, have put their flaws on full display every time they hit the road.
But the man who orchestrated those 14 other championship runs shot down the notion that the 2018-19 Jayhawks faltered because most of their rotation players had never before navigated that road to a title.
"I don't think winning the Big 12 championship has anything to do with our inexperience on the road. If they had won it before would it be different? We're putting too much emphasis on winning the league. What we need to be putting our emphasis on is: what is the ceiling of this team? And what does this team need to do to play better?" Self said.
"You can blame it on freshmen and whatnot. I'm not gonna blame it on anything," Self added. "We've won the league when we stated three freshmen and two sophomores in a league where Texas had LaMarcus Aldridge and all those cats. So I ain't buying into that stuff."
Vick was not the senior KU needed him to be. And Lawson and Dotson, though they emerged as KU's best players, proved to lack that Big 12 title-winning experience that typically fuels the most effective Jayhawks year after year.
If those two are back for 2020, it's hard to see them finishing anywhere but first.
But for now, KU is flawed, and the regular-season finale with Baylor and the league tournament that follows will determine just how fondly this team will be remembered in Lawrence, where basketball is king, and the Jayhawks usually wear the Big 12 crown.