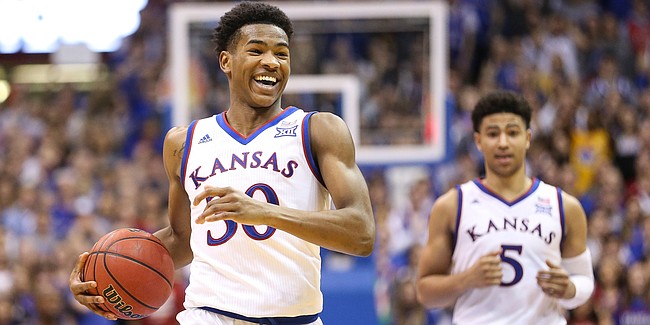 Kansas freshman Ochai Agbaji rediscovered his scoring touch during Saturday's 72-67 win at Oklahoma State, but his 11-point outing in 29 minutes against the Cowboys did not come without its rough patches.
For starters, the 6-foot-5 freshman who has three 20-point games to his name despite sitting on the bench in street clothes until mid-January made just 3 of the 10 shots he attempted against the Cowboys, including a 3-of-8 clip from 3-point range.
Beyond that, his wild runner midway through the first half looked forced and his biggest hiccup came in the second half, when he unnecessarily touched the ball as it was rolling out of bounds, allowing Oklahoma State to retain possession instead of stealing one for Kansas.
Those small mistakes, which did not wind up hurting the Jayhawks, may well have shown up sooner and been a thing of the past by now had Agbaji played from the beginning of the season.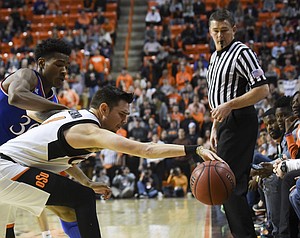 But even though they looked critical in the moment against Oklahoma State, Kansas coach Bill Self said after the victory that he was more than willing to overlook any brain freezes the talented freshman might have because of how well he's played and how important his emergence has been for this team.
"Ochai's given us more than I ever dreamed," Self said Saturday. "So I'm not going to get hung up on that at all. … He did some things that weren't great, but he responded well there late."
Three massive plays in the decisive second half — won by Kansas, 40-30 — allowed Agbaji's earlier miscues to be easily forgotten and left both the high-energy freshman and his teammates leaving Stillwater with their confidence high.
The first was a 3-pointer that came early in the half and was part of a 16-2 Kansas run that gave the Jayhawks the lead after falling behind by 7 in the opening minute of the second half.
After watching Dedric Lawson and Quentin Grimes drill back to back triples from nearly identical spots at the top of the key, Agbaji, who had missed a long-range jumper just 50 seconds earlier, buried a 3-pointer of his own from the wing opposite the Jayhawks' bench to give KU a 41-39 lead with 15:42 to play. The make, which came after a long string of misses, set off a spectacular celebration between Agbaji and Grimes, who, in that moment, embodied what Self said had become a major part of this team in the past three weeks.
"I think our guys are having fun," Self explained. "I think the last three weeks or so we've been a different team. Even though it doesn't always translate to performance, it's been much more fun."
Agbaji's next big time play came 9 minutes later, when KU point guard, Devon Dotson, who started to find his rhythm again late, dished his fourth assist of the game to Agbaji at the top of the key. Without hesitating, Agbaji rose up, drilled the shot and trimmed the OSU lead from 5 to 2 with 5:50 to play.
"(Self) wants us to stay confident while shooting it and all that," Agbaji explained after the game. "A miss doesn't really get me down. I know I have the ability to make it."
Although it was Agbaji who kept shooting and stayed mentally tough enough to affect the outcome, the freshman credited his teammates and coaches for a lot of his success on Saturday.
"I really think it's my coaches that put me in this position to stay aggressive and be successful and all that," Agbaji said after the victory. "They know my ability. They know what I can do. And they just want me to stay aggressive through it all."
Self said Agbaji's ability to both understand that and then do it says a lot about his character.
"I thought Ochai showed some guts (Saturday)," Self said. "Because he's had a rough last week, but he stepped up and made a couple of plays. … He needed to have a couple of shots go down, but for him to shoot eight 3s in a time where he's kind of struggling, I thought that showed some courage."
That triple was the last Agbaji shot of any kind until the two free throws with 3 seconds remaining that iced the game.
Between the two, he found one more way to put his stamp on this one, delivering a perfect, on-the-money, extra pass to Grimes after catching a pass from Dedric Lawson, who was triple-teamed in the post. The ball was delivered right into the waiting hands of Grimes, who caught it, shot it and tied the game at 67 with 2:42 to play.
"He brings so much energy, athleticism, great teammate. It's nice when he's out there because he's wise beyond his years," KU junior Mitch Lightfoot said of Agbaji's presence. "He's great at being a leader and I would just say it's positive when he's on the floor. It doesn't even matter if he scores or not. He doesn't get too high, doesn't get too low. He understands it's a game that ebbs and flows. One game you'll get 20 and one game you'll get 11, and I'm not going to complain with either one."
A face that initially featured nothing but smiles of ignorant bliss and abundant joy has begun to show signs of a more serious nature, transforming to fit the circumstances surrounding him.
Agbaji now can be seen taking deep breaths and exhaling as much as smiling, but the freshman from Kansas City, Mo., said those moments were nothing more than signs of him trying to "stay comfortable on the court" and lock into the game.
"We're going late into the season and the Big 12 tournament, too, and everybody's just kind of coming together and having our pieces fall together," Agbaji said Saturday. "... It's definitely amped up from even when I started playing to now. Stakes are high. We have a lot to lose."