After spending the three months since the end of his final collegiate season preparing for the stage, former University of Kansas standout Daniel Wise finally got to show NFL coaches, general managers and scouts what he has to offer.
Sunday was the day for defensive linemen to sprint, jump, show off their footwork and power, and generally try to outdo each other at the NFL Scouting Combine in Indianapolis, where Wise's agility was on display.
Measured at 6-foot-3 and 281 pounds at the combine, Wise, not known for his straight-line speed, began his day with a time of 5.28 seconds in the 40-yard dash — an event in which former Michigan D-lineman Rashan Gary blew away the rest of the competition with a 4.58.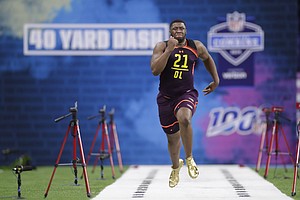 A versatile lineman from Lewisville, Texas, who spent five years with the KU football program, Wise would go on to find more success in other drills. His mark of 9 feet, 4 inches in the broad jump ranked 13th among the 32 D-linemen invited to the combine.
Wise's ability to change direction quickly while on the move made him even more effective in both the three-cone drill (7.53 seconds, 9th among D-linemen) and the 20-yard shuttle (4.37 seconds, 8th).
The 2018 first-team All-Big 12 defender also recorded a vertical jump of 27.5 inches and bench pressed 225 pounds 22 times.
NFL.com analyst Lance Zierlein in a scouting report described Wise, the only Jayhawk invited to the combine, as a defensive lineman who attacks with the intention of disrupting the offensive play his opponents are trying to execute.
"Wise plays with a low pad level and loose upper body that he uses to slither around blockers and into the backfield," Zierlein wrote, "but he can be underwhelming when taking on power. He is a busy-body pass-rusher with the ability to find the edge early and then create his rush counters with footwork and agility. He's not always aesthetically pleasing due to inconsistent body control, but the work gets done."
Ahead of the combine, NFL.com graded Wise at a 5.58 as a prospect, and according to its 10-point scale, he projects as a player with a chance to become an NFL starter.
During his media session on Saturday, Wise was asked what makes him an effective player.
"Some of my greatest strengths that I bring to the game is my relentless effort, my motor, my power, strength and quickness off the ball," Wise said.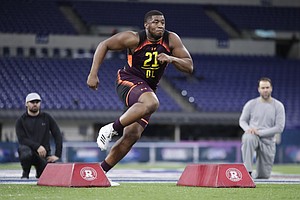 CBS Sports has Wise ranked as the 171st-best prospect in the draft and the No. 24 defensive lineman. With seven rounds and compensatory draft picks adding to the number of overall selections, the 2019 NFL Draft is set to have 254 spots.
The team with the most draft picks at this point is defending Super Bowl champion New England. And that's a franchise of great interest to Wise. He told NESN that his older brother, Deatrich, a fourth-round pick of New England in 2017, helped him know what to expect at the combine.
"Every step of the way, everything I need, everything I didn't know I needed, he's given me advice on," Wise shared while fielding questions from reporters on Saturday.
"He said just relax and enjoy the combine. The good, the bad, the ugly," the younger Wise added. "It is what it's going to be."
The former KU defensive lineman told NESN he was scheduled to interview with the Patriots on Saturday night and was intrigued by the idea of teaming up with his older brother in the NFL.
"What better team to play for, so (Deatrich) says," Wise said. "Obviously, he went to the Super Bowl two years in a row, got the ring this year. The Patriot Way, you know."
Daniel Wise's NFL Scouting Combine results
• 40-yard dash: 5.28 seconds
• 225-pound bench press: 22 reps
• Vertical jump: 27.5 inches
• Broad jump: 9 feet, 4 inches (13th)
• Three-cone drill: 7.53 seconds (9th)
• 20-yard shuttle: 4.37 seconds (8th)
https://twitter.com/wisejayhawk/status/1102293938973626368