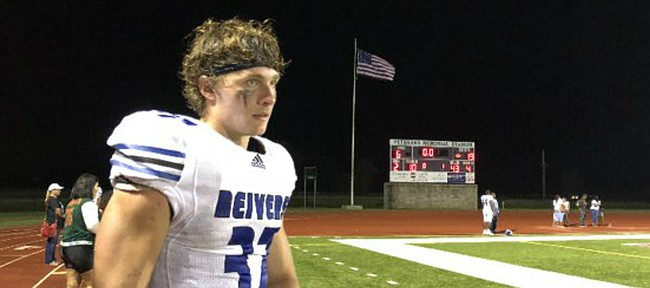 An unheralded junior college linebacker out to make a name for himself at a summer camp inside the University of Nebraska's Memorial Stadium a couple weeks back, Hayden Hatcher was caught off guard when someone pulled him away from a drill to let him know he needed to take a break.
"Les wants to talk to you," was the message that set the stage for an even more unexpected revelation.
Hatcher already had spotted Kansas football coach Les Miles at the Adidas Pipeline Camp in mid-June before heading the coach's direction. And though the conversation that transpired at that moment was brief, it proved life altering for the 6-foot-3 prospect from Iowa Western Community College.
Rather than waiting until the camp's conclusion to speak with Hatcher, Miles told the prospect he wanted to be the first to say that KU was not only interested in him, but prepared to offer him a spot with the program.
"I was kind of surprised the conversation happened that quick," Hatcher recalled during a phone interview with the Journal-World, "because he didn't know anything about me, you know? He had only just seen me play."
That interaction, astonishing as it was for Hatcher, ultimately led to his decision to join Miles' program this summer as a sophomore, and potentially play for the Jayhawks this fall.
Hatcher's football career arc escalated at an incredible rate quite unexpectedly. Just more than a year ago, as a graduate of Lewis Central High (Iowa), he was considered by some to be more of a baseball prospect than a future college football player. Hatcher ultimately rebuffed the baseball offers that came his way, as well as his lone football offer, from Wayne State (Neb.), a Division II program.
Instead, Hatcher opted to walk on at IWCC, in his hometown of Council Bluffs, Iowa.
"I love football a lot more than baseball," he explained, "because you can actually hit people and play with emotion in football, compared to baseball, where if you do that you'll get in trouble."
After following his gut and sticking with football, Hatcher played regularly, but most of those reps came on special teams. At times he would line up as a pass rusher on third downs, too. He finished his freshman season with five tackles and a fumble recovery.
"I only weighted like 190 last year, so I really wasn't the guy to stay in all four downs and defend the run. But I improved on that this spring a lot," said Hatcher, who is now at about 220 pounds. "I was lifting a lot, but I learned I needed to eat all the time. That really helped me out."
Before he headed to Nebraska for the camp where he proved his newfound mass hadn't slowed him down, Hatcher planned on playing his sophomore season at IWCC, too. He only discovered the Adidas Pipeline Camp where he would meet Miles, because he knew he needed to get his name out in the recruiting circuit and his father, Chris, has asked him if there were any such showcase camps for juco prospects.
IWCC defensive line coach Aaron Terry, who also coached KU 2019 D-line signee Malcolm Lee this past season, suggested that Hatcher check out the camp at Nebraska. But it wasn't until Hatcher had a conversation with his IWCC teammate, Oklahoma recruit Perrion Winfrey, that Hatcher realized the magnitude of the opportunity.
"If you ball out," Winfrey told him, "they'll offer you."
That advice proved prophetic.
After impressing Miles and KU defensive coordinator D.J. Eliot on June 15, KU's head coach had a longer conversation with Hatcher at the camp's conclusion.
Miles told Hatcher he wanted the linebacker to come to Lawrence, check out the campus and then call his family and let them know he wouldn't be coming back to Iowa, because he'd be staying in Kansas to play for Miles and KU this year.
It was that last portion of the coach's pitch that changed everything for Hatcher. The linebacker who entered that weekend assuming another season of junior college football awaited him would speak to coaches from other programs after his camp showing, including some from Nebraska, Arkansas State, Rice, South Dakota and Northern Iowa.
"In the matter of 48 hours I had gained all this interest from a bunch of schools and it happened so quick," Hatcher said. "I was planning on going and playing a season and then getting a look."
With KU ready to welcome him now, Hatcher was able to accelerate his Division I aspirations. He committed to the Jayhawks this past week, becoming a late-arriving member of Miles and company's 2019 recruiting class.
According to Hatcher, Miles and Eliot told him they want him to play middle linebacker, the position he played in high school and where he feels most comfortable. KU's coaches also encouraged him in the way they presented the opportunity that's in front of him this year.
"If I compete I have an opportunity to get in and play. That was really a deciding factor for me," Hatcher said. "I could go back to juco for another year and maybe wait for some offers, but (KU) wanted me to come play this year and have an opportunity to compete for a spot. This is the place I want to go."
Hatcher said he's feeling confident about his chances to get on the field on Saturdays for KU this fall because he trusts the coaches will allow him to prove himself as well as play some special teams.
His work begins in just over a week, when he moves to Lawrence and starts taking summer classes and joins KU's summer conditioning and strength workouts.
"I know if I go down there and work hard like I think I will," he said, "then I will have a chance to play."