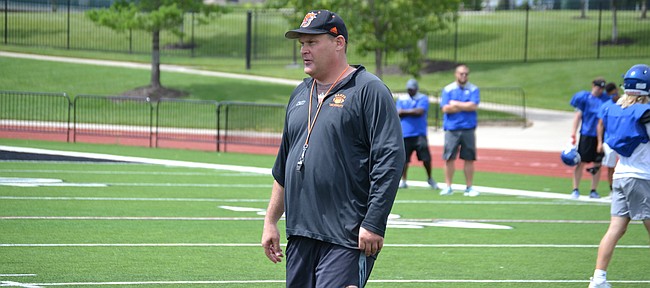 Four months into his new role as the head football coach at Baker University, Jason Thoren is exactly where he believes he belongs.
Sliding into the head coach's office to replace former Baker coach Mike Grossner, Thoren acknowledges that there are a few differences about his new job and the one he did under Grossner for the past 15 years.
But it's still the same game. Coaching football is coaching football. And, for Thoren, the path that led him there always seemed inevitable.
"For me, it was all about that I knew that I loved football from a very, very young age," Thoren said after a recent Baker high school camp in Lawrence. "So it wasn't really a choice of if I wanted to coach, it just sort of happened. Those first couple of years after college, I couldn't get away from it. The smell in the air leading up to fall camp and things like that made me feel like I have to be around football. I finished playing and the next year I was like, 'Well, it's football season. I've got to do something with football.' So I went over to Lawrence High and helped Coach (Dick) Purdy."
A year coaching linebackers and running backs at LHS — the two positions where Thoren starred during his playing days with the Lions — was followed by a year-long internship with the Kansas City Chiefs and another year at Free State High under Bob Lisher. From there, Thoren went north to join Glen Mason's coaching staff at Minnesota, which reunited him with the man he played for at Kansas.
After a three-year stint with the Gophers, Thoren wound up at Baker and he's been trending toward this day ever since, first overseeing the BU defense before earning the title of associate head coach.
During his time with the Wildcats, Thoren has seen the program rise to national prominence and his goal is to keep it there.
"I think we have a very good team," he said. "And we have a hard-working team. So the goals and our expectations are the same as they've been — 100%."
While the transition has included a few twists and turns during the past couple of months, Thoren credits his players — many of whom are from Lawrence — for making it as smooth as possible.
"They've worked so hard and had a great attitude through it," Thoren said. "And, really, this is their team. It's not the coaches' team. It's the players' team. That was the very first thing we told them. It's not like I came into a completely new school and a completely new system. It was just kind of the next day came and here we went."
While the players he coaches routinely hear praise from Thoren for their effort, mentality, toughness and passion, it's the men for whom he played who helped make those things matter to Thoren.
Although naturally gifted with bruising strength and Big 12 size, it was the approach of Thoren's coaches — Purdy, Lisher, Mason, Dirk Wedd and countless others — that shaped him into a standout football player at both LHS and KU and further fueled the coaching drive inside of him.
"The thing about football in Lawrence is you're blessed because there's always good people that are coaching all the way through," Thoren said. "That's the benefit of growing up in Lawrence. We always had good coaches and good mentors leading the way."
Now that he's one of them, Thoren, at Baker, wants to make sure that today's young football players in Lawrence and the surrounding area get the same opportunities he did — to play college football and be coached by people who are passionate about the game and their players.
"My first couple weeks in coaching I would get so frustrated," he recalled of the challenge of teaching things that came so easy to him. "But I realized pretty quickly that I had to take my knowledge or what I would tell myself and put it in somebody else's body and athleticism. So you learn to adapt. And that's the fun part of it. That's coaching. It just made sense to me."
Although his father, the late John Thoren, never technically coached him on a team — "he didn't believe in coaching your kid," Thoren said — Thoren said he received constant input and feedback from his father in everything he did.
"He would've been a great one," Thoren said with a smile and shake of his head. "He never coached any of my teams, but believe me, he coached me anyway. I heard it every day, boy."
Whether the lessons came from the man with the whistle or the man with the same last name, Thoren took parts of everything he learned and combined them into his own style.
It's that challenge and the excitement associated with it that still has Thoren going strong as he prepares to tackle his first head coaching gig.
There were nerves when he first took over. But by now, it's smooth sailing again, challenges and all.
"You've got to be yourself," he said. "It's kind of similar to when my dad died and it was like, 'OK, well I guess I'm running the farm now.' But I just try to focus in on what I need to do to get the job done. … It's exciting to go to work again. It's a good challenge. It's just fun. I feel like a kid again, honestly."