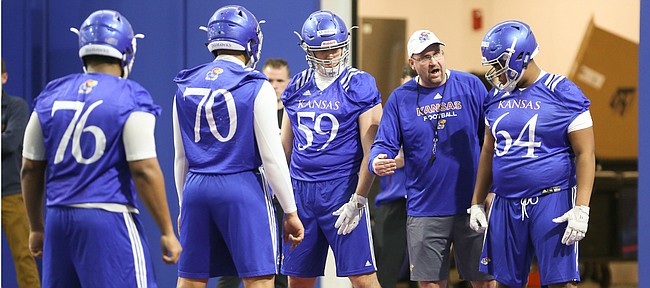 Kansas offensive line coach Luke Meadows wasn't surprised when Chip Lindsey approached him.
Their relationship is the very thing that brought Meadows to KU. Five weeks after Lindsey was named the offensive coordinator for the Jayhawks, he left that position to become the head coach at Troy in January.
As a result, Meadows wasn't caught off guard when Lindsey gave the O-line coach an opportunity to follow him.
"He was staying loyal to me, which I really appreciate," Meadows said. "But that wasn't the right move at the right time for my family or I. And he understood it. Chip was like, 'Ah, man, I'm sorry. I brought you here.' I said, 'Chip, you do what's best for you and I'll figure it out from my standpoint.' There was an opportunity there and I chose to stay here."
Meadows has made a number of stops during his 21-year career, coaching at programs such as South Dakota State, Florida Atlantic University, Southern Miss, Garden City Community College and Eastern Michigan. He never stayed longer than two seasons at any of those programs.
The decision to remain in Lawrence, though, came down to Meadows wanting to change that.
"I'm tired of moving. I need to be able to commit to a place for a while," Meadows said.
While Lindsey was the initial draw to Kansas, Meadows was enthralled with the idea of learning from Les Miles, who is returning to the sidelines for the first time since 2016. Miles is one of five active coaches with a national championship.
"I want to be a head football coach. If you want to be a head football coach, you have to work for people that are really good coaches," Meadows said. "Every place I have been, I have worked for great head football coaches. This is another situation where it is another great head football coach that does stuff different from other places I have been."
In addition, Meadows has become all too familiar with rebuilding programs from the ground up.
Meadows joined Florida Atlantic's staff following an 1-11 season in 2011. Meadows was eventually elevated to offensive coordinator midway through the 2013 campaign, propelling the Owls to a 6-6 record.
Southern Miss went 1-11 in 2013, the year before Meadows and Lindsey joined the staff. The Golden Eagles went 9-5 in 2015 en route to a Conference USA West Division title during their second and final year on the staff.
At his most recent stop, Meadows guided an Eastern Michigan offensive line that ranked 28th nationally in fewest sacks allowed in 2017.
"My last four jobs have all been startups or restarts," Meadows said. "Southern Miss was restarting a dumpster fire. FAU was restarting a dumpster fire. Eastern Michigan, I didn't have to put up with those three years. I got to come in the last two years, but it was still a rebuild."
By the time Meadows left, each program was on the right track. That is what he hopes to accomplish at Kansas, and that is one of the key reasons he chose to stay in Lawrence this offseason.
"Every one of those places, we left it better than what we found it," Meadows said. "This is another situation to get a chance to be able to do that again."