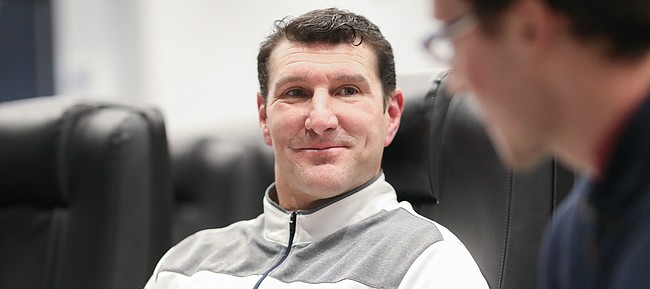 Ask any player he has coached. Mike Ekeler doesn't talk. He doesn't text. 
That doesn't mean the University of Kansas football team's special teams coordinator and inside linebackers coach is antisocial. As a matter of fact, Ekeler is anything but that, as anyone who follows Ekeler on Twitter has learned.
"We'll have a group chat of our players, and I'll just send GIFs," Ekeler said. "That's how we communicate."
During his past jobs with other Power Five programs, Ekeler, who also is known to drop GIFs and amusing messages regularly on Twitter, has coached multiple players who are now NFL linebackers, including 2018 top-10 pick Roquan Smith (Georgia), 2016 top-10 pick Leonard Floyd (Georgia) and 2012 second-round pick Lavonte David (Nebraska).
Ekeler wasn't communicating in GIF form back when he was a linebackers coach at Nebraska from 2008-10, but he said that coaching David, who is now with Tampa Bay, and other future NFL talents allowed him to learn some distinguishing characteristics of great players.
"They all have that same laser focus, and they all are so competitive," Ekeler said. "You coach them, but you never have to get on them. They're harder on themselves than you'll ever be, and that's what the great ones possess. They're so driven, every single day they'll get better."
Smith went on to become a consensus All-American and Butkus Award winner in 2017 for Georgia, two years after Ekeler coached Smith during his freshman season. Ekeler said Smith didn't back down from the chance to play special teams and he never wanted to come off the field. 
When speaking of GIF-ing with his players, Ekeler likes to remind them that more often than not late-round draft selections make a 53-man roster in the NFL for their ability to contribute on special teams. In his experience those conversations are easiest with players who want to become great.
While looking ahead to the fall, and KU's first season under head coach Les Miles, Ekeler couldn't go into exact details about what all the Jayhawks' return game will feature, but he hinted that he'd like to for the units he will be coordinating to play aggressively. 
"On special teams, you kick the ball, you got one shot. You return the ball, you got one shot," Ekeler said. "Your mind has got to be a different mindset and that's what we're going to have at KU. You take the field and its go time." 
A Lincoln, Neb., native, Ekeler still considers himself a "Midwest guy," despite living and working in other parts of the country for much of his time as a college assistant, including stops at USC, Georgia, North Texas and North Carolina.
Moving to Kansas to once again work for Miles, just as he did when LSU won the national championship when Ekeler was a graduate assistant on Miles' staff more than a decade ago, made joining the Jayhawks an obvious choice. 
"This is really cool for me, because basically I'm home right now," Ekeler said. "I'm a Midwest guy. These are where my roots are, my people are. I'm enjoying it."