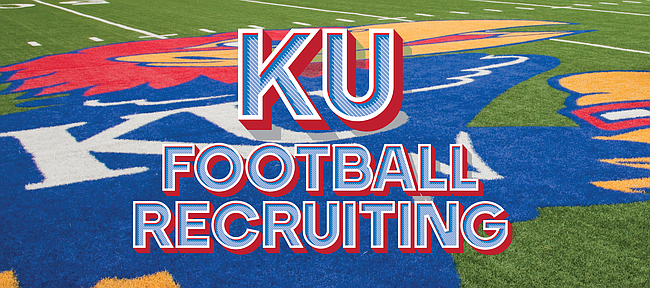 While there's little question that the Kansas football team's 2020 recruiting class is shaping up favorably, what with its June commitment bonanza, it's difficult to project which players in the group could turn out to be the most impactful at the college level more than a year from now.
The exercise in distinguishing prospects is made even more intriguing due to the fact that most of the Jayhawks' recruits appear to be valued at roughly the same level by recruiting experts.
In a class currently comprised of 21 high school players, 15 of KU's recruits are rated as three-star talents by Rivals, while the rest now have been assessed as two-star prospects.
In recent years, KU's top recruits were easier to identify. Oak Cliff High (Texas) standout Steven Parker was the only four-star prospect in head coach Les Miles' first KU recruiting class. Prior to that, there were four-star Louisiana talents Pooka Williams and Corione Harris in the Class of 2018, four-star running back Dom Williams in 2017 and four-star safety Mike Lee in 2016.
Without a four-star player or two to point to as the obvious leading VIPs of the 2020 group, who looks like the most accomplished or impactful players committed to KU at this phase of the year?
Presented with that very question, Rivals' KU football recruiting expert, Jon Kirby, didn't need to mull over his response.
"You've got to look at a guy like Kenean Caldwell, who, to me, was one of the surprise commitments," Kirby said, "because he wasn't even on an official visit."
One of the nine 2020 recruits who committed to KU as a result of checking out Miles' program in person this past weekend, Caldwell, a 6-foot-2 defensive tackle from Oak Grove, La., had more than a dozen other scholarship offers.
"And I didn't think a guy who has (offers from) Texas A & M and TCU and Oregon and Ole Miss," Kirby said, "I just wasn't expecting someone like that to commit."
Caldwell is ranked by Rivals as the 43rd-best senior in the state of Louisiana. However, the D-lineman isn't even the highest ranked KU football recruit in the state. At the present time, Rivals has linebacker Taiwan Berryhill 31st among 2020 prospects who reside in "The Boot," and defensive end Khari Coleman ranks 27th.
But all of KU's potential future players still have their high school senior seasons in front of them and recruiting rankings are always subject to change. It's possible Caldwell could end up catching or surpassing his fellow KU recruits.
"He's tremendous on film," Kirby said of Caldwell, "and honestly I think he's underrated. I think he's somebody that maybe you need to go back and take another look at to make sure you've got him rated right."
Another surprise in KU's weekend haul of commitments, Kirby said, was three-star prospect Ja'Cobee Bryant, a 6-1 cornerback from Evergreen, Ala.
"When you look at recruit ability and offer lists, I didn't expect Ja'Cobee Bryant to commit on his visit this early when you've got Georgia Tech, Kentucky, Tennessee, Ole Miss, Virginia," Kirby said of a few schools who have offered Bryant. "Those are pretty nice offers he's got there to jump in and take Kansas in June."
Rivals currently ranks Bryant as the No. 29 senior in the state of Alabama. That list also includes three-star receiver Keenan Hambrick, who committed to KU back in February, at No. 54.
Of course, Miles and his coaching staff still have months to add to their 2020 class, and even more highly regarded prospects could ultimately emerge as the group's obvious star.
One target on KU's radar, four-star linebacker Brennon Scott, from Dallas, also was on campus this past weekend. Scott holds more than 30 scholarship offers, but recently narrowed his list to KU, Oregon, USC, Texas and Auburn.
Scott told Jayhawk Slant he's "probably" going to commit to a program in late July or early August.
2020 KU football recruiting class
- Verbal commitments
• Kershawn Fisher - 3-star LB from Louisiana
• Duece Mayberry - 3-star CB from Oklahoma
• Jackson Stoefen - 3-star OL from Iowa
• Keenan Hambrick - 3-star WR from Alabama
• Trevor Kardell - 3-star TE from Missouri
• Will Huggins - 3-star TE from Kansas
• Krishawn Brown - 3-star LB from Oklahoma
• Khari Coleman - 3-star DE from Louisiana
• Garrett Jones - 3-star OL from Michigan
• Ja'Cobee Bryant - 3-star CB from Alabama
• Malik Johnson - 3-star WR from Texas
• Caleb Taylor - 3-star DE from Missouri
• Kenean Caldwell - 3-star DT from Louisiana
• Jaylin Richardson - 3-star athlete from Kansas
• Taiwan Berryhill - 3-star linebacker from Louisiana
• DaVonshai Harden Jr. - 2-star QB from Kansas
• Luke Grimm - 2-star WR from Missouri
• Tommy Brandt - 2-star OL from Minnesota
• Juan Jarrett - 2-star LB from Ohio
• Nicholas Martinez - 2-star OL from California
• Kyler Pearson - 2-star WR from Oklahoma