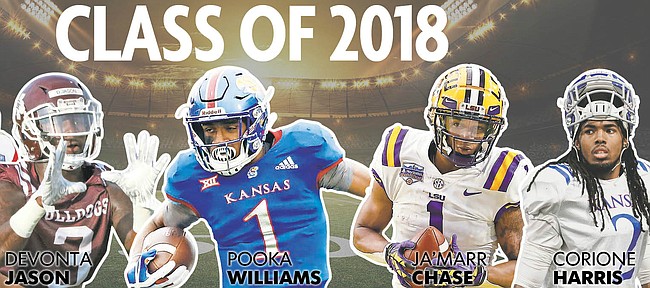 As momentous as this past weekend turned out to be around the Kansas football facilities, with eight new recruits committing from the Class of 2020 — nine if you count Tuesday's addition of three-star linebacker Taiwan Berryhill — it wasn't completely extraordinary for the program.
In fact, the boom actually echoed a similarly stunning one that resonated just two years earlier.
KU's 2018 recruiting class skyrocketed as high as No. 2 in Rivals' team rankings in February of 2017, after a junior day full of visitors resulted in seven highly touted prospects over the span of three days giving their nonbinding verbal pledges to the Jayhawks, at the time coached by David Beaty.
Of course, once the dust finally settled on the 2018 recruiting classes nationwide close to a year later, KU finished 48th in Rivals' team rankings, and only two of those seven players — running back Pooka Williams and cornerback Corione Harris — remained on board in a 21-player class for KU.
Receiver Ja'Marr Chase and defensive lineman Nelson Jenkins both ended up at LSU, while receiver Devonta Jason and defensive back Aaron Brule moved on to sign with Mississippi State and on again/off again KU quarterback recruit Clayton Tune ultimately landed at Houston.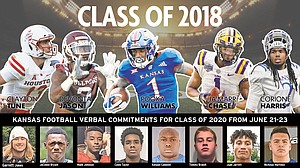 So is it realistic to think that KU's current coaching staff, now led by Les Miles, can keep all nine of its newest recruits, or should fans brace themselves for a number of decommits between now and the winter signing periods?
"With recruiting you really don't know," warned Jon Kirby, Rivals' KU football recruiting expert for Jayhawk Slant.
One potential negative result of having 21 commitments from high school recruits in place in late June is that those prospects can't sign their National Letters of Intent for another six months. KU currently has more recruits lined up than most programs around the country, and that leaves the door open to coaches from other teams to continue to pursue the players who have verbally committed to KU.
"The buzz is going around about what Kansas was able to do," Kirby said of the reactions to the Jayhawks' massive weekend on the ruthless college football recruiting trails. "So you can bet there are going to be other college staffs start going and looking at what Kansas did and some of the kids they got. And this isn't a secret, but in recruiting when you get a bunch of kids committed in June, you're going to have to fight. And you're going to have to hang on to them. That's just the facts of how recruiting is now."
Perhaps with a renowned head coach such as Miles in place KU's present day staff will be able to more easily navigate the commitment waters in the months ahead than the previous staff.
It could also benefit KU that its current batch of recruits are primarily rated as three-star prospects and theoretically not as attractive to poach for more successful programs as the likes of Chase, Jenkins, Jason and Brule, who all ended up in the SEC.
Fifteen of the 21 recruits aligned with KU for 2020 right now are considered three-star talents. Six of the nine who committed since this past Friday are rated as three-star prospects: linebacker Berryhill, from Louisiana; offensive lineman Garrett Jones, from Michigan; cornerback Ja'Cobee Bryant, from Alabama; receiver Malik Johnson, from Texas; defensive end Caleb Taylor, from Missouri; and defensive tackle Kenean Caldwell, from Louisiana. Minnesota offensive lineman Tommy Brandt, Ohio linebacker Juan Jarrett and California O-lineman Nicholas Martinez are rated as two-star prospects by Rivals.
However, assuming KU is better positioned now than a couple years ago to hold on to an influx of recruits could prove to be wishful thinking. Kirby offered some hypothetical scenarios involving a couple of KU's newest commitments to illustrate how recruiting can be an ongoing battle, even for committed players.
A 6-foot-6 offensive tackle from Anaheim, Calif., Martinez already had an Arizona State offer in place before committing to the Jayhawks.
"So there's a Pac-12 school close to home. And Kansas was able to already beat them out," Kirby said. "Well, now you sit here with Nick Martinez and you think over the next three or four months, does UCLA come calling? Does somebody in the Pac-12 come calling that's closer to home?"
As another speculative example, Kirby mentioned 6-1 cornerback Bryant, from Evergreen, Ala.
"What if Alabama offers Ja'Cobee Bryant?" Kirby asked. "We don't really know what's going to happen with recruiting. And that's kind of what makes it fun to follow and frustrating to follow."
Monitoring the recruiting scene as closely as he does, Kirby said his rule of thumb is that players who commit early tend to revisit their recruitment in November, once their high school seasons conclude. He also said this trend seems to become more widespread every year.
"I'm sure if you went to the Kansas coaching staff right now and said, 'Are you going to keep every one of these guys?' they would look at you and say, 'If we are, we're going to have to fight off some people," Kirby added.
Nothing is guaranteed until a recruit makes his allegiance official by signing a National Letter of Intent.
This past April, a few days after KU's spring game, the Jayhawks picked up a commitment from three-star Texas prep receiver Keith Miller III. In June, he flipped and committed to Colorado. Miller also had previously committed to and decommitted from Texas Tech, in late 2018.
This year's early signing period runs Dec. 18-20. If a player doesn't sign then, National Signing Day for 2020 doesn't come until Feb. 5.
Only time will tell whether Miles and his staff can successfully retain the eight recruits who pledged this past weekend. Will the excitement of being a part of a buzzworthy summer recruiting weekend endure? Or will it fizzle out by winter — or sooner — for some of those involved?
Miles and his staff will do all they can to keep fighting in those and other unceasing recruiting wars.
2020 KU football recruiting class
- Verbal commitments
• Kershawn Fisher - 3-star LB from Louisiana
• Duece Mayberry - 3-star CB from Oklahoma
• Jackson Stoefen - 3-star OL from Iowa
• Keenan Hambrick - 3-star WR from Alabama
• Trevor Kardell - 3-star TE from Missouri
• Will Huggins - 3-star TE from Kansas
• Krishawn Brown - 3-star LB from Oklahoma
• Khari Coleman - 3-star DE from Louisiana
• Garrett Jones - 3-star OL from Michigan
• Ja'Cobee Bryant - 3-star CB from Alabama
• Malik Johnson - 3-star WR from Texas
• Caleb Taylor - 3-star DE from Missouri
• Kenean Caldwell - 3-star DT from Louisiana
• Jaylin Richardson - 3-star athlete from Kansas
• Taiwan Berryhill - 3-star linebacker from Louisiana
• DaVonshai Harden Jr. - 2-star QB from Kansas
• Luke Grimm - 2-star WR from Missouri
- Former commitments
• Keith Miller III - 3-star WR from Texas (flipped to Colorado)