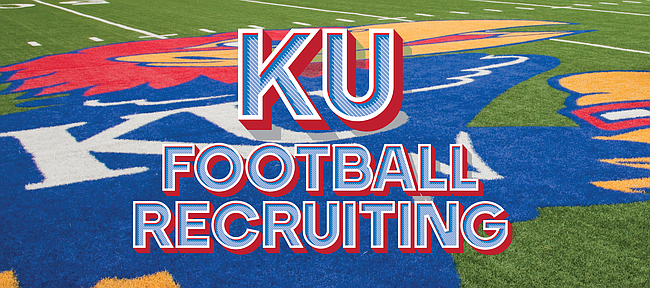 An aftershock from a massive recruiting weekend for the Kansas football program vibrated Tuesday night, as the Jayhawks picked up yet another three-star prospect for their 2020 class.
A linebacker from St. Augustine, La., Taiwan Berryhill became the ninth high school prospect to commit to Les Miles' program since Friday night.
Berryhill, like the eight other preps who committed in a meteoric weekend for the program, made his decision after visiting Lawrence.
Recruited by KU defensive line coach Kwahn Drake, Berryhill, who tweeted out his announcement, also has offers from Tennessee, Indiana, Memphis and others, per Rivals.
A wild weekend on for KU recruiting began late Friday night, when offensive lineman Garrett Jones and cornerback Ja'Cobee Bryant became the first KU visitors to announce their college football plans. Then five more hopped on board Saturday: O-lineman Nicholas Martinez, receiver Malik Johnson, defensive end Caleb Taylor, O-lineman Tommy Brandt and defensive lineman Kenean Caldwell. Next, linebacker Juan Jarrett joined the haul on Sunday.
Following a booming recruiting weekend, the Jayhawks now have 21 players in their 2020 recruiting class. Incredibly, 16 of those emerged during what has been a hectic and successful June for Miles and his staff.
As of Tuesday night, KU ranked 20th nationally in Rivals' team recruiting rankings.
All verbal commitments, of course, are nonbinding. The earliest any of KU's recruits can sign and make their ties to the program official is December.
2020 KU football recruiting class
- Verbal commitments
• Kershawn Fisher - 3-star LB from Louisiana
• Duece Mayberry - 3-star CB from Oklahoma
• Jackson Stoefen - 3-star OL from Iowa
• Keenan Hambrick - 3-star WR from Alabama
• Trevor Kardell - 3-star TE from Missouri
• Will Huggins - 3-star TE from Kansas
• Krishawn Brown - 3-star LB from Oklahoma
• Khari Coleman - 3-star DE from Louisiana
• Garrett Jones - 3-star OL from Michigan
• Ja'Cobee Bryant - 3-star CB from Alabama
• Malik Johnson - 3-star WR from Texas
• Caleb Taylor - 3-star DE from Missouri
• Kenean Caldwell - 3-star DT from Louisiana
• Jaylin Richardson - 3-star athlete from Kansas
• Taiwan Berryhill - 3-star linebacker from Louisiana
• DaVonshai Harden Jr. - 2-star QB from Kansas
• Luke Grimm - 2-star WR from Missouri
• Tommy Brandt - 2-star OL from Minnesota
• Juan Jarrett - 2-star LB from Ohio
• Nicholas Martinez - 2-star OL from California
• Kyler Pearson - WR from Oklahoma