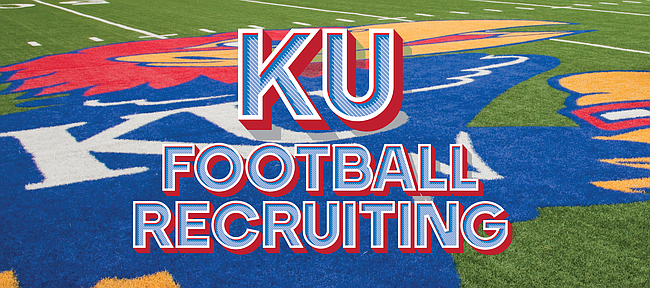 A large scale recruiting weekend for the Kansas football program got off to a promising start late Friday night, with a pair of commitments from high school prospects who were visiting Lawrence.
Both considered three-star members of the Class of 2020 according to Rivals, offensive lineman Garrett Jones and cornerback Ja'Cobee Bryant verbally committed to join Les Miles' Jayhawks during their official visits.
Jones, a 6-foot-4, 285-pound offensive guard from Berrien Springs, Mich., kicked off the productive June night for KU football by jumping on Twitter to announce his decision.
Along with three photos of Jones decked out in Kansas gear, one with him posing with Miles and O-line coach Luke Meadows, the social media post included a note in which Jones described himself as "100%" committed to the Jayhawks.
"I'm going to do everyone proud and take my educational and football talents to the University of Kansas," Jones wrote in the note.
Not long after that, word of Bryant's pledge became public knowledge. The news of Bryant's commitment, however, came via the prospect's head coach at Hillcrest High, in Evergreen, Ala. Clinton Smith Jr., Bryant's coach, posted a photo of the 6-1 cornerback wearing a blue KU football uniform in the Jayhawks' locker room, along with a declaration that Bryant had committed to KU.
On Saturday morning, Bryant also tweeted to say he had committed to KU.
Jones told Jayhawk Slant recently his relationship with KU O-line coach Meadows dates back to Meadows' time on the Eastern Michigan staff. Jones reportedly also has picked up offers from Air Force, Eastern Michigan, Ball State, Tulane and Western Illinois.
Bryant, recruited by KU defensive backs coach Chevis Jackson, has nearly 20 scholarship offers, including some from Tennessee, Virginia Tech, Virginia, Kentucky and Georgia Tech.
The KU football staff entered the weekend with plans to play host to 14 players on official visits, as well as about five making unofficial visits.
With the verbal commitments from Jones and Bryant, KU's 2020 recruiting class grew to 14 — nine of which came in June.
The Jayhawks now have 10 three-star prospects committed. All verbal pledges, of course, are nonbinding, and the earliest any players in the 2020 class can sign is December.
2020 KU football recruiting class
- Verbal commitments
• Kershawn Fisher - 3-star LB from Louisiana
• Duece Mayberry - 3-star CB from Oklahoma
• Jackson Stoefen - 3-star OL from Iowa
• Keenan Hambrick - 3-star WR from Alabama
• Trevor Kardell - 3-star TE from Missouri
• Will Huggins - 3-star TE from Kansas
• Krishawn Brown - 3-star LB from Oklahoma
• Khari Coleman - 3-star DE from Louisiana
• Garrett Jones - 3-star OL from Michigan
• Ja'Cobee Bryant - 3-star CB from Alabama
• DaVonshai Harden Jr. - 2-star QB from Kansas
• Luke Grimm - 2-star WR from Missouri
• Kyler Pearson - WR from Oklahoma
• Jaylin Richardson - Athlete from Kansas
- Former commitments
• Keith Miller III - 3-star WR from Texas (flipped to Colorado)