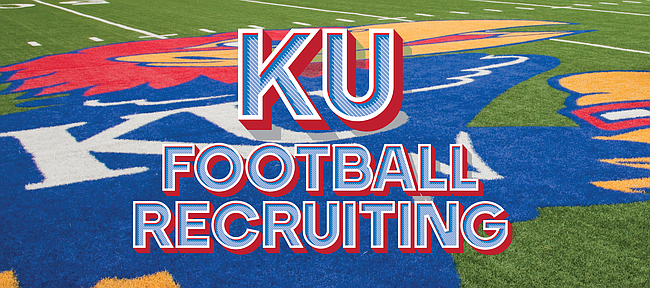 The weekend additions for Kansas football didn't stop when the Jayhawks added two players to their 2020 recruiting class on Friday night — not even close.
Four more high school prospects who were among the program's numerous official visitors to Lawrence this weekend joined KU's rapidly expanding class before noon on Saturday.
A prep offensive lineman from Anaheim, Calif., Nicholas Martinez got the whirlwind morning rolling when he made his decision public on Twitter mere minutes before Malik Johnson, a receiver from The Woodlands, Texas did the same.
A few hours later, two more prospects were ready to join the frenzy, and also tweeted out their college football plans.
A defensive end from Florissant, Mo., Caleb Taylor became the third official visitor to pledge to head coach Les Miles' program Saturday morning. Within minutes, a fourth, offensive lineman Tommy Brandt, from St. Paul, Minn., was on board, too.
"So honored and excited," Martinez wrote in his tweet, accompanied by photos of him in a blue KU jersey and helmet, "to announce that after a great official visit this week, I have committed to the University of Kansas to continue my football and academic career."
Though Rivals doesn't currently have Martinez rated as a prospect, the 6-foot-6, 310-pound offensive tackle also had offers from Arizona State and Idaho State.
Johnson, rated a three-star athlete by Rivals, called himself "110%" committed to KU in his Twitter announcement.
The 5-9 receiver who also had offers from Colorado, Kansas State, Memphis and other programs added in his social media post that Miles and KU receivers coach Emmett Jones have recruited him "hard since day one," and Johnson thinks the KU staff has "something very special in Lawrence."
Taylor thanked family members, teammates and coaches in his post. A 6-4, 240-pound D-end entering his senior year at Hazelwood Central (Mo.), Taylor, rated a three-star D-lineman, reportedly holds offers from Iowa State, Memphis, Colorado State and others, as well.
Brandt, a two-star offensive tackle, thanked many in his announcement, too, including Miles and Meadows.
"I am looking forward to our future," Brandt wrote.
Listed by Rivals at 6-5 and 265 pounds, Brandt also had a scholarship offer from Rice.
The pledges from Martinez, Johnson, Taylor and Brandt gave KU a whopping six new commitments in about a 14-hour span, after offensive lineman Garrett Jones and cornerback Ja'Cobee Bryant verbally committed to join Miles' Jayhawks during their official visits late Friday night.
The KU football staff entered the weekend with plans to play host to 14 players on official visits, with about five others making unofficial visits.
With their newest haul of commitments, the Jayhawks now have 18 players in their 2020 recruiting class, with 13 of those coming during a hectic June.
Twelve of the 18 prospects currently on board are rated as three-star talents. All verbal pledges, of course, are nonbinding, and the earliest any players in the 2020 class can sign is December.
2020 KU football recruiting class
- Verbal commitments
• Kershawn Fisher - 3-star LB from Louisiana
• Duece Mayberry - 3-star CB from Oklahoma
• Jackson Stoefen - 3-star OL from Iowa
• Keenan Hambrick - 3-star WR from Alabama
• Trevor Kardell - 3-star TE from Missouri
• Will Huggins - 3-star TE from Kansas
• Krishawn Brown - 3-star LB from Oklahoma
• Khari Coleman - 3-star DE from Louisiana
• Garrett Jones - 3-star OL from Michigan
• Ja'Cobee Bryant - 3-star CB from Alabama
• Malik Johnson - 3-star WR from Texas
• Caleb Taylor - 3-star DE from Missouri
• DaVonshai Harden Jr. - 2-star QB from Kansas
• Luke Grimm - 2-star WR from Missouri
• Tommy Brandt - 2-star OL from Minnesota
• Kyler Pearson - WR from Oklahoma
• Jaylin Richardson - Athlete from Kansas
• Nicholas Martinez - OL from California
- Former commitments
• Keith Miller III - 3-star WR from Texas (flipped to Colorado)