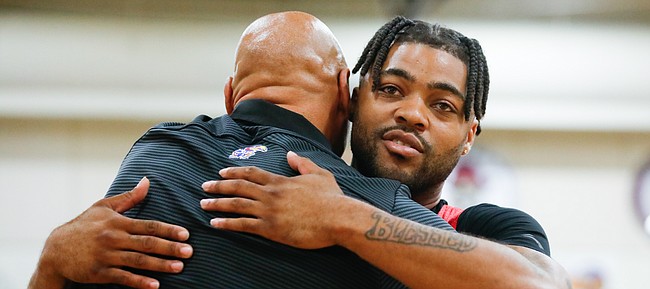 Throughout his life, former Kansas point guard Frank Mason has overcome a number of different obstacles and been on a mission to prove his doubters wrong.
Even with two years of NBA experience under his belt, that mission continues today as Mason prepares to enter his third season as a professional.
Originally drafted in the second round of the 2017 NBA Draft by Sacramento with the No. 34 pick overall, Mason spent the past two years playing a variety of roles for the young-and-rising Kings.
During his rookie season, the former NCAA national player of the year appeared in 52 of 82 games, making two starts and averaging 18.9 minutes per game.
Photo Gallery
2019 Rock Chalk Roundball Classic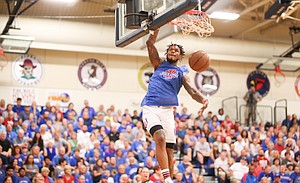 View a gallery of images from the 2019 Rock Chalk Roundball Classic
There was a short stretch in there when Mason was red hot and appeared to be on his way to carving out a sizable role.
But the Kings, who also drafted point guard De'Aaron Fox in the 2017 lottery (No. 5 overall), added veteran point guard George Hill for the 2017-18 season and also picked up third-year pro Yogi Ferrell in free agency heading into last season, which kept a crowded house in the Sacramento backcourt.
That reality dropped Mason's court time to 11.4 minutes per night in just 38 games last season, and, through two seasons, he holds career averages of 6.8 points, 2.6 assists and 1.9 rebounds per game.
"It's not going the way I want it to go," said Mason when asked about his career after dropping 33 points in Thursday's Rock Chalk Roundball Classic in Eudora. "But that's fine with me. It just makes it tougher and makes me work harder. I believe in myself and, you know, my time will come, like always."
Whether that time will come in Sacramento is not entirely clear.
Per basketball-reference.com, Mason signed a 3-year, $4.2 million contract with the Kings in July of 2017, with the first two years (roughly $2.6 million) fully guaranteed.
Now that he has reached Year 3, however, Mason will only earn the remaining $1.6 on the deal if he remains on the Kings' roster past Oct. 15. That's certainly the goal and the plan, Mason said Thursday.
"You never know how it's going to go," Mason said. "You just try to be prepared for whatever. I'm ready for whatever. … I've enjoyed every part of it, every challenge. Like I said, it just makes me work harder, makes me want to be a better human being and I'm just happy to be a part of the organization and hopefully I'll be back with them."
Mason was one of 12 former KU players who were on an active NBA roster at some point during the 2018-19 season. He was joined by Cheick Diallo, Joel Embiid, Josh Jackson, Devonte' Graham, Ben McLemore, Marcus Morris, Markieff Morris, Svi Mykhailiuk, Kelly Oubre, Wayne Selden and Andrew Wiggins.
More like this story on KUsports.com