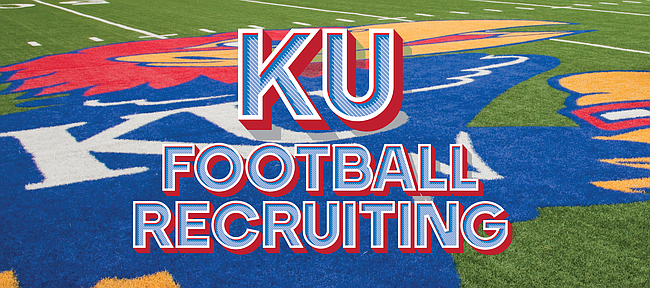 When the dust finally settles on Les Miles' 2020 Kansas football recruiting class months from now, it's possible the work currently being done during the summer will go down as the most crucial stretch of the process.
Miles and his assistant coaches already have landed seven verbal commitments from rising high school seniors in June alone, and this weekend marks another busy stretch on the recruiting front.
The KU football staff planned Friday on playing host to 14 players who were in Lawrence to make official visits. What's more, about five other prospects were expected to take unofficial visits to campus, and Saturday even more high school players will be in front of KU coaches, with a seven-on-seven tournament and camps for offensive and defensive linemen on the schedule.
In total, somewhere between 90 to 100 high school players will be at KU this weekend.
A few of the official visitors hopped on Twitter to announce their trips to Lawrence:
• Malik Johnson (The Woodlands, Texas) — Rated a three-star athlete by Rivals, the 5-foot-9 Johnson also reportedly has scholarship offers from Colorado, Kansas State, Memphis and other programs.
A receiver who also made a trek to Lawrence for KU's junior day this past February, Johnson told Jon Kirby of Jayhawk Slant he stays in touch with Kansas receivers coach Emmett Jones, and that he plans to commit to a program next week.
• Ja'Cobee Bryant (Evergreen, Ala.) — A 6-1 cornerback who reportedly has accrued offers from Tennessee, Virginia, Virginia Tech, Ole Miss, Kentucky, Georgia Tech and other Power Five programs, Bryant is rated as a three-star talent and the No. 29 prospect in Alabama according to Rivals.
• Tommy Brandt (St. Paul, Minn.) — Listed at 6-5 and 265 pounds, the two-star offensive tackle prospect also possesses an offer from Rice.
Kirby of Jayhawk Slant reported on some other prospects who are using this weekend as an opportunity to take official visits and learn more about the KU football program with the help of Miles and his staff:

• Brennon Scott (Dallas) — A four-star talent with more than 30 scholarship offers from teams in not only the Big 12, but also the SEC, Big Ten, Pac 12 and ACC, Scott is a 6-2, 225-pound outside linebacker.
Scott included KU in his top five programs in which he's interested, along with Oregon, Auburn, Texas and USC. He visited the Trojans earlier this week.
"I'm just going to be looking for the type of environment Kansas has," Scott told Jayhawk Slant ahead of his visit. "I already know what they can do for my academics and I want to see how they'd use me as a player."
• Itayvion Brown (St. Louis, Mo.) — One of the top high school seniors in the state of Missouri, Brown is a four-star linebacker and listed at 6-5 and 225 pounds. Brown visited Minnesota earlier this week and also has offers from Florida State, Texas A & M, Missouri, Michigan State and other programs.
• Garrett Jones (Berrien Springs, Mich.) — A three-star offensive guard who also has offers from Air Force, Ball State, Eastern Michigan and Tulane, Jones told Jayhawk Slant he has known KU offensive line coach Luke Meadows since the coach was an assistant at EMU.
• Caleb Taylor (Florissant, Mo.) — A three-star defensive end from the Show Me State, Taylor also has offers from Iowa State, Memphis, Colorado State, Central Michigan and other programs.
2020 KU football recruiting class
- Verbal commitments
• Kershawn Fisher - 3-star LB from Louisiana
• Duece Mayberry - 3-star CB from Oklahoma
• Jackson Stoefen - 3-star OL from Iowa
• Keenan Hambrick - 3-star WR from Alabama
• Trevor Kardell - 3-star TE from Missouri
• Will Huggins - 3-star TE from Kansas
• Krishawn Brown - 3-star LB from Oklahoma
• Khari Coleman - 3-star DE from Louisiana
• DaVonshai Harden Jr. - 2-star QB from Kansas
• Luke Grimm - 2-star WR from Missouri
• Kyler Pearson - WR from Oklahoma
• Jaylin Richardson - Athlete from Kansas
- Former commitments
• Keith Miller III - 3-star WR from Texas (flipped to Colorado)