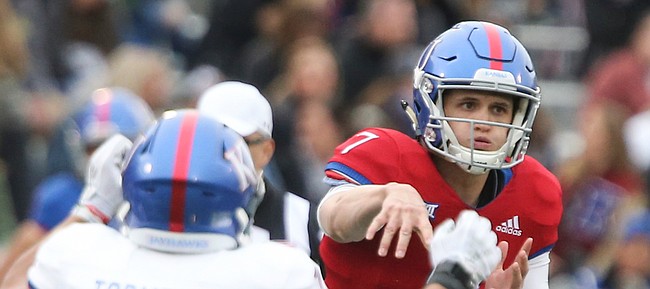 As a midyear transfer enrolling at the University of Kansas this past January, Thomas MacVittie got some crucial acclimating out of the way upon joining the football program.
Instead of cramming all that comes with getting accustomed to new surroundings, coaches, teammates and play calls into the summer, as some junior college transplants have to, MacVittie got comfortable at KU in the spring, long before the intensity that comes with preseason camp and the far more vigorous live action on Saturdays in the fall.
"Spring ball's definitely helped with that," said MacVittie, who played in 2018 at Mesa Community College (Ariz.), during his most recent interview session. "The morning runs and all of that. Definitely feel like I'm part of the team, for sure."
It likely helped MacVittie's transition that the meetings, workouts and practices that took place during his first semester on campus also felt like somewhat of an adjustment period for every player in the program.
When MacVittie and fellow juco transfers Andrew Parchment and Ezra Naylor joined the Jayhawks, Les Miles had only been on the job a couple of months, and a chunk of that time included winter break, so few of the athletes had even been able to spend much time around Miles and his assistants until the new semester began. So MacVittie and the new receivers weren't alone in getting used to the infrastructure.
Both MacVittie, a 6-foot-5, 225-pound QB whose college career began at Pitt, and KU redshirt senior Carter Stanley — the top two candidates for the starting job — had to study coordinator Les Koenning's offense and learn what Miles expected out of his quarterbacks.
"I think we're just getting a lot more comfortable with the offense," MacVittie said in the spring. "For me, the receivers are totally new guys. Everybody has different mannerisms. Everybody has different cuts and breaks to their routes. So just learning that, and repping it, as well. And then just going out there and doing it."
When spring practices ended in April, MacVittie was taking first string snaps, though Miles declined to name a starting QB following the completion of the 15-practice schedule.
During the final spring scrimmage, in front of fans at David Booth Kansas Memorial Stadium, MacVittie attempted a game-high 21 passes, completing 12 of them for 95 yards, with one interception and no touchdowns.
Even so, MacVittie said he found it easy to develop chemistry and timing with several of his new passing targets in the spring.
"The guys I came in with, Ezra and AP (Parchment), 100%," MacVittie began, while identifying teammates with whom he clicked.
The junior QB also named possible starting tight end Jack Luavasa, senior tight end and former KU basketball walk-on James Sosinski and junior receiver Kwamie Lassiter II.
"I feel like I'm getting really good chemistry with them," MacVittie said.
The QB from Cincinnati also shared his appreciation for the offensive linemen in charge of giving him time to find his intended targets.
"I think the O-line's massive. I mean, they're huge. The tackles are massive. We've got a lot of good guys at guards, and then the centers have been amazing," MacVittie said.
At the end of spring practices, KU's starting five up front featured left tackle Hakeem Adeniji, left guard Malik Clark, center Api Mane, right guard Chris Hughes and right tackle Clyde McCauley III. Reserves up front at that portion of the offseason included Earl Bostick Jr. and Antione Frazier at tackle, Jacobi Lott and Adagio Lopeti at guard and Andru Tovi at center.
"I think that O-line — I wasn't here last year to compare it — but it's the best I've seen," MacVittie said.