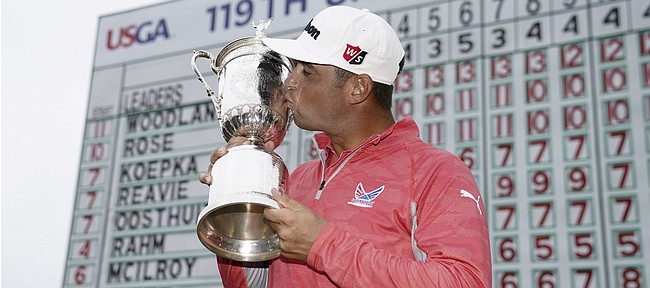 Kansas head coach Bill Self has played a couple rounds with pro golfer Gary Woodland, but the very first hole is still a vivid memory for the Hall of Fame coach.
It was the first hole at the Lawrence Country Club, which is approximately a 365-yard par-4. Woodland, who played golf at KU from 2004-07, placed his tee shot on the green. He then netted a 20-foot putt for an eagle.
"I'm thinking, 'He played that as a par-3,'" Self recalled during Monday's media availability at Allen Fieldhouse. "It was unbelievable. He had a different gear that nobody else could get to."
That was one of the many reasons why Self was captivated by Woodland's run to a first-place finish in the U.S. Open Championship golf tournament this past weekend.
Woodland notched his first-career major when he sunk a 30-foot birdie putt on the 72nd-hole to put the final touches on a three-shot victory in the 119th U.S. Open Championship. Woodland became the first KU alumnus to claim a major golf championship. The Topeka native ultimately won with a final score of 13-under, 271.
"I think it is one of the coolest things to happen to Kansas Athletics," Self said. "Golf is a sport that all alumni and donors can identify with, because everybody at some point in time has played it. I think that everybody is really proud because they can identify with what he does."
Self admitted that he watched every single shot by Woodland over the last three rounds, even though summer camps were going on as well.
Woodland, 35, fired his way up the leaderboard during the second round Friday after posting a bogey-free 65 at Pebble Beach to move ahead of Justin Rose. Woodland maintained his lead with a 2-under-par 69 during the third round on Saturday.
To close it out, Woodland had to hold off Brooks Koepka, who was trying to become the first person in 114 years to win three consecutive U.S. Open titles.
"You go from a situation where nobody thought (Woodland) would win," Self said. "After they thought he might win, I'm sure the television networks were hoping that he didn't. It comes out to be a cooler story than even if Brooks had won."
It was a testament to Woodland's competitive nature.
On a day where Woodland's win is what everyone in Lawrence is talking about, Self was asked about Jalen Wilson's toughness as a freshman during a media scrum. Self was quick to compare Wilson's mindset to Woodland, who now has four career PGA Tour victories.
"You can make a case for Gary six years ago, being ultra-competitive but maybe not knowing certain situations," Self said. "Then you see him yesterday, and you see what a guy that is really competing does. Competing is not all just about harder, faster, tougher. Competing is about strategy and playing to win and taking advantage of mistakes."
Self has since texted with Woodland following the win, which came with a first-place prize of $2.25 million.
"He said we'd have drinks soon. "I said, 'You are not going to have to buy one for several months,'" Self said. "He shouldn't have to buy one for a long time."